Review: Frankford Arsenal Universal Hand Deprimer
Russ Chastain 09.21.17

If you don't know what a depriming tool is, you probably don't need one. But if you are a reloader, you just might find it indispensable for removing spent primers from brass cases before you reload them. This one from Frankford Arsenal does its job, and does it well.
Let's start out with the basics:
Handheld, hand-operated tool for removing spent primers from empty cartridge cases
Weight: 21.5 ounces/1.34 pounds
Dimensions: longest dimension 11-3/8″ x 9-3/8″ long x 6-1/4″ tall x 2″ thick
Included plastic collets in 3 sizes to accommodate metallic cartridge cases from .20 caliber up to 338 Lapua
Takes handgun and rifle brass
Materials: Main body and "trigger" lever are cast aluminum; case holder is machined aluminum
Frankford Arsenal says it will "easily deprime crimped primers." It provides a lot of leverage, but I wasn't able to test it on crimped primers.
Here's how it works:
Pick and install the right size collet for the cases you're doing. Pivot case holder up, insert a case (shell). Pivot case holder down and squeeze the handle to deprime the case.
Release the handle, case holder pops up so you can manually remove the deprimed case.
Ignore claims of "auto-ejecting;" all it does is pop up so you can pull the case out by hand.
A transparent plastic tube (it has no threads; only friction holds it in) catches the primers when they're removed.
Keep the nose of the tool lower than the rest of the tool, so the primers go into the tube and don't fall back out of it.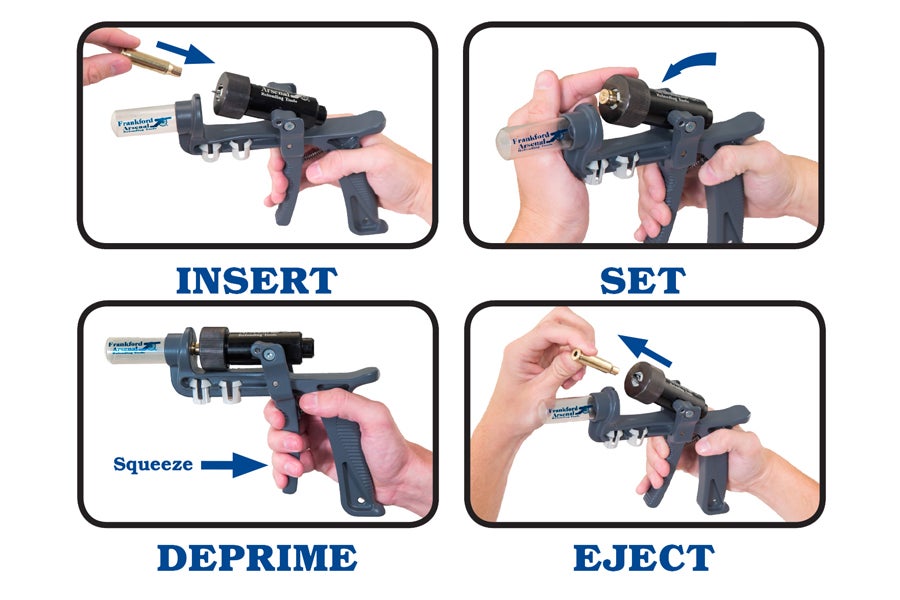 Using the Frankford Arsenal Universal Hand Deprimer
After I received and examined this tool, I put it to work. The three collets are plastic, which at first I thought was cheesy, but they do the job.
The handle is comfortable enough and provides plenty of leverage.
Depriming 308 Win cartridges (medium collet) was a breeze, and better than doing it on my press.
I had some miscellaneous brass lying around, so I deprimed it all:
Six 50 Beowulf cases (large collet). No problem.
One 450 Marlin case (large collet). No problem.
One 454 Casull case (large collet). No problem.
Two 10mm auto cases (medium collet). No problem.
One 9mm case (medium collet). No problem.
9mm is about as small a case as you can do with the medium collet.
When I sat down to deprime some 44 magnum cases, I still liked it better than doing it with my press, but it wasn't all great. Getting the case mouth started into the collet was sometimes difficult.
The Good
I like this tool. It catches the primers and related crud (unless I have it tilted in the wrong direction), which keeps grit out of my press and keeps primers off my shop floor. It's easy to use, and if you want to deprime while you watch TV or whatever, you can do that without dumping dirt and primers on the floor or into the crannies of the sofa or recliner.
It works with many different cartridges, and bottleneck cases are especially easy to insert.
The Not-So-Good
What could be improved on this tool? Well, inserting a case that's not bottlenecked can be a pain, because the case mouth likes to get hung up on the collet. But it's doable, and after several you can get the hang of it.
To store the collets, you stick the two you're not using into their spots on the body of the tool. Sometimes they are tough to remove, and sometimes they tend to fall off. It's not ideal and they don't fit perfectly, but it'll do.
There's an o-ring at the base of the collet adjustment cap. It's there to provide tension to keep it in place after you get it set just right. Well, that o-ring came out of its groove whenever I removed the cap to change the collet. The best way to put things back together: slide O-ring onto case holder, install correct collet, thread cap onto holder, then shove O-ring into the adjustment cap.
Conclusion
This is a good tool for a reloader, and if you reload you'll probably enjoy using it. It does what it's supposed to do, and does it on many different cartridge cases. Check it out on Amazon.
Disclosure
A review sample was provided by the manufacturer. (This doesn't affect my review; this review contains my honest opinion of the product.)