Review: Prime Centergy Hybrid Compound Bow
Lucas Cooney 10.02.17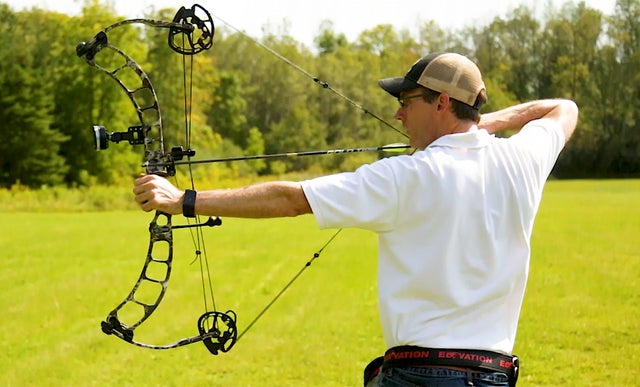 The Prime Centergy Hybrid is the third of six hunting bows I've been testing for AllOutdoor.com's sister site, ArcheryTalk.com.
The Centergy Hybrid is the longest hunting bow I tested this year, with an axle-to-axle length of 35 ¼ inches. Other specs include a brace height of 6.0 inches, a mass weight of 4.5 pounds, and an IBO-rated speed of 338 feet per second. The bow carries a sticker price of $1,099. And if you're not familiar with Prime bows, they feature a unique parallel cam design, which helps eliminate cam lean.
I am shooting this bow with the draw length set at 29.5 inches and draw weight at 60 pounds.
The Centergy Hybrid comes from the factory with both limb stop and cable stop options. I chose to go with the limb stops on this setup. As you would expect with limb stops, the back wall is completely solid. An added bonus for me is that unlike limb stops on other bows, you don't have to remove them when you put the Centergy into a bow press. Removing limb stops every time I press a bow has long been a pet peeve of mine, and Prime has solved that issue.
Fit and finish on the Centergy Hybrid are quite good. The First Lite camo looks really sharp and I can't find any noticeable flaws in the riser finish. Both of the side plates on the grip are coming a bit loose, but that could easily be fixed with a bit of glue. Strings and cables are holding up quite well with no serving separation that I can see. As an added bonus, Prime will send the original owner a new set of threads every two years.
When it comes to shooting the Prime Centergy Hybrid, the first thing that stands out to me is the grip. It's my favorite grip among the six hunting bows I've tested. It's flat and narrow and for whatever reason just feels the best to me personally.
This bow is very easy to draw, though there is a bit of a dump into the valley. It's not outrageous, but is noticeable. Once at full draw, the valley is quite generous and you can relax without the bow wanting to jump on you – even if you creep off the wall a little bit. Letting the bow down is also fairly easy going; no worries about ripping up your shoulder here.
At release, this bow is a bit on the loud side. It's not obnoxious, but there is a clear "thunk" after the shot.
I'll forgive a little noise for accuracy and in this the Prime Centergy Hybrid does not disappoint. This thing is a tack driver. I give some credit here to the length of the bow, which adds some stability and has me feeling comfortable shooting at longer distances.
Tuning this bow was also a snap. This was the easiest bow for me to get my QAD Exodus broadheads flying correctly with.
If you are a one-bow-does-everything shooter, the Centergy Hybrid stands out. This would make a great 3D or spots bow when you're not in the woods hunting for a deer.
Of course, that stability-adding length can be an issue depending on where you hunt – especially if you use a small blind or are in a tree stand with really tight cover.
As for real-world speed, I shot a 398-grain Gold Tip Valkyrie through the chrono and saw an average of 284.6 feet per second. It's not the fastest bow out there, but considering how easy the draw is, that's pretty good speed from a 60-pound bow.
If you like a longer bow and are willing to give up a little speed and stealth for an easy draw and great accuracy, the Prime Centergy Hybrid is worth checking out.