Watch: The Ruger American Ranch Rifle 7.62×39 for Preppers
Kevin Felts 10.04.17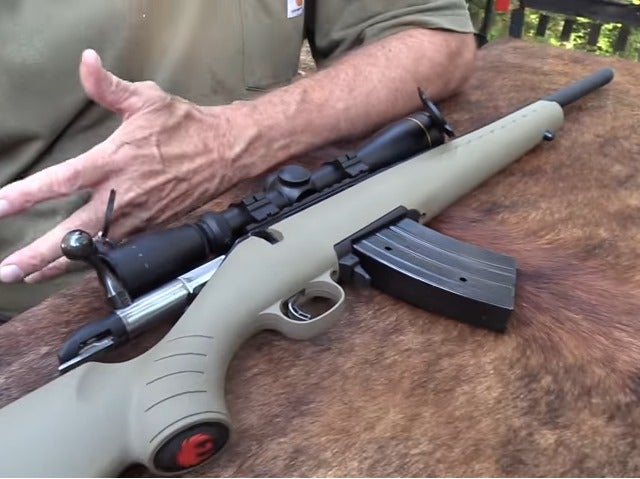 What's not to like about Ruger? It seems the company is offering everything a shooting enthusiast could want. In this case, it is a bolt-action rifle chambered in 7.62×39. On top of that, the rifle accepts Mini-30 magazines.
Some people may say, "So what?"
Let's look at the big picture.
A lot of preppers stockpile 7.62×39. The cartridge can be used in:
SKS
AK-47
Ruger Mini-30
Ruger American Ranch Rifle
A single cartridge that can be used in four different rifles, with each rifle fitting a certain niche, is wonderful.
Personally, I have been stockpiling 7.62×39 since the early 1990s. Sometime around 1992 or 1993 I bought a Chinese SKS for $99. A few years later an AK-47 was purchased.  A bolt action rifle chambered in the same cartridge that can be used for deer or hog hunting is another reason to stockpile 7.62×39.
Manufacturer Specifications
Barrel Length: 16.12″
Capacity: 5
Overall Length: 36″
Adjustable trigger
Cold-hammer-forged barrel
Video
Hickok45 put together an excellent video on the Ruger American Ranch Rifle in 7.62×39.
Looking at different places, it appears the rifle is selling for around $420 – $450, which is a competitive price.
Final Thoughts
In a previous article we asked if preppers are stockpiling too many calibers. A lot of hunters have a variety of calibers, such as 270, 308, 30-30, and 30-06. The drawback is, they have to stockpile ammunition for each caliber.
When looking at a new rifle, should you:
Buy a different caliber than you are stockpiling?
Buy a rifle in a caliber you are already stockpiling?
It makes economic sense to have one type of ammunition that several rifles can use. For that reason, the Ruger Ranch Rifle in 7.62×39 may be a perfect addition.
Thoughts?