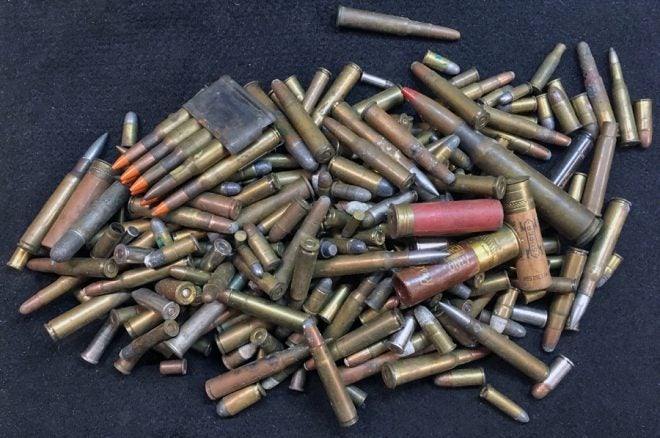 It's not all that often that you see old or obsolete ammunition, much less a wide array of it, but that's what we have here.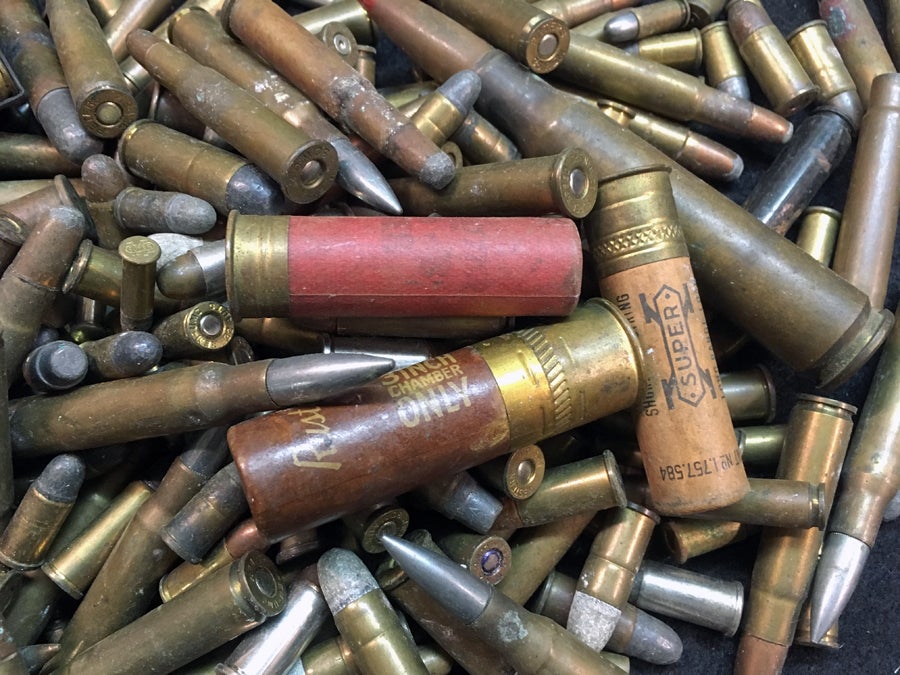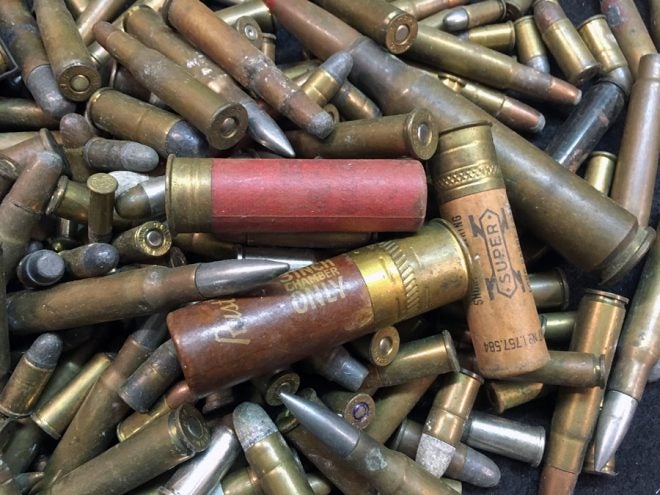 This ammo was found in an old wooden box which belonged to a late police officer, competitive shooter, and reloader. I figured I would find a number of odd rounds, but I had no idea the range would be so wide. There are roughly 42 different cartridges represented here, ranging from 218 Bee to 50 BMG! Not all of them are completely obsolete; I'm guessing this was the box where he tossed any oddities that he came across… along with a smattering of such commonplace rounds as 38 Special and 45 ACP.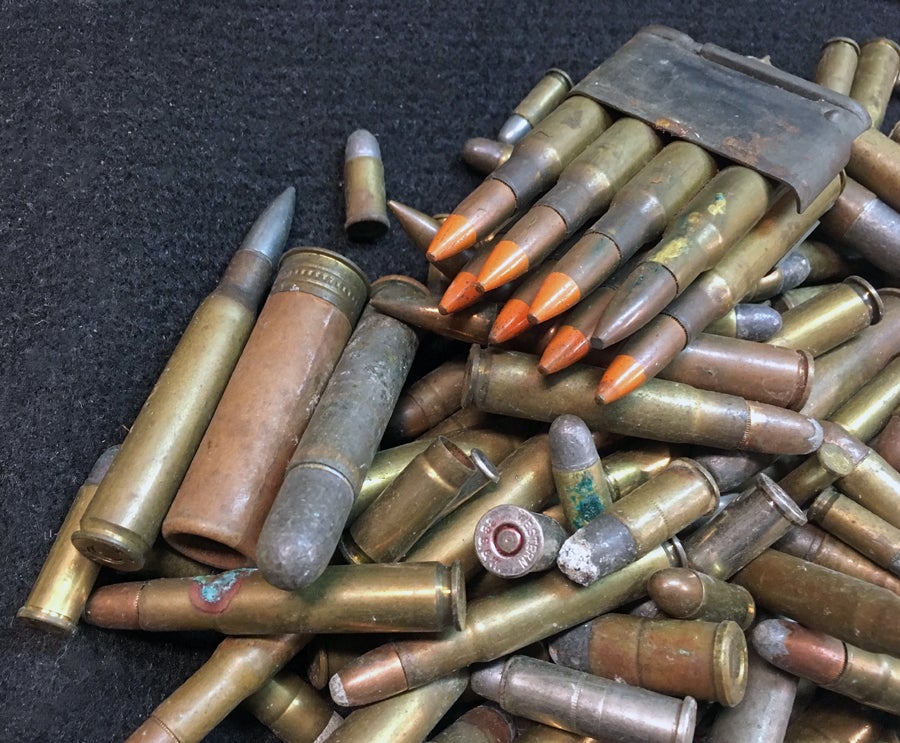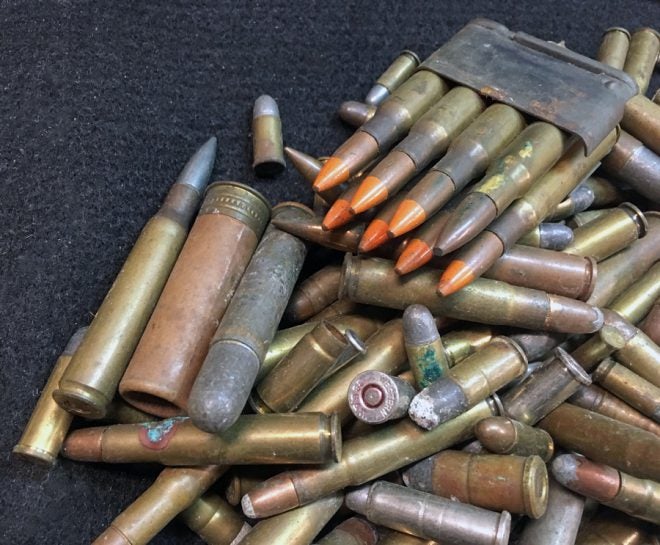 Even some of the rounds that are still in production show their age here, with 30-40 Krags marked "30 Army" and 30-30 Win marked "30 WCF."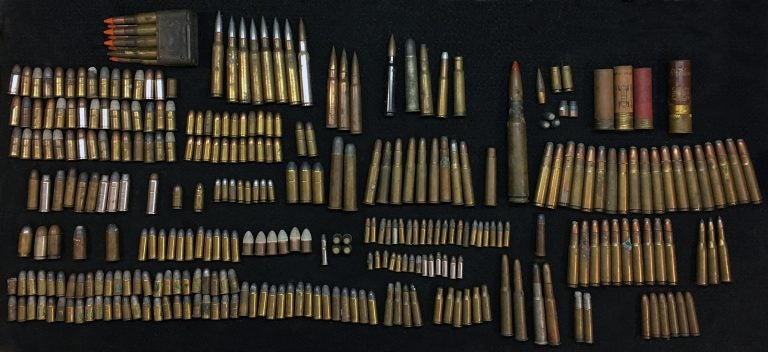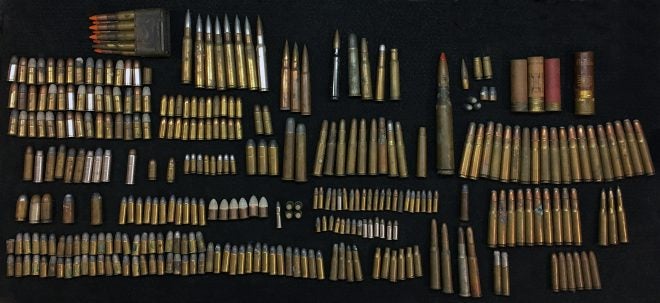 Here are some of the cartridges/calibers:
218 Bee
22 Short
22 Long
22 Long Rifle
22 WMR (22 magnum)
22 Savage High Power (22 H.P.)
25 Auto
25-20
30 Mauser
30 Luger
30 Carbine
30 Remington
30-30 Winchester (30 WCF / Winchester Center Fire)
30-40 Krag (30 Army)
30-06 Springfield
32 rimfire (blank)
32 Auto (ACP)
32 S&W
32 S&W (blank)
32 S&W Long
32 Long Colt
32-20 Win
32 S.L. (32 WSL / Winchester Self Loading)
32 Win Spl (32 Winchester Special)
33 CF (Center Fire)
35 Remington
380 Auto (ACP)
38 S&W
38 S&W (blank)
38 Long Colt
38 Special
357 Magnum
41 Short (rimfire)
45 Auto (ACP)
45 Auto Rim
45 S&W
45 Colt
45-70 Government
20 gauge shotgun
12 gauge shotgun
50 BMG (Browning Machine Gun)
A few misc bullets (bullets are projectiles, not loaded rounds)
And various others either unmarked or unidentified
Pretty cool, if you ask me. Anyone else interested in learning more about some of these old rounds?