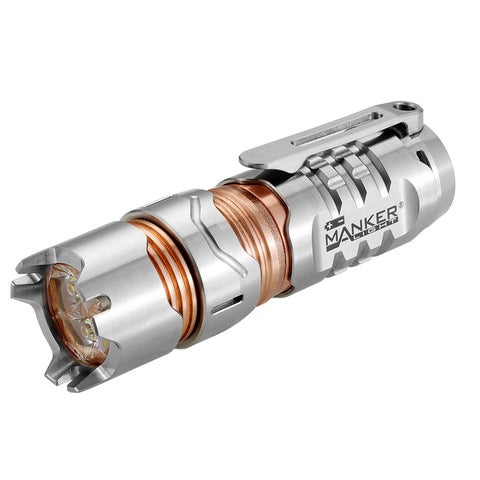 You'd be forgiven if you failed to keep up with the latest hot brand in the flashlight world. It used to be that a new brand would come out, issue a few stellar lights, and then six months or a year later another brand would rise up to kick them off the throne. The cycle of innovation was relatively slow and the brand names and flashlights were manageable.
Surefire was dethroned by Fenix lights touting high output LEDs, then Fenix was relieved of its crown by Nitecore and their innovative UI. Next, 47s came in and reached the mountaintop with a series of lights all crammed with features beloved by the enthusiast crowd. Then the market picked up speed and all of a sudden it became impossible to determine who had the best reasonably-priced light on the market. New lights and iterations on existing lights came out two or three times a year and emitter upgrades seemed to drop monthly. Even for someone who harbors an unhealthy obsession with flashlights, the deluge was stunning.
In 2016, things settled down as Surefire's Titan Plus set the output bar very high for 1xAAA and oLight seemed to have hit the bullseye in terms of output and UI with its S-series. We had probably eight to ten months where things seemed to have calmed down. Then the dam broke and 2017 has been a year of fast and furious releases.
As just one example, the UltraTac K18 outshines the Titan Plus for 1/5th the price. The Manker Timeback II seems to up the ante as well. That calm period for a few months looks like it is a thing of the past.
The Timeback II is a 1×18350 light (an 18350 is a rechargeable battery roughly the size of a CR123a). It has an output on high of 2200 lumens. And, surprisingly, it includes a fidget feature. Yep, you read that correctly. This is a light and fidget spinner combined. Personally, I have no desire for such a feature, but in a marketplace where 2200 lumens will only keep you on top for a few weeks, you need something else to distinguish yourself from other lights. The 1-lumen low is good to see, an indication that Manker is paying attention to the full range of outputs and not just the high. The Timeback II also has a ring that spins freely; essentially a built-in fidget spinner.
Visually striking, the light comes in four interesting finishes, featuring a sculpted titanium pocket clip and copper accents. It also has a heavily crenellated head.
In the end, the Timeback II is probably more a sign of the times than a true, high utility light. This is not the most practical torch on the planet for a dozen or so reasons. But even with a bunch of low utility features, the core of the light–the outputs and the UI–looks very good. At $149.95 its a bit expensive as the light is mostly a novelty.