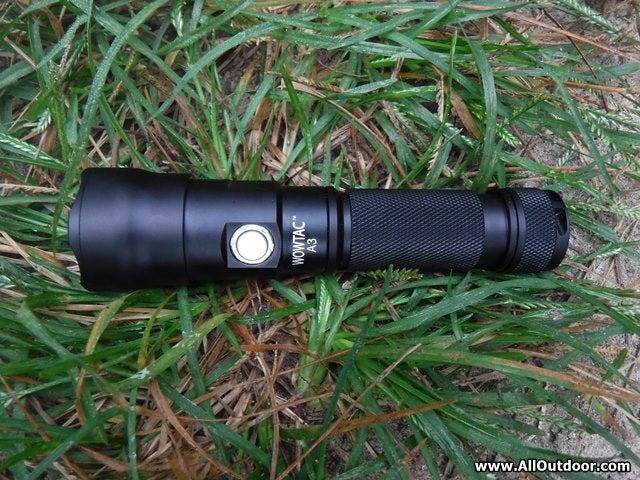 The Wowtac A3 is a handheld flashlight that uses a single 18650 battery. This is the third Wowtac flashlight to be reviewed here on AllOutdoor; the other two were the Wowtac A2S and the A2. Both of those are headlamps, but the light can be removed from the headgear and used as a handheld.
The A3 is different from the A2S and the A2 in that the A3 is zoomable. The head of the flashlight slides back and forth to change the beam from a spot to a flood.
Package Includes:
Flashlight
Rechargeable 2600 mAh battery
Micro-UBS cable
Belt clip
Spare O-rings
No lanyard or carry pouch was included with my test sample.
Specifications
Low: 16 lumens
Medium: 65 lumens
High: 220 lumens
Turbo: 600 lumens
Reading: 10 lumens
Weight: 4.60 ounces with battery
Length: 4 7/8 inches with head compressed, 5 5/16 inches with head extended.
Price:  As of October 8, 2017, $19.99 on Amazon, with Prime shipping.
The A3 is not waterproof, but can be exposed to rain.
Likes
Opens up to a nice floodlight.
One button for on/off and to change brightness settings. Some lights have an on/off button, then a separate button to change the settings.
Rechargeable 18650 battery.
Zoomable.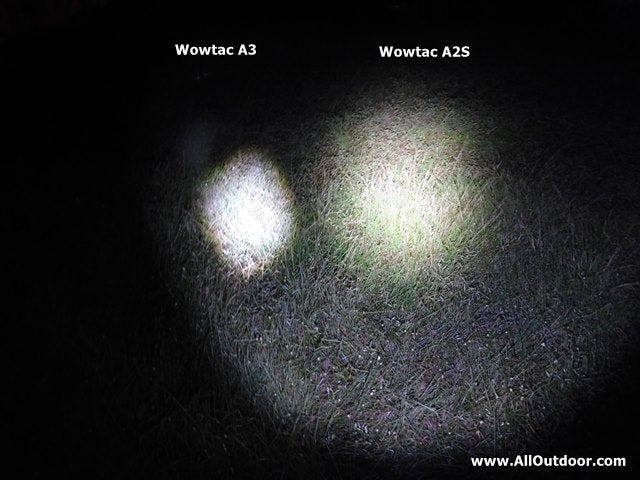 Dislikes
The lanyard hole is too small (only about 1/16 inch in diameter).
On/off button does not have an LED. The on/off button blends in almost perfectly with the flashlight body. Having an LED would help the user find the button.
The flashlight does not cast a clear light. Even though the box is marked as cool white, just like the A2 and A2S, the beam is a different color than the other lights.
Wowtac A3 Final Thoughts
After using the new A3 for close to two weeks around the farm, I prefer the older A2/ A2S lights over this A3.
If you're going to make the lanyard hole so tiny (1/16″), why even bother?
Get rid of the lanyard hole, add a battery-health LED on the on/off button, and change the LED so it casts a clearer light.
Overall, I like the A3, but in its current state it leaves a lot to be desired. This one will probably be sent to the hunting camp.
Is the A3 a bad flashlight?  No, not at all.  Is it worth $19.99?  Yes, I think so.
I give it a final score of 8.5 out of 10.
Full Disclosure
I received the Wowtac A3 at no cost to myself. Even though the A3 was sent as a free sample, this does not affect my opinion.