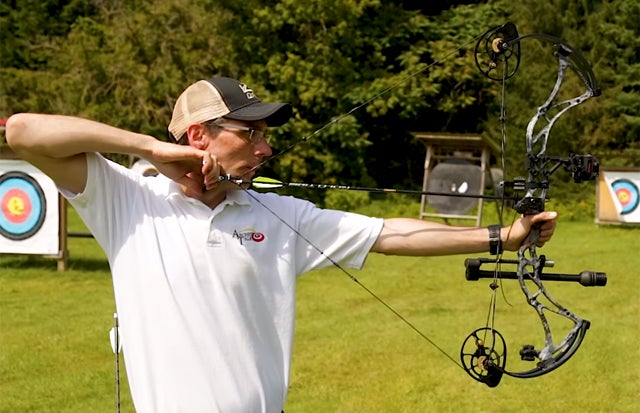 The Bowtech Reign 6 is one of six bows I've been testing for ArcheryTalk.com's 2017 Hunting Bow Project.
I have outfitted the Bowtech Reign with a QAD Ultra Hunter Rest, Bee Stinger Counterslide stabilizer, Trophy Ridge React H5 five-pin sight and a ¼-inch peep sight.
The Bowtech Reign 6 has an axle-to-axle length of 32 5/8 inches, brace height of six inches, IBO rated speed of 350 feet per second and mass weight of 4.3 pounds. The bow carries an MSRP of $999.
I set this bow up with a draw length of 29.5 inches and draw weight of 60 pounds. My test bow came dressed in Kryptek Raid Camo that is flat-out stunning in person. Fit and finish are excellent, though I am seeing some minor serving separation on one of the cables.
In typical Bowtech fashion, the Reign 6 is a bow tuner's dream. Top and bottom yokes make adjusting arrow flight incredibly easy. I am also impressed with Bowtech's Micro Sync dial, which is a brilliant innovation that allows you to dial in the cam timing without a bow press. So as long as you've got a draw board, you can get your top and bottom cams synced up easily by adding or removing clicks as you rotate the dial on the top or bottom cam. If you don't own a bow press, this can save you a potentially-costly trip to a dealer.
You can also drastically change the feel of this bow by using either the Performance or Comfort settings. Changing this is as simple as flipping a disc on each cam.
I started out using the Performance setting. This offers up a fairly stiff draw with a bigger dump into the valley than I prefer. However, the valley is quite generous and you can relax at full draw without worrying about the bow wanting to jump on you. And though this bow uses cable stops, the back wall is nice and firm. The big benefit of the Performance setting is speed. I saw an average speed of 302 feet per second with a 398-grain Gold Tip Valkyrie arrow when I ran it through a chronograph, which is really impressive for a 60-pound bow.
Flip the discs to the Comfort setting and the bow has a change in personality. The draw itself feels much easier, though there is still a hump going into the valley. Let down is also much less aggressive. As for speed, I saw an 8-10 foot per second drop compared to the Performance setting, which still makes for a quick bow.
My biggest gripe with the Reign 6 is the grip, which was my least favorite of the six hunting bows I tested. It's much more rounded than I prefer, but that's a personal preference.
As for accuracy, the Bowtech Reign 6 is a winner. If I am on point with my form and execution, I get very nice groups out to 60 yards. However, this bow does not tolerate any errors on my part. It can be crazy accurate, but isn't as forgiving as some other bows I've been testing.
After you release the arrow, the Reign 6 is wonderfully quiet. I didn't have a decibel meter on hand, but I think it's the quietest bow I've tested this year.
If you are somebody that really likes to tinker and work on your bows, the Bowtech Reign 6 should be high on your list.