At first glance, this little old popper just looks like one of many cheap old bolt-action 22 rimfire rifles, which used to be so common (but which have been sadly replaced by overpriced "target rifles" and semi-autos). But it doesn't take the savvy shooter long to see what's missing: The trigger and trigger guard!
What we have is a cute little youth-sized popper that was purposely made without a traditional trigger. Instead of pulling a trigger with your finger, you'd simply push down on the thumb trigger. And since the trigger is also the sear, this eliminates at least one part/process from the mechanism.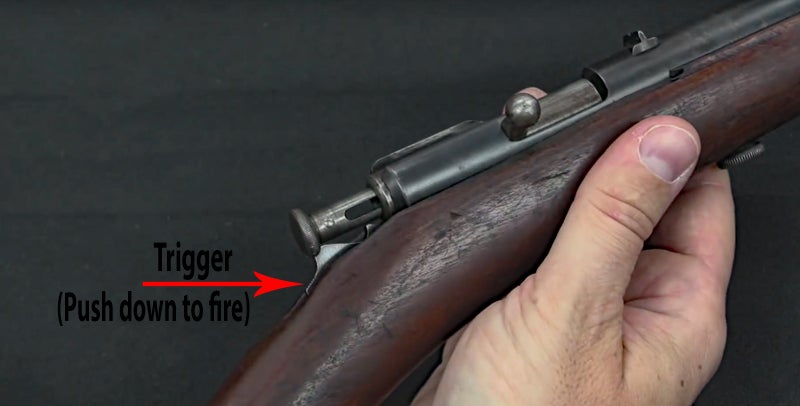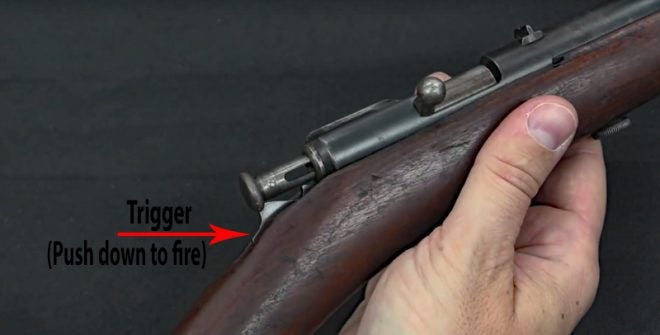 From Rock Island's site:
This rifle was a modification of the Model 1902 without a traditional trigger. The rifle is fired by depressing the trigger with the thumb which is part of the sear and extractor located behind the bolt. Standard markings and features including "THUMB TRIGGER MODEL" and 1899 and 1905 patent dates marked on top of the barrel. Fixed sights and one-piece straight grip gumwood stained stock with a black hard rubber Winchester buttplate. Winchester sold approx. 76,000 of these rifles between 1904 and 1923.
For years, this version was known simply as "the Thumb Trigger Model" until being dubbed the Model 99 in 1920.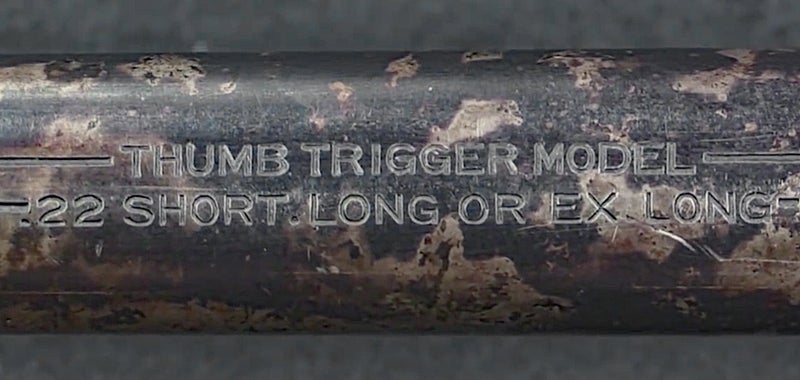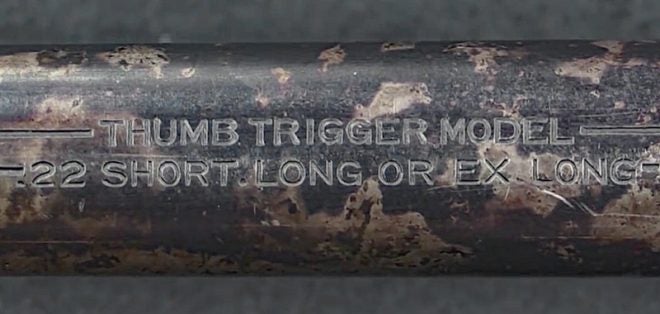 FYI, the 22 Extra Long is obsolete and has been since the 1930s. It had a longer case than the 22 Long Rifle, so the LR can be safely fired in this rifle.
The auction description refers to the sights as "fixed," but they do have windage adjustment; you could drift each sight right or left in its dovetail notch.
Unlike most bolt-action rifles, the extractor is not built onto the bolt. Instead, you open the bolt and when it gets more difficult to move, you pull more firmly and an extractor moves abruptly rearward. I'm assuming the quick rearward movement will aid in ejection as well as extraction.
Originally, these were quite cheap, but this one sold for $1265! Amazing.