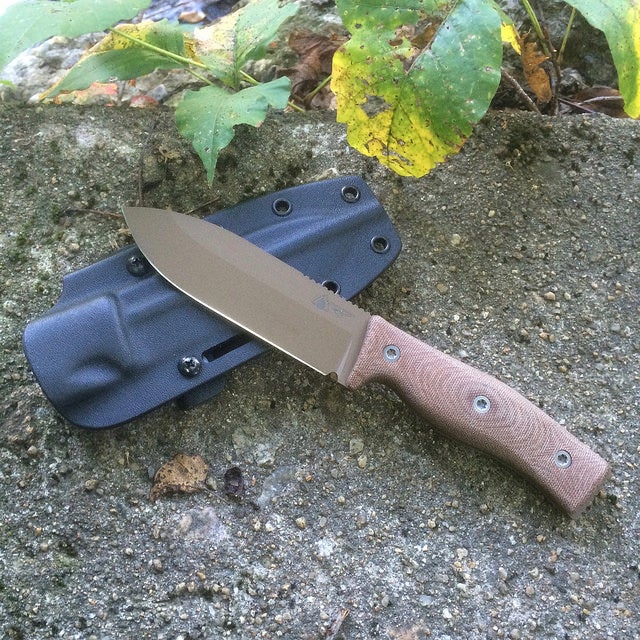 During the ten or so years I have spent intently following the knife industry, one thing has become indisputably clear to me: Making an excellent sheath might be the most difficult task a production company faces.
More than finding the best steel or designing the most ergonomic handle, the perfect sheath eludes just about everyone. There are sheaths that do one or two things well, and a few that do many well, but I am still waiting for that perfect sheath.
Adding to the challenge is the fact that a good sheath for a small knife is actually designed entirely differently than a sheath made for a big knife. When I interviewed Michael Walker, he confessed that he got out of fixed blades because sheath-making was too difficult.  If the greatest of all time doesn't like making sheaths, you know it is a daunting challenge.
That said, we aren't lost in the wilderness. While production sheaths generally range from acceptable to horrendous, some brilliant custom makers have really stretched the design language of sheaths.  Here is an article I wrote more than two years ago on innovative custom sheaths. Since then I have learned a lot about what makes a sheath great. Generally I prefer kydex. I think there are good leather sheaths as well, but they tend to be very expensive (Hedgehog stuff starts at $190; ornamental sheaths can be four figures). I detest nylon "tactical tube socks."
Besides the material, here are some criteria I use:
Easy On and Off
The best sheaths come off your belt easily. It's also nice if you can put the sheath on without starting to do a Chippendale's routine. In other words, the best sheaths can be installed and removed without taking your belt off. I found that DOTS and Tek-Lok both do an admirable job of making a sheath removable. The Tek-Lok found on my JFS custom sheath (from Bayou Custom Sheath Works) is the best setup I have seen in this regard, though the sheath on the SOG Pillar is running a close second.


Blind In and Out
The best sheaths for me are those, like the GSO 4.7 sheath above, that allow me to take my knife out and put it back in without looking–one-handed. Straps and lashes are usually a pain to deal with, especially if you are doing it over and over and over again. Last fall I did a major yard project and spent about 16 hours processing wood. That taught me the value of a "blind" one-handed sheath. Not only is the knife easier to use, but when done right, these sheaths look nicer in the end. My Bark River Bravo 1 sheath, by comparison, looks like it lost a fight with X-Men's Wolverine.
Adjustability
Ideally, you will have a bunch of different mounting options on a good sheath. Some folks like to carry their knives scout-style (parallel to the ground in the small of their back). I have found that this works best with smaller knives which have, obviously, one-handed blind in and out (otherwise, you stab yourself in the back, both literally and metaphorically).
When it comes to vertical carry, some like to have the knife ride high and some prefer it low like Scandinavian fixed blades. For that, you want a sheath with many attachment points. The SOG Pillar's sheath has them in spades, giving you flexibility in how you wear your knife.


High and Tight
Over the years I have found that "dangler" style sheaths, like the Fallkniven one above, do not work for me.  In walking through the woods they are noisy and they slap on my hip continuously.
While working, danglers can often get in the way and bang against your leg. For me, I want the sheath to sit high so I have good leg mobility and so I can easily drop the knife into it without having to worry about the sheath being covered by clothing. I also want the sheath as tight to my body as possible. If a sheath has to be a low-hanging design, some sort of leg strap can help, but that is really an inelegant solution to a bad design.
The Little Things
In addition to these four broad categories, there are other things I look for in a sheath. I like have a drain hole. I am not so worried about water, but sand concerns me. With a drain hole I can blow out the sheath pretty quickly. A basketball needle fed through the drain hole does wonders in cleaning out debris. I also like a taco-style sheath as it is less wide and only a bit thicker. Finally, I like very tight sheaths without any audible rattle. I want there to be something of a detent that will hold the knife snugly in place.  I know there are good reasons for that not being the case, but for me, I like to hear birds singing, not my sheath rattling.
There's a dearth of really great production knife sheaths out there. Among the slim pickings, my two favorites are the SOG Pillar sheath and the Survive Knives sheath. Forced to choose between these two stellar options, the SOG sheath wins. I like a lot of the Cold Steel Securex sheaths, but they aren't the most adjustable on the market. In terms of leather sheaths, I have seen excellent ones, but no production company has reached that threshold yet. Some of the Scandinavian tube-style leather sheaths are good, but none are great and none are close to a good kydex number. I also like the magnetic sheath found on the Bark River Adventurer. It might be the best production leather sheath available.
To me, a custom sheath is totally worth the money. In fact, Hedgehog Leather sheaths are so good, I might even buy a BK-2 just for the sheath. I have also found that good kydex designs really make a knife. Bayou Custom sheaths has done an excellent job for me on at least three different occasions. There are many good kydex people, but his attention to detail and design cues that fit the knife's purpose set him apart from others. Custom leather sheaths are pricey, but good kydex ones aren't bad at all.
If you think of a sheath as a second piece of your knife and not as an accessory, you can take a decent fixed-blade and make it into an essential piece of your gear kit.