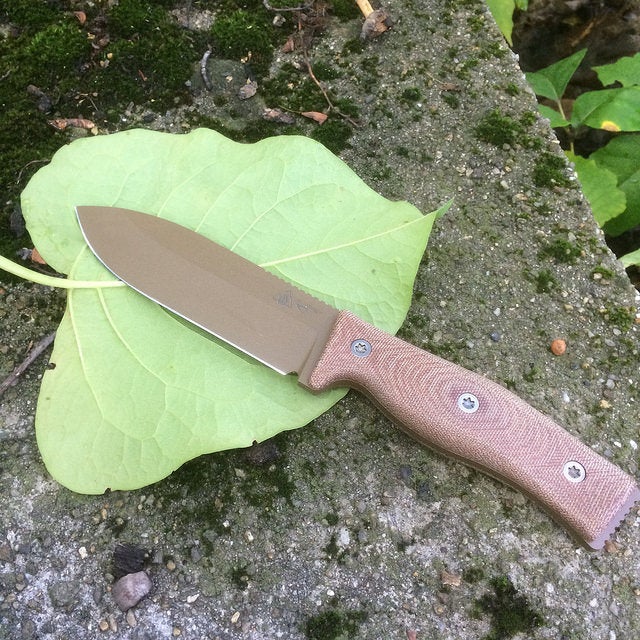 Survive! Knives (which I will simply call Survive Knives for ease of typing) is a small boutique brand of fixed blades made and finished by Guy Seiferd in Kellogg, Idaho. Over the years, they catapulted to knife fame via a Nutnfancy video and great word of mouth. The company started as a very small batch maker with only a few knives per model being released. For a good four or five years they were perpetually sold out. Things have gotten better recently as they have been using Millett to help with production, and so I thought it would be a good time to post a review. (No use in posting a review of a knife you can't buy.)
Fixed-blades right now tend to fall into one of two categories — high-end woodsy knives like LT Wright, Fiddleback Forge, or Adventure Sworn, or tacticool with stuff from ESEE, Ka Bar, and Busse at the high end. Mostly, fans of these two genres of fixed blades just look askance at each other over forum boards and snipe at how ridiculous the other camp is. The woodsy folks scoff at cake-frosting-thick coatings, 2×4-sized blade stock, and chunky handles. The tacticool folks giggle at 1920s era steel, positively unfunctional sheaths, and the inability to obliterate chopping targets. It is exceptionally rare to see a knife that comfortably sits in both camps, but Survive Knives do. It has the great handle ergonomics and balance of a Fiddleback Forge with the blade shape and the durability of an ESEE.  My particular knife, the GSO 4.7, was part of a limited run in Cru-Forge V.
A quick side note on Cru-Forge V.  Cru-Forge V steel is designed to be used by knife makers who forge their blades instead of making them via stock removal (grinding). It was made and developed by Crucible and was set to come on the market right around the same time Crucible underwent a massive corporate restructuring. As a result, very little Cru-Forge V made it out on to the market when it was initially developed.
Now, with Crucible emerging from the restructuring, they put some out for makers to buy. It's not a PM steel, nor is it a stainless steel; instead, Cru-Forge V focuses on being easy to forge and having high toughness. In my testing, I pitted it against 3V and a high-end heat-treated O1, and Cru-Forge V did quite well. Even now it is not widely available, but Cru-Forge V is definitely worth tracking down. It is a good value with very good performance at a reasonable price. I would imagine it would be even better in a forged knife (this GSO 4.7 is a stock-removal blade).
Description
The GSO 4.7 is a medium-sized hard-use fixed blade. It is designed as the knife equivalent of a "jack plane" or a No. 5 handplane from woodworking. It can go from food prep and detail tasks up to wood processing and high impact work. The GSO 4.7 has a highly-contoured Coke-bottle handle made of brown micarta. There is a hidden lanyard hole at the rear of the handle, which has a full tang design with an exposed pommel for striking and smashing. The blade shape is an extreme drop point or spear point design. It comes with a kydex sheath which is attached via a kydex belt loop. This version of the GSO 4.7 came with the aforementioned Cru-Forge V.
Testing
I got the GSO 4.7 last fall just in time for some major yard cleanup. We hadn't had a visit from an arborist in about a decade, so we were due. He did some major pruning and I was able to talk him into leaving the wood where it fell in exchange for a discount. I got the pleasure of processing all of the wood, giving myself a nice stack of firewood and saving a few hundred bucks on a cord I normally would have had to purchase.
Over a weekend, the GS0 4.7 and two other knives got about 10 hours of use. It was a lot of hard work, but it was about as much fun as a knife knut can have. It was so much fun, in fact, that my family called the weekend "The Chopoclypse." After that, I used the GSO 4.7 mainly around the fire, processing wood, cutting up meat, popping camp pies out of campfire irons, and occasionally cutting up some sopressata or the like.
Design
The size and feel of the GSO 4.7 are really impressive. It's on par with Fiddleback Forge stuff, albeit with a bit more "army" feel to it. The best part of the GSO was, by far, the handle.
This is a masterful design. Over hours of hard use, it never developed a hot spot. It never felt cramped. And I never felt like I needed more space. It was, in a word, perfect. There are a few good handle designs out there. Andy Roy of Fiddleback Forge makes the industry's best, and Bark River makes a few flawless designs. And there is the classic: the Becker handle.
Well, this GSO's handle comfortably fits in this company. The sheath is also an excellent design. This is a truly blind-in and blind-out sheath, functioning thoughtlessly. I only wish the attachment point was a bit more adjustable.
Still, that is a nit barely worth picking. As a blueprint, it's hard to want something else.
Implementation
As implemented, the goodness keeps on coming. The grind was excellent and the cutting edge was keen but stable. The Cru-Forge V handled a lot of cutting quite well, holding up nicely next to 3V, which is an impressive task.
The coating isn't as chalky as a Ka-Bar coating, but it is still something I could do without. Overall, it was stable enough.
The handle design is good, but the handle as made is even better. I loved how it felt in the hand, grippy yet smooth, filling the palm nicely. From a clean plunge line to a well-formed sheath, everything was great.
Conclusion
The GSO 4.7 is such an easy recommendation. Now that the Survive Knives stuff is more available, it's time everyone who wants one gets one. They are easily worth the hype. They also fit nicely into the upper tier of fixed blades, especially because they are cheaper than most, coming in below a Bark River and well below a Busse or Fiddleback Forge. They also come in a variety of steels.
In short, if you are looking for a fixed blade, go look at a Survive Knives. The GSO 4.7 is a good place to start.