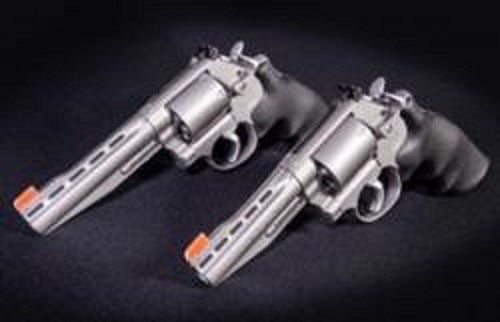 The highly favored .357 revolver Smith and Wesson 686 models just seemed to drop off the scene. Starting out as the blued version the new L-Frame, 586, then produced in stainless steel as the 686, the revolvers did develop some issues, but mostly just faded away. Even used ones are very hard to find. When one is found, they command premium prices.
Reference material on the 686s are confusing without a clear date of initial production, and ending dates are even more elusive. Most material on these revolvers seem to settle on a first production date of 1991. A seven shot version was later produced beginning in 1996 and by all indications has continued in production.
The 7-shot 686 was still listed in the 2015 Smith factory catalog that I have in a file cabinet featured with four barrel lengths, 2.5, 3, 4, and six inches. The L-Frame profile was as the initial versions except the cylinder capable of handling one more cartridge. The blued versions are still absent.
Little matter, as now Smith and Wesson has revised the design in their upscale Performance Center Brand as the 686 and 686 Plus Revolvers. This newer iteration features a competition ready package with a speed release thumbpiece for quick reloads, interchangeable sights, and a highly tuned and smoothed action. It's an out-of-the-box revolver built ready for action.
The most distinctive change however is its new unique visual appearance with a vent ribbed barrel top sort of an "ala Python" look without the full under lug. The basics include a stainless steel frame, cylinder and barrel with a matte type finish. The revolver's cylinder is non-fluted. Again, the front orange sight is interchangeable. The hammer is unique, too, being a chromed custom "teardrop" design.
These new 686s are chambered for the .357 Magnum but can also handle the .38 Special +P loads. The 686 has a 6-shot cylinder with a 4-inch barrel. The 686 Plus version has a 7-shot cylinder with a 5-inch barrel. This cylinder is machined to handle moon clips for fast reloading. Both 686 models have an MSRP of $966.
All Smith and Wesson products are now backed by a limited lifetime warranty including a lifetime service policy. Smith produces high quality firearms, but regardless, they stand behind whatever they manufacture. Additional information and specifications on these new updated 686 models can be found at the S&W website at www.smith-wesson.com.