Review: Western Justice John Wayne Lil Duke BB Gun
Jon Stokes 11.23.17

One of the best tools for getting kids into shooting and teaching them safety and fundamentals is a BB gun. The basics of sign alignment, trigger control, and range rules can all be safely instilled over the course of a few range sessions, and those sessions can even take place indoors.
Last Christmas I got my oldest daughter a Red Ryder BB gun, and on unboxing it I learned that the most difficult thing about using a BB gun to introduce her to marksmanship was prying the gun away from the adults. These guns are just that much fun.
Given that I'm an old hand with the Red Ryder, I jumped at the chance to review the Western Justice John Wayne Lil Duke BB Gun Rifle from PyramydAir. At $49.99, this gun runs about $10 more than the Daisy Red Ryder, but it's still well within the "non-extravagant Christmas gift" range.
Specs and unboxing
Here are the basic specs for the rifle, which are about the same as the Red Ryder:
Officially Licensed John Wayne engravings
Spring-piston Lever-action
BB Repeater
Shoots BBs only
550 shot capacity
Smoothbore
Single-stage trigger
Manual safety
Hardwood stock
350 fps velocity
On unboxing it, I was favorably impressed with the sturdiness of the gun. The barrel is a little larger and heavier than the Red Ryder's, and in all the gun feels slightly more premium. I'm not sure if this is enough to justify the 25% price bump over the other gun, but then again it's only an extra $10.
I also got a little 4X power Crossman Targetfinder Scope with the gun, but I didn't install it because I'm still working on sight alignment with my kids. The scope is lightweight and about as clear as can be expected, and the eyebox isn't too narrow, so think when it goes on it'll be a good addition to the rifle.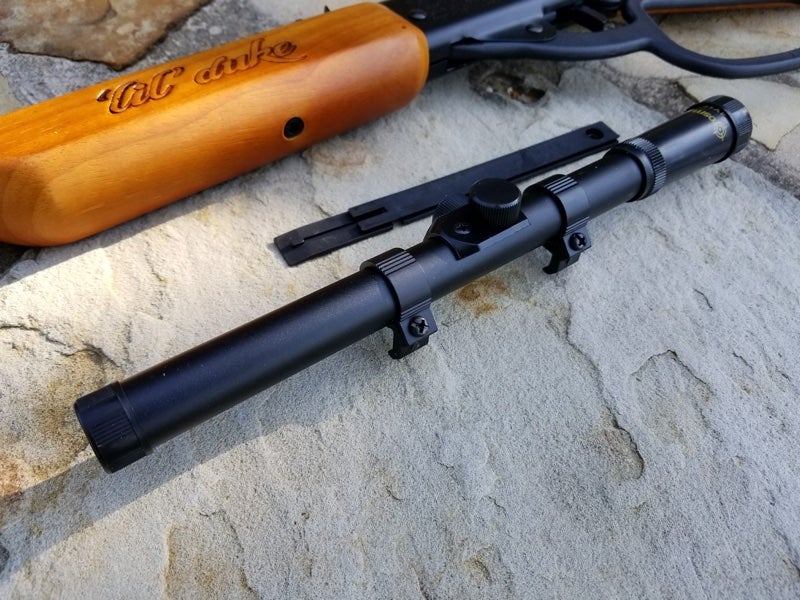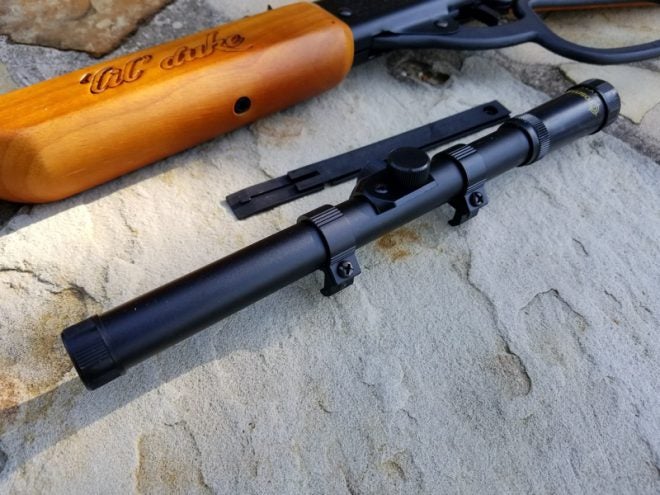 Range time
Shooting the Lil Duke is a blast, and the gun is quite accurate. I'm actually always surprised at how accurate these little BB guns are, and I've used them before for dropping hornets nests from the second-story eaves of my house. It only takes a few shots to hit the little thread that holds the nest to the house, so that the nest drops to the ground where you can finish it off with your foot.
In all, I had a good time plinking with the Lil Duke, and I also set up a BB trap and target for an indoor range session.
The cocking mechanism was a little stiff at first, but loosened up quickly. I actually see a stiffer cocking mechanism as a feature, not a bug, since (in my house, at least) it goes some way toward enforcing the "adult supervision required" rule for my younger kids. The oldest can cock it on her own, but the younger ones still have to ask dad.
Speaking of cocking the gun, this brings me to the one knock against this rifle. Some real-world lever action rifles have large loops in the lever so they can be more easily manipulated with bulky gloves, on. I can see why this rifle's makers chose to imitate that, in order to give it that "cowboy" look, but I think this was a mistake.
Because the lever is plastic and a bit flexible, oversizing it makes it more difficult to manipulate. There is just a tad too much give in it, so you have to be more careful than you would if the lever were smaller. If they're going to go with this oversized loop look, they need to use a metal lever.
Other than this gripe about the lever, though, this is a solid little BB gun that I'm sure will provide many years of enjoyment. It's definitely something to consider if you're in the market for a Christmas present that won't break the bank, and that will get you outdoors and on the range with your kids.