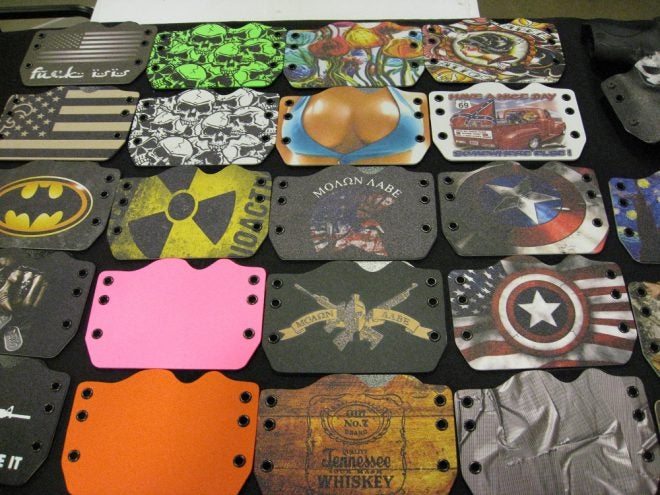 With the advent of custom-molded handgun holsters, vendors are offering a wide array of signature covers. On the surface this is a cool thing, but caution should be used as to when and where to show some of these holsters out in public. They might draw the wrong attention.
Besides the usual tactical colors of black, coyote tan, olive drab, gray, brown, and such, there are every camouflage pattern one could think of, along with basic black.
These custom holsters can often be purchased and molded to fit many different pistols right on-site at large gun shows. The customer picks the color, design, message, and the type of carry, and the vendor puts it together while you wait. The cost is usually less than $50.
As mentioned, the cover designs can include a wide variety of messages, flags, insignias, and other graphics. Just some of the examples I saw recently on a holster vendor's table included skulls, whiskey labels, flowers, Captain American shields, American Flag, Dixie Rebel Confederate Flag, duct tape, Batman, AR-15s, the radioactive sign, and quite revealing bikini tops. That was just a few I noticed in the photo posted here.
Wearing some of these holsters out in public ought to be done using good judgement and common sense. Our society is so driven by political correctness these days, just wearing a Rebel Flag holster in the wrong place could even result in a confrontation. The same could be said for a choice of a political party graphic, a political statement, or even something like an Enforcer mask or the Punisher insignia. Practically anything can offend anybody these days.
So, even though you may be carrying your concealed weapon legally in a serious attempt to provide a mode of protection for yourself out in the public domain, the mere display of a holster that is offending somebody else is just not smart concealment. Naturally, a CCW holster is intended to be concealed so it is not seen in public. So, wear that shirt covering the holster or a jacket and do not advertise the fact you are packing a firearm.