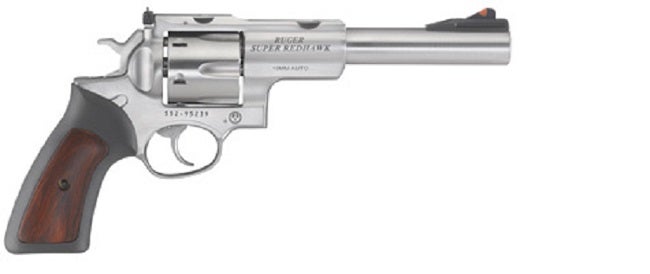 Ruger Firearms has done it again. In this case it is a new option in a time-proven design, i.e. the Super Redhawk, which will now be chambered for the 10mm Auto. Who would have ever seen this coming?
The outward profile of the 10mm Super Redhawk remains more or less the same. The barrel is 6.5 inches with six grooves and a 1:16 inch right hand twist. Overall length is 12 inches and weight is 54 ounces.
The satin-stainless-steel-finished Super Redhawk comes with a replaceable red ramp insert front sight and a Ruger adjustable rear sight. The triple-locking cylinder is one of the premier revolver lockup systems ever designed.
This handgun facilitates comfortable shooting by using the well-known Ruger handgun stock which is a cushioned rubber grip with a handsome hardwood insert. The insert is smooth, while the grip promotes a comfortable but firm grip. Even the most powerful loads like 44 Magnum, 454 Casull, and 480 Ruger are controllable. It will be a joy to shoot the 10mm Auto in this handgun.
As usual, this Ruger Super Redhawk features integral scope mount positions machined directly into the frame top strap and frame barrel extension, and comes supplied with Ruger scope rings as well.
So, the 10mm Auto? First — because I know you'll ask — yes, the cylinder is loaded via full-moon clips, three of which are included. Ruger says a moon clip not only acts as a speed loader but helps speed the ejection of fired cartridges.
The 10mm Auto ammo has undergone remarkable transformations in the past few years. Now there are more-than-ample loads readily available for hunting game animals up to white-tailed deer size. In this handgun weighing 54 ounces, shooters can be confident of a gun that can handle the 10mm Auto.