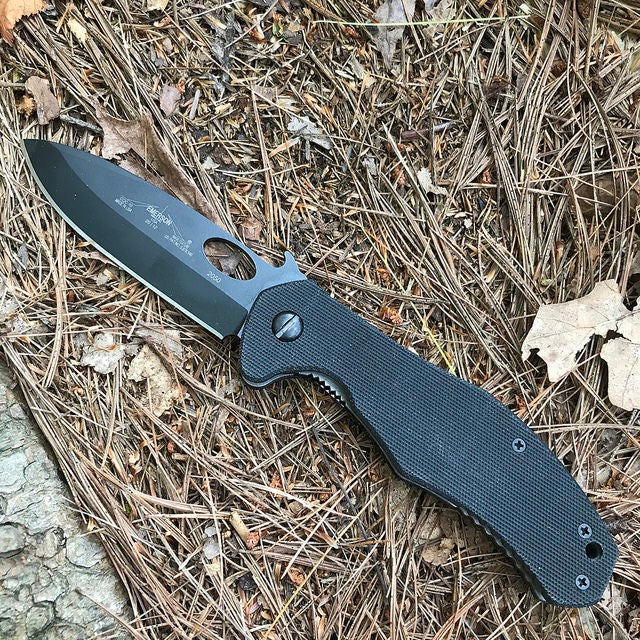 On the Second Day of Christmas my true love gave to me, a knife I could use while wearing gloves…
The Choice: Emerson CQC-10
Why:
Gloves and knives go together like peanut butter and glass shards. It not quite that bad with fixed blades, but there are very few knives that are easily used with work gloves. The tiny fiddly thumb studs or flippers that folks love these days are not just bad with work gloves. They are antithetical to gloves of any kind. Light switch or push button flipper—it doesn't matter. None of these work.
Thumb plates do a little better, and given the right-sized Spydie hole you might be able to get a knife open, but if you are wearing work gloves, your best choice is an Emerson. Their grippy G10 and wave opener means that even with some padding around your digits, with a bit of practice your knife is going to open.
The CQC-10 tops my list of Emersons because it is both big enough to grab on to, yet not so big as to frighten away people and less-hungry polar bears. Have you seen the Super Commander? I also like the spear-point blade and the thumb oval, which, while not as good as the wave, still can be opened with gloves.
This fall, I found myself in need of a knife I could open with gloves on. In October it was pretty warm here, but in November the Ice Queen arrived and plied her frozen trade across the land. We were still raking leaves after Thanksgiving, even as it was hailing and snowing. And with leaves came branches. Processing those branches with gloves on wasn't tough at all given the right knife, and in my case that knife was the Emerson CQC-10.
Emersons are the perfect knives for this rough-and-tumble work. They can take a beating and half, they have a simple-to-use liner lock, they have a great clip, and they have great handles (handle design is a part of knifemaking in which Emerson is criminally underrated). The coin-compatible pivot screw and the easy-to-field-sharpen chisel grind are also great.
Normally, I am not a huge fan of Emerson's chisel grind, but for rough work where precision doesn't matter, it' quite good—chopping but not frail. You can find a full line of Emersons at Knife Art.
If you need a knife you can open with winter gloves, well, I can't help you there.
Alternatives:
Scrooge Before Ghost Visits: Cold Steel AK-47
I don't like it as much was the CQC-10, but the AK-47 with its thumb plate deployment can be opened with gloves, fast or slow (the plate can hook onto pants and open that way, like Emerson's Wave). It's got CTS-XHP steel, which is better than Emerson's 154CM, but its weird handle doesn't speak to me the same way the CQC-10 does.
Scrooge After Ghost Visits: Busse SAR 7
Fixed blades do well with gloves, except for one thing — the sheath. Even Puuko tube-style sheaths can require two hands and some fiddling. So why not get a fixed blade that doesn't come with a sheath? Honestly, this is a bit of a joke on my part, but the Busse SAR 7's excellent, broad grips make it a great knife in hand, even a gloved hand.