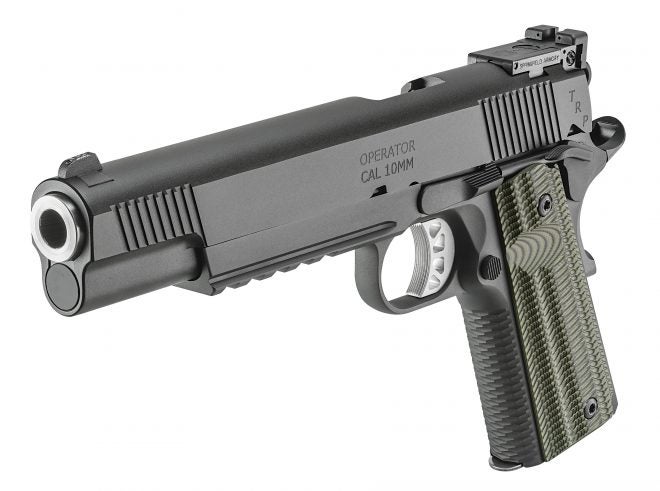 Springfield Armory has a diverse assortment of pistols to suit nearly anyone's needs, but one caliber that has eluded their lineup has been the 10mm–until now!
Springfield fans should have saw this one coming though, because they actually released a YouTube video from SHOT Show 2017 that hinted at the release of a 10mm in the near future.
https://www.youtube.com/watch?v=bGUTrnfJOzM
Well, now it is finally here! Out of their popular series of Tactical Response Pistols (TRP), you can choose from both a 5″ model or a 6″ long-slide with adjustable sights. They share a host of favorable features which include all of the following:
Springfield Armory® Gen 2 Speed Trigger
VZ® Alien Dirty Olive G-10 Grips
Forged Steel Slide & Frame
Octo-Grip™ Front Strap Checkering
Ambidextrous Thumb Safety
Black-T® Finish on Slide & Frame
Two 8-Round Stainless Steel Magazines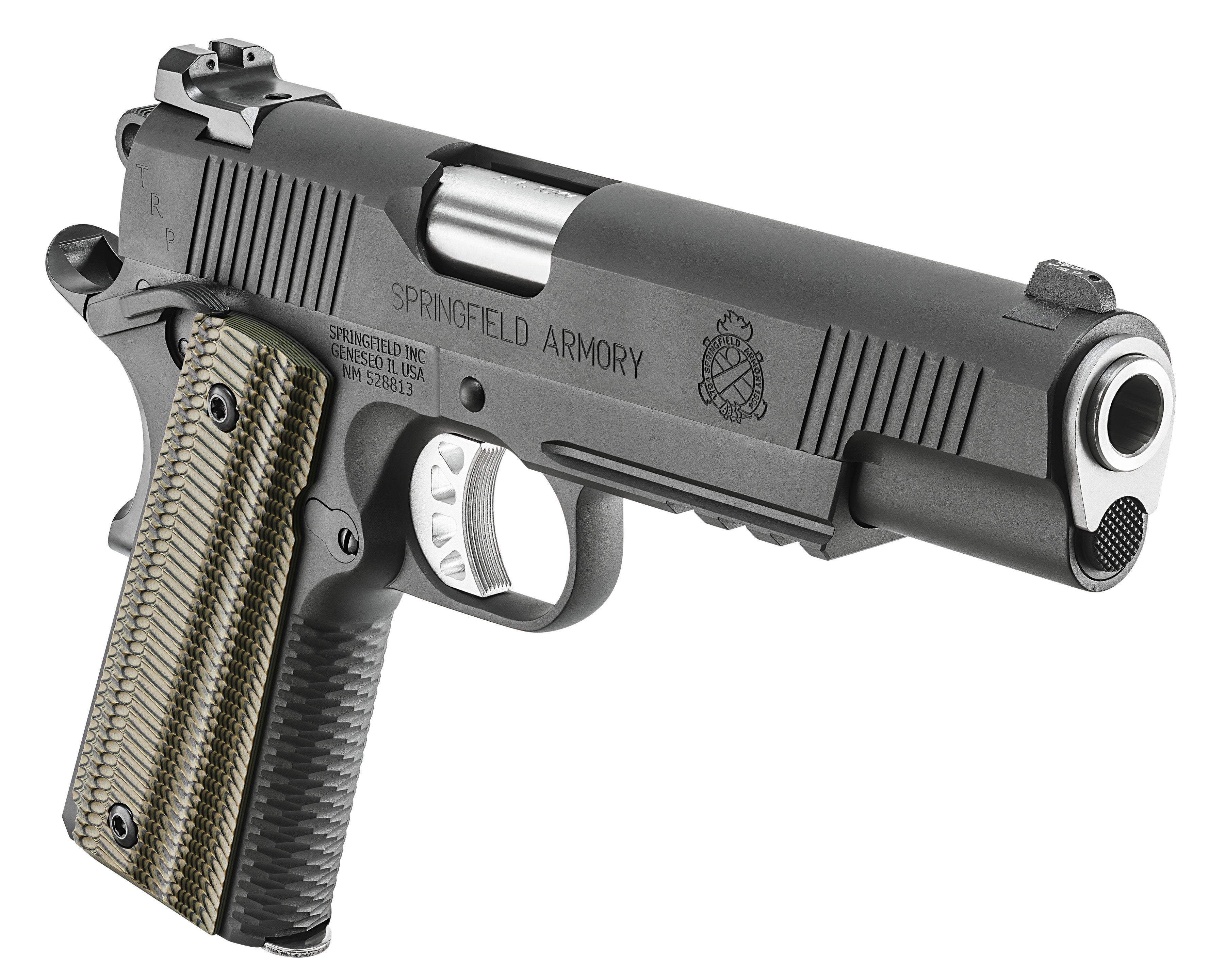 Some elements that will be specific and unique to the 5″ model will be centered around the barrel length and sight picture. This model boasts 3-Dot Tritium sights with a square-shelved or Tactical Rack rear sight. The 5″ Stainless Steel Match-Grade Barrel has a Fully Supported Ramp and Bushing paired with an 18-1/2-pound recoil spring.
Springfield Armory's CEO Dennis Reese goes on to elaborate:
We have offered 10mm 1911s from our Springfield Custom™ Shop for many years, but this is the first production 10mm 1911 offering in the Springfield Armory lineup. The TRP 10mm is soft shooting, built for accuracy and takes advantage of the full potential of the hottest 10mm rounds, just as the cartridge was originally intended.
For those unacquainted with the heritage of TRP pistols, they were originally derived from the need to meet stringent specifications to win the FBI's coveted HRT 1911 pistol contract. The first guns and subsequent models are based off of the Professional Model from the Springfield Armory Custom Shop.
Some features exclusive to the 6″ Longslide version of the TRP Operator 10mm are the fully adjustable 3-dot Tritium sights, and of course the longer sighting radius associated with the 6″ stainless steel match-grade bull barrel. In comparison to the 5″ model, the 6″ Longslide will weigh in at 45 ounces versus 40 ounces and have an overall length of 9.6″ compared to 8.6″.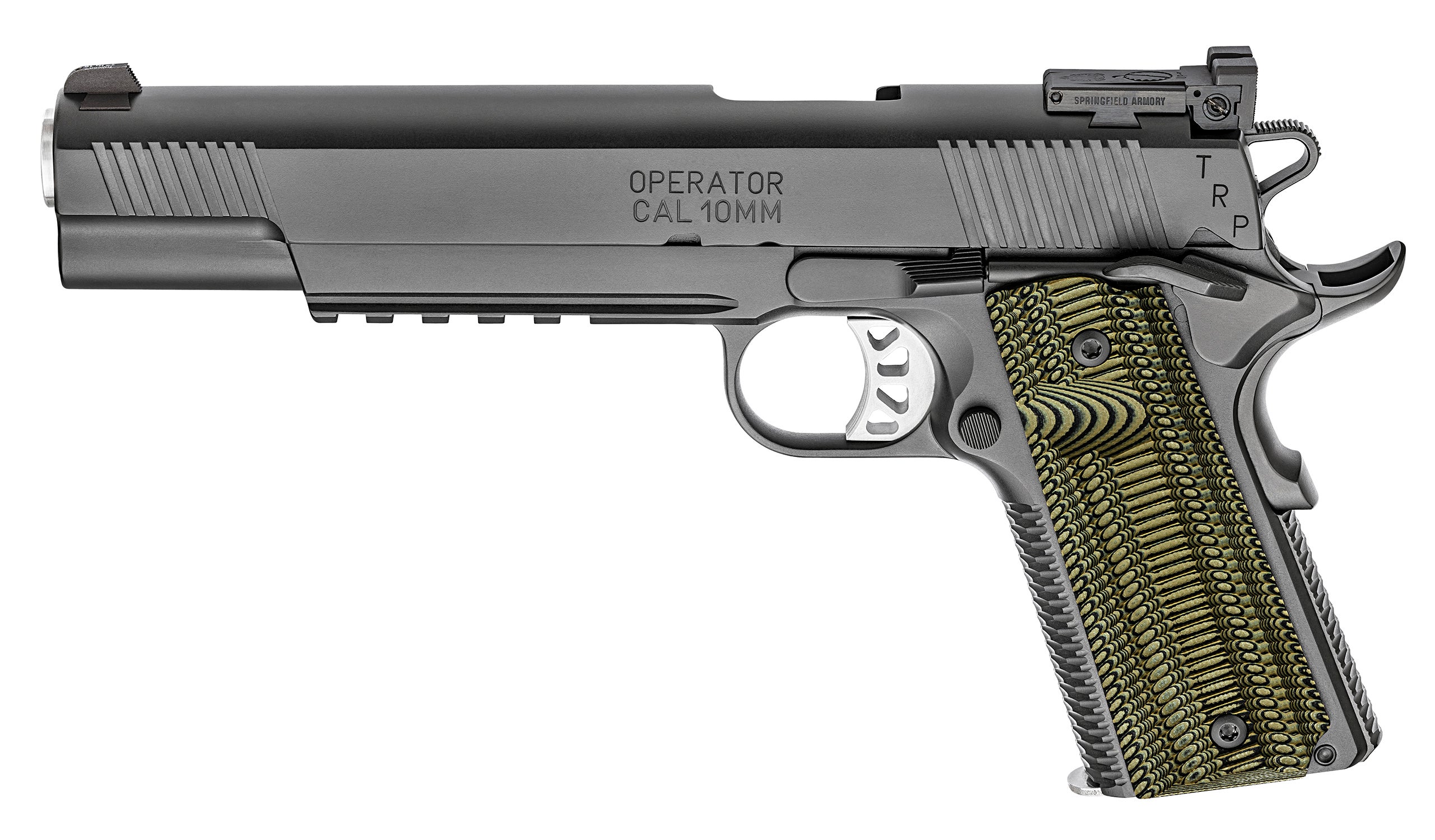 Both of these models have sexy styling with accuracy to match. I was afforded the tremendous opportunity to shoot these models from Springfield Armory, and it was mere child's play to hit steel plates out to 30 yards. To stretch the accuracy of these pistols to upwards of 50-100 yards with iron sights was feasible if you narrowed your focus and steadiness.
The TRP is built with one goal in mind – to be the toughest, most reliable and accurate fighting gun available. There is no place for compromise. Our TRP Operator models are simply the best production 1911s on the market.
It is difficult to state it better than what Dennis Reese said right there. These new 10mm TRP Operator models should be making many consumers rejoice.
The complete specification sheets can be read below for both models which are now available through your favorite Springfield Armory dealers.