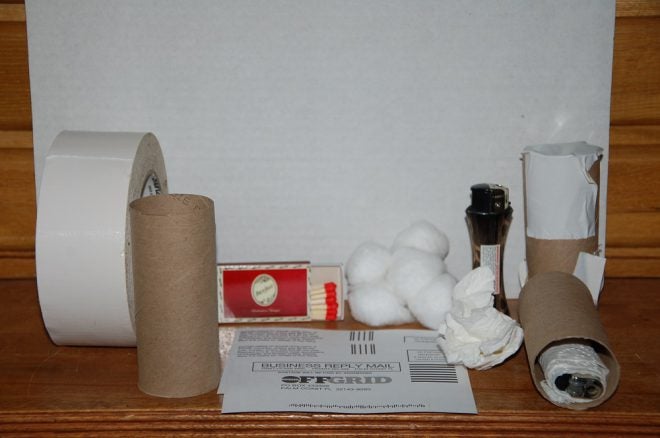 If caught out overnight or indeed at any time during a SHTF event, one of the most comforting (if not life-saving) things to have available could be a fire. Starting a fire under many circumstances can become more than simply thumbing your handy butane lighter, so build yourself several small, concise, packaged fire-starter kits.
As preppers and survivalists, we are noted for our many bags chock-full of ready supplies to undertake just about any disaster. However, sometimes we forget to plan in advance to make things easier on ourselves. We think it terms of having everything else we need for personal defense, thwarting off the zombie attack, or huddling under a tarp out of the rain under an overpass, but skip simple survival tools and tricks.
Creating a simple incendiary arsenal is easy. There are many options and virtually endless ways to fashion a simple kit that is easy to pack and carry. Every BOB (BugOut Bag) should certainly have several, but the EDC bag in the car should have them, too. Sure, you might be able to scrounge enough fire lighter materials along the way, but what if it is raining or snowing? Be ready.
My own favorite fire arsenal kits start with the fiber board insert from a roll of toilet paper — which serves as the container as well as additional fire starting material. You can tightly wind up lots of materials including toilet paper itself, paper magazine subscription inserts, paraffin cotton balls, dryer lint, popsicle sticks, and anything else that will light quickly and easily. Then stuff in a butane lighter or a dozen waterproof matches. Wrap both ends tightly with duct tape, which is also a good fire starter material in its own right.
When needed, just rip apart, tear into pieces, and get ready to light the fire. First gather up some other nearby materials to add to the starter flames. It is best to protect the fire with a wind block or a cover if available.
Another option is to build a fire starter kit as above, but put it all into ziploc plastic bags that can fold flat for easy storage. Perhaps you have other ideas to share with us as well. The idea would be keep a half dozen or so of these ready to light incendiary arsenals packed at all times.