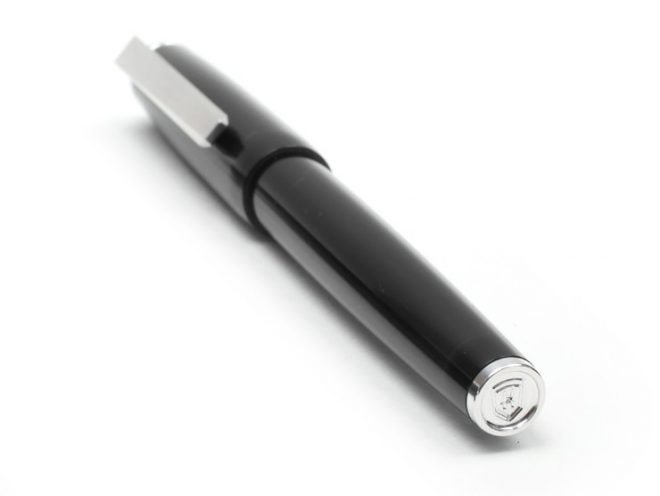 The eighth day of Gear Christmas my true love gave to me A Pen with Writing Silken.
The Choice: Karas Decograph
There is simply no way to match the writing experience afforded by a fountain pen. The nib-on-paper feel is exceptionally hard to replicate and once you try a fountain pen its hard to go back. The sensation and feedback provided by a steel (or even better a gold) nib striding across a fresh, clean sheet of paper is incredible. If you had a bit of a doodle bug in you before, a fountain pen will turn that bug into a fever. Writing with a fountain pen is addicting.
Traditionally, fountain pens were fragile and finicky, not ideal for EDC use. But a new generation of makers has taken what your parents and grandparents remember as a mess maker into something that still has the amazing writing experience but now can handle real knocks and bumps. I wouldn't recommend one for a police officer writing tickets in the middle of winter (for that, look to the Tacticle Turn Gen 2 Shaker). But if you aren't writing in quite such difficult conditions, the modern generation of fountain pens should be plenty hardy.
Karas Customs started out making hot rod hop ups. They make a pen, launched it (and the trend of machined pens) on Kickstarter and then a tidal wave of new pens came. There were bolt action pens, nock actuated pens, and even a machined fountain pen. All were good. But they didn't feel like traditional pens. The Decograph takes Karas's machining skill and applies it to a more traditional material and design for the fountain pen world. The nib is from the German nib maker Bock. You can get the nib in a range of sizes and materials. Thanks tot heir history as a machining company, the Decograph is a bit sturdier than other acrylic bodied competitors.
Alternatives
Scrooge Before Ghost Visits: TWSBI Eco
TWSBI has a reputation, well earned, of making stuff that breaks. I have a Classic that is still inked up, but cracked in multiple places. Maybe it is like growing pains—TWSBI has grown quickly since it first started making pens. But whatever the cause, aside from great nibs, TWSBI is known for making less than hardy pens. They fixed that with the Eco. They reduced the number of parts, simplified its operation, and made the design more commonsensical (the piston mechanism now screws full into place on the rear of the pen). The effect is twofold—first, the pen is much sturdier and second the pen is significantly cheaper. At around $30, this is one of the best starter pens on the market. Now, this pen requires bottled ink (TWSBI removed the ability to use ink cartridges when it made the pen simpler). You can also score some awesome nibs, including a harder to find on cheap pens stub nib.
Scrooge After Ghost Visits: Kanilea Haleakala Silhouette
This is a $400 pen. That's pricey. But what you get is an acrylic pen that writes well and looks like nothing else. Through a process I can't quite understand, Kanilea is able to render abstract scenes in the pen. The Haleakala evokes the emergence of the night star field over the crater of a Hawaiian volcano. If you take a look at the pen, you can totally see it. Crazy awesome looks and great writing. Done deal Scrooge McDuck.