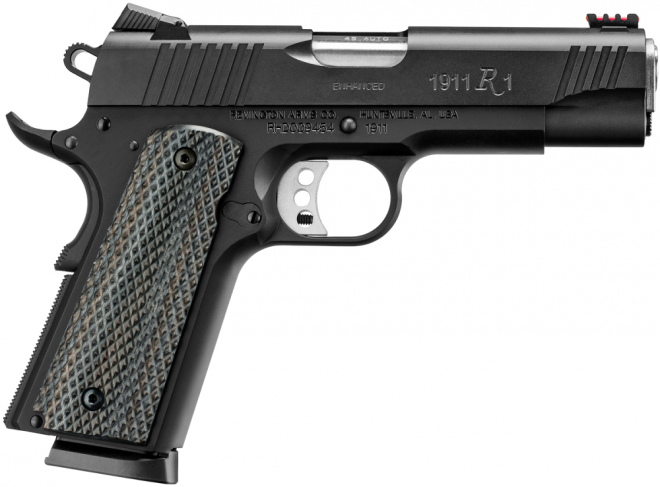 If 7 is truly a lucky number, Remington's introduction of seven new 1911 pistol models at one time is certainly a roll of the dice. As of late, it seems like Remington Arms has hit its stride in bringing out new firearm models well ahead of the annual SHOT Show where new guns are usually unveiled.
Most of us monitoring new firearms were pleasantly surprised with Remington's new 870 DM detachable magazine 12 gauge pump. Reviews have been great so far. But, hey, nobody saw these 1911s coming.
The new series of Remington 1911 R1 semi-auto pistols includes the new Ultralight Commander, Ultralight Executive, Limited Double Stack, Enhanced Double Stack, Tactical Double Stack-threaded, Tactical Double Stack, and Recon Commander Double Stack. There should be something here for every 1911 enthusiast.
Obviously, each of these new R1 1911 pistols has unique specifications even though built on the traditional 1911 frame platform. All the details on these new pistols can be found on the Remington web site at www.remington.com.
Features of these new models includes various barrel lengths, various magazine capacities, lightweight aluminum frames, extended beavertails, front and rear slide cocking serrations, laminated grips, fiber optic sights, tritium sights, adjustable triggers, extended mag wells, tough PVD finishes, match grade features, double stack capability, a barrel threaded for a suppressor with raised sights, and an accessory rail.
Perhaps most surprising are the new double stack models. This allows for an expanded magazine capacity of 15+1 up to 18+1 rounds. The base model for this is the Limited Double Stack that will be chambered for the 45 ACP, 9mm, and the 40 S&W. With the 9mm, the double stack will hold 19+1 rounds. This certainly offers the shooter additional rounds for extra security when carrying one magazine.
The other new cool R1 1911 versions will be the Ultralight Commander with a 4.25 inch barrel, a rounded hammer, and the extended beavertail to protect the web of the shooting hand. The Ultralight Executive model will have a 3.5 inch barrel, aluminum frame with rounded butt, and other easy carry features. Be sure to check out all these new Remington R1 1911 models.