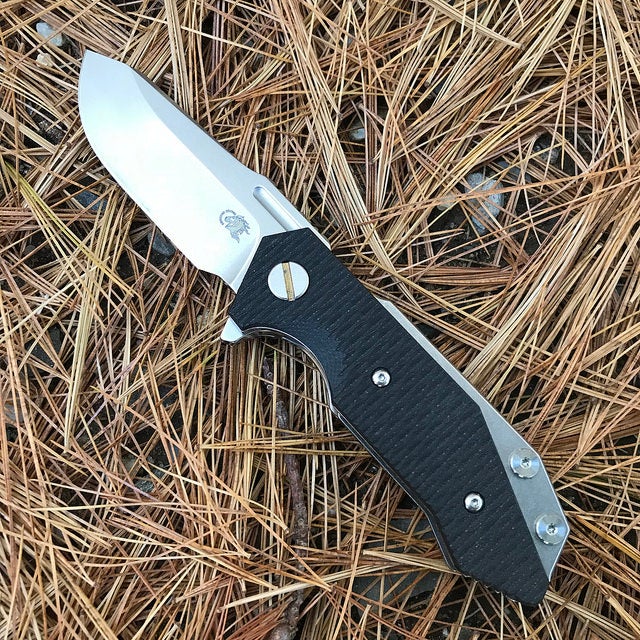 Rick Hinderer is one of the most important people in the knife business today. His XM-18 pushed the tactical knife world into new territory, making the flipper a prominent feature in high-end knives in the same way that the Sebenza made the framelock a high-end staple. Rick has collaborated with many companies. His designs started as customs, migrated into small-batch productions, and now he runs quite a large operation under his own name while still collaborating with other companies.
While many folks have liked every single thing Hinderer has made, I have had a mixed experience.  The XM-18 in both sizes were nice. Many of the collabs were quite good. Some of these knives are excellent, but are beefier than one needs in a EDC folder. In all, I have owned or reviewed seven different Hinderer designs over the course of nearly a decade reviewing blades.
The Half Track is, by a substantial margin, significantly better than any other Hinderer I have owned. If you want to buy a Hinderer and plan on carrying it as an EDC, this is it.
My review sample was provided by Knife Art. After returning it to them, I got a Half Track for myself. In my eight years of reviewing, that has only happened two other times.
Description
The Hinderer Half Track is a titanium framelock flipper. It comes in two blade shapes at the moment: a tanto and a clip point.
The knife has a machined G10 onlay on show side and a naked titanium lock side. The knife runs the classic Hinderer clip.  It also has the Hinderer overtravel stop and a lock face insert. The blade is S35VN.  There is a groove near where a thumb stud would be, but it is purely aesthetic — you cannot use it to open the knife.
You can get all titanium models and the onlays come in a variety of colors. I am sure, given Hinderer's history of modularization, that the onlays will come in a variety of materials. The blade is 2.75 inches long and the knife weighs just over 4 ounces. My version cost $425. The all-titanium version costs more.


Testing
Given that I have owned two of these knives, I have used them for many different things. On the review sample, which came in a nice satin stonewash, I used it as I use most EDC knives–food prep, box breaking, package opening, and the like. The second version ran Hinderer's working finish, which is all but impervious to marks, and I did the same — but given that I received it as a birthday gift around the holidays, I also used it for wrapping presents. It was sharp enough out of the box to do zip cuts on wrapping paper lying on carpet; almost no downward force was necessary.
Design
The market for these hard-use small knives has dried up significantly. Since Strider stopped producing PTs (and in fact seems to have stopped making production knives of any kind), the market had only a few knives that fit into this category. This leaves only a few high-end knives shorter than 3 inches with a robust build quality: the Techno, the brand new Busker, and that's about it. The Half-Track competes with those knives quite well and given how few are still being made, it is something of a standout despite being YET ANOTHER TFF (titanium framelock flipper).
Its Goldilocks size is complemented by its simple-but-effective styling. In a rarity for knives these days, there are only geometric shapes here–straight lines at angles to each other and a single semicircle.  The market is dominated by organic "melted jelly bean" shapes, all of which tend to blend together over the years. Not here.
The amorphous shape of the XM-18 is nowhere to be found despite similar design cues and texturing.  Finally the standoffs are typical Hinderer–stout, simple, and exceedingly well made.  The design's size and shape conveys just the right message–this is straightforward knife you can count on.
Implementation
Honestly, the tolerances and machining on the original review sample and my personal knife were as good as or better than those found on any other production knife I have reviewed.
It is as clean as a Shirogorov, as complex as a Steelcraft/Reate, and as refined and comfortable as an Al Mar.  For all the discussion of Hinderer's overbuilt aesthetic, he doesn't get enough credit as a truly superior machinst. This knife is the equal of any Chris Reeve product I have owned.
Furthermore, the Half Track cures the one ailment people diagnosed in the XM-18 — terrible flipping action. All of the XM-18s I handled needed a substantial wrist flick to open, making them more floppers than flippers. But the dialed-in detent and great flipper tab allow the Half Track to deploy with neck-snapping speed.  This is a great flipper and proof that Hinderer can make these kinds of knives (maybe the story about the XM-18 purposely being a lazy flipper is true).
Conclusion
This is an easy recommendation–a Hinderer with all of the solidity the brand is known for, all of the machining prowess Hinderer fans love, and in a size that is ideal for EDC. The entire knife is like the lock bar: solid, smooth, and confidence-inspiring.
2.75 inch blades are my favorite size for EDC. They are clearly under the often-used 3 inch legal limit, but still large enough to part an apple. The Chapparal, an entirely different design approach is great in this size, but the Half Track is equally good. Furthermore, unlike with Chapparal there is literally nothing I am afraid to do with the Half Track.
It is thick enough, strong enough, and stout enough to deal with anything I would throw at it. It's taken many years and quite a few knives, but I have finally found my Hinderer–and it's the Half Track