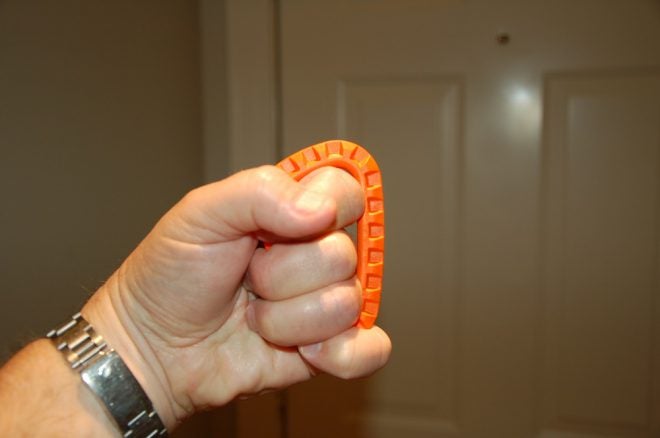 Preppers and survivalists may find a time and place when conventional self-defensive weapons are not available. With honest and good intensions we all plan a daily carry or the nearby stash of an EDC with the appropriate concealed carry armament, but it does not always work out that way. Under such circumstances then, the deployment of various other tools, or objects may be necessary to preserve your own safety.
One of these quite unlikely self-defense tools is the common carabiner. Useful of course for climbing, but more likely for suspending gear from a backpack, hiking rig, or even the belt loop on a pair of pants to tote keys and such. The carabiner can make for a pretty good set of fist knuckles if forced into action.
Should you want to keep some carabiners around for just such emergency situations, then shop around. Obviously you need one that is big enough to enclose in your fist as you grab the release side of the carabiner. These come in various sizes as well as a wide variety of materials. The ones designed for serious climbing should be the sturdiest with screw down locks. Others may be made of heavy duty ABS plastics to withstand hard use.
Try one on grasping it in a fully tight fist. The models with smooth finishes will likely be kinder on your own hands, so note that feature when checking them out. Again, this is not an ideal situation, as hitting as adversary with a clinched carabiner is not going to feel all that great on your own hand, but likewise on the face of the threat as well. I am sure to bet it will make an impact.
Another useful out-of-the-box self-defense tool might also be a section of one inch PVC pipe, perhaps with caps glued on both ends to keep it from slipping out of the hand. Think of this as a club or a defensive deflecting tool to thwart blows coming your way. I should think a piece 2-3 feet long and kept in the vehicle might be useful. One friend told me he filled his with water to add weight before he glued on the end caps. Hmmm, not a bad idea.
Others? How about a 3-4 foot piece of water hose? A trucker's wooden tire knocker tool? Maybe an umbrella with a metal tip, a plastic or wooden square yard stick, a golf club, or a good thick dictionary or Tom Clancy novel? When you don't have your gun, you have to get creative.