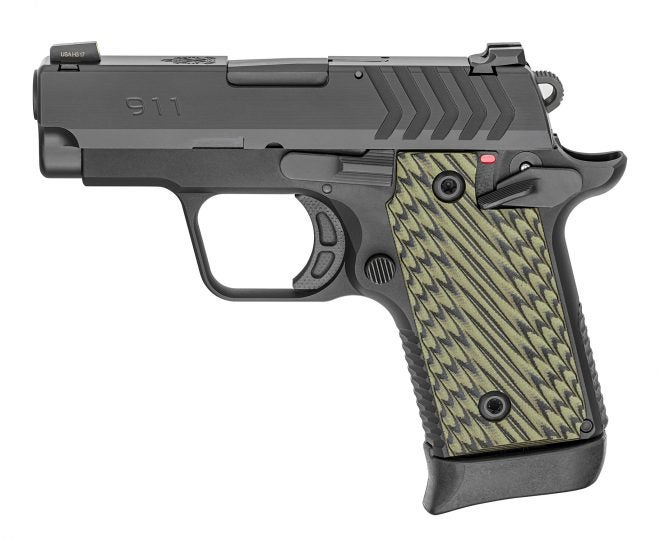 Throughout the year 2017, Springfield Armory broadened their portfolio considerably with firearms they did not have the year previously. From introducing an M1A chambered in 6.5 Creedmoor, to the XDE in .45 ACP or 9mm, to the SAINT Edge, to the SAINT AR-15 Pistol, as well as the Range Officer Elite Series, they brought a lot to consumers that they had never done before.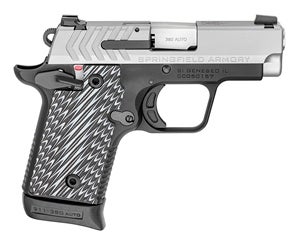 On this 1st day of January 2018, Springfield Armory looks to continue that trend. They now are proudly announcing their 911 .380 ACP carry pistol! For quite some time consumers have quietly requested a .380 ACP pistol of some kind since Springfield Armory's competitors all make one. Very few could have predicted that they would unveil a premium metal-framed one such as this.
Two base models will be available plus the option of getting it with a green Viridian laser; making for a total of four choices for consumers. You have your pick of an entirely Black Nitride pistol or a Bi-Tone configuration of a Brushed Stainless Steel slide paired with the Black Nitride frame.
The nice thing about the 911 pistol is it is scaled to the .380 ACP cartridge specifically; it is not a modified frame or former model meant to just fill a product category. The balance, accuracy and ease in shooting the firearm will be self-evident for shooters as a result of this.
The complete specifications for Springfield Armory's 911 .380 ACP can be read below:
Barrel: 1.75″ 416R Stainless Steel w/ 1:10″ Twist
Trigger: G10 Enhanced Pivoting (5 Lbs Pull approximately)
Front Sight: High Visibility Luminescent Tritium Night Sight
Rear Sight: White Outlined Tritium Night Sight U-Notch
Frame: 7075 T6 Anodized Hardcoat Aluminum w/ Octo-Grip Texturing on the Front Strap & Rear Mainspring Housing w/ an Extended Ambidextrous Thumb Safety
Slide: 416 Brushed Stainless Steel w/ a Loaded Chamber Indicator
Recoil System: Full Length Guide Rod featuring a Flat Wire Spring
Overall Length:  5.5″
Overall Height: 3.9″ with Flush Magazine / 4.3″ with Magazine X-Tension
Grips: Gray & Black G10 (Bi-Tone model) / Green & Black G10 (Black Nitride model)
Magazines: One 6-Round Flush & One 7-Round w/ Mag X-Tension
The MSRP for the two standard models is $599 while if you decide to upgrade to a green Viridian laser package, it is then bumped to $789.
Springfield Armory's CEO Dennis Reese strengthens the argument for adding the 911 .380 ACP into your repertoire for everyday carry:
With such great advances made in modern defense ammunition, the .380 has become a
seriously viable defensive platform and our customers deserve a pistol that makes the most of it. Once you try it, you'll be as convinced as we are that this is the best .380 pistol choice available.
Some of the key take-aways with this new .380 Auto pistol by Springfield Armory is the grip/texturing, sights, trigger and barrel.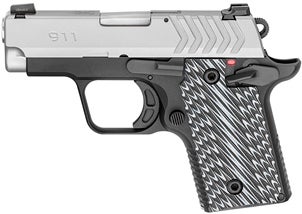 The 911 has Octo-Grip texturing on both the front strap and the rear mainspring housing. This same type of grip pattern is also present on the new TRP Operator 10mm that was recently introduced. This could be a new wave of grip texturing to be seen on lots of future pistols by Springfield Armory. The G10 grip panels are produced by Hogue and add a tactical curb appeal as well as improve the dexterity for shooters.
The sights the 911 .380 ACP are outfitted with are Ameriglo Pro-Glo that sport a tritium tactical-rack, U-Notch rear and a green tritium front sight inside a yellow luminescent circle. These are easily visible in high- and low-light conditions making it great for the range or defense.
The trigger is unique not because it is pivoting or boasts a smooth 5 Lbs. pull weight, but rather because of the material it is made out of. The 911 lays claim to the industry's only G10 Trigger shoe produced by Hogue. This is something that differentiates itself from all other small, hammer-fired .380 Autos.
A final crowning attribute for the 911 is its 2.7″ Precision Broached barrel. This paired with a Full Length Guide Rod and Flat Wire Recoil Spring give it an edge over comparable .380 defense pistols.
All in all, this looks to be a well-designed and manufactured pistol for those who are in search of a convenient, but accurate option for concealed carry.