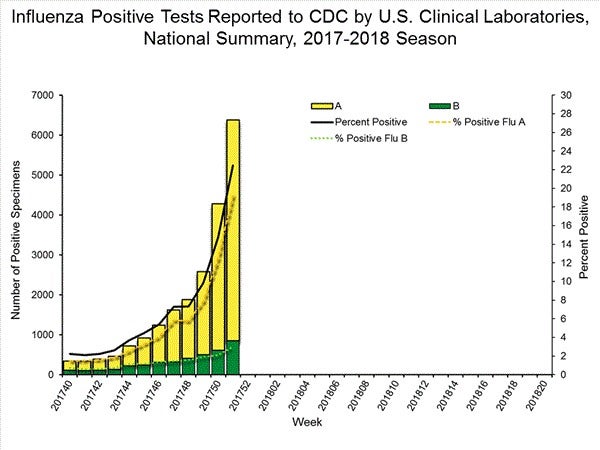 In September of 2017, I wrote an article detailing how the 2017-2018 flu season may be worse than normal. The reason for the prediction was two fold.
First: Australia was experiencing a worse than normal flu season. Go ahead and say it, "Kevin, so what about Australia?"
Second: Australia uses the same vaccine that is used in the United States. If the vaccine was a poor match for Australia, then chances are it will be a poor match for the United States. This years vaccine was a poor match for the type of flu going around. Some estimates put the vaccine at only around 10-33% effective.
In the United States, flu season usually peaks around February. However, by the end December 2017, the Centers for Disease Control was already seeing widespread outbreaks.
From USA Today – Flu widespread in 36 states, CDC reports.
Outbreaks of influenza are getting an early start this year in part because of cold weather gripping much of the USA and low efficacy associated with this year's flu vaccine.

It's still too early to say whether this winter will be a bad season for the flu, but epidemiologists in 36 states already have reported widespread influenza activity to the federal Centers for Disease Control and Prevention in data released Friday.
Even though the vaccine is only 10-33% effective, the Centers for Disease Control (CDC) still recommends getting a flu shot.
The CDC also recommends the following list to help prevent spreading the flu.
Try to avoid close contact with sick people.
While sick, limit contact with others as much as possible to keep from infecting them.
If you are sick with flu-like illness, CDC recommends that you stay home for at least 24 hours after your fever is gone except to get medical care or for other necessities. (Your fever should be gone for 24 hours without the use of a fever-reducing medicine.)
Cover your nose and mouth with a tissue when you cough or sneeze. Throw the tissue in the trash after you use it.
Wash your hands often with soap and water. If soap and water are not available, use an alcohol-based hand rub.
Avoid touching your eyes, nose and mouth. Germs spread this way.
Clean and disinfect surfaces and objects that may be contaminated with germs like the flu.
Are the readers concerned about the flu? Are you taking extra steps to help prevent spreading the flu?