NICS Background Checks Increased Last Half 2017
Kevin Felts 01.03.18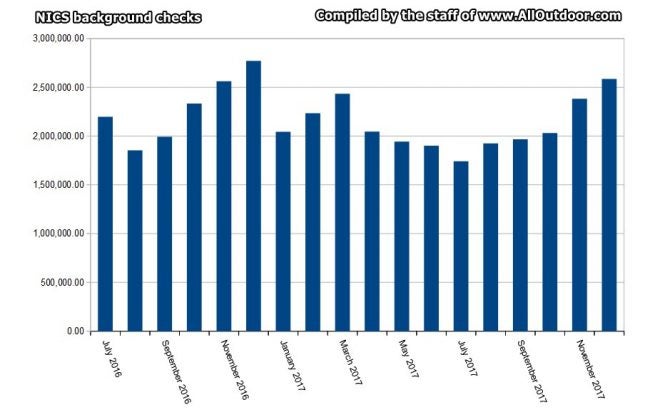 The number of background checks ran through the National Instant Criminal Background Check System (NICS) increased steadily for the last half of 2017. While NICS may not be an exact reflection of the number of firearms bought, it is all we have to go by.
Link to the NICS report for December 2017.
People may be quick to discredit the NICS numbers. Just because there was a check does not mean the sale was completed. NICS may have declined some sales, and other sales may not be completed for some other reason. With that in mind, we have to subtract a certain amount from the NICS published numbers, but exactly how much?
On the flip side of the coin, gun buyers who have a license to carry do not have to go through the a NICS background check system. Those firearm purchases would not be included with the NICS report.
To get a feel of how many gun buyers have a license to carry, I reached out to the owners of Infidel Tactical in Groves, Texas. If anyone wants to verify this information, here is the contact information for Infidel Tactical:
6477 39th street
Groves, Texas 77619
(832) 359-6148
I spoke to one of the owners and asked, "How many people who buy firearms from you have a license to carry?"
The answer was, "Over 50 percent."
From that one gun store, around 50 percent of the purchases would not be processed through NICS.  This is because the buyers have a license to carry.
Rather than getting into a debate on whether NICs numbers are accurate, plus this, minus that, let's just take the numbers at face value.
December 2016 background checks: 2,771,159
July 2017 background checks: 1,742,546
December 2017 background checks: 2,586,138.00
It may be safe to say 2.5 million firearms were sold in December 2017.
The owner of Infidel Tactical explained that gun sales are still down since Trump was elected, but things are slowly picking up. Which is a shame, because we are in a great buyers market.