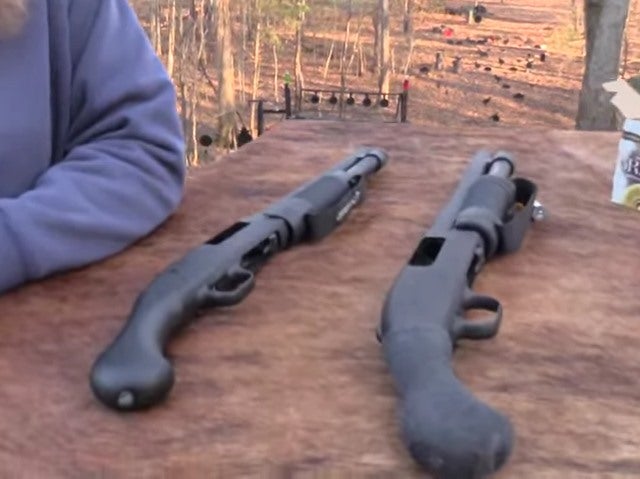 Back in October 2017, All Outdoor published an article talking how Mossberg was going to release a Shockwave in 20 gauge. Well, here it is. Hickok45 got his hands on the 20 gauge 590 Shockwave and did a video review.
The video starts off talking about how it is a left handed model, which was tongue and cheek. He was talking about dual wielding with a Shockwave in each hand.
What role would a 20 gauge Shockwave play? I see this as an excellent snake gun, or even for home defense. However, for some reason the 20 gauge loses out to its big brother, the 12 gauge. The 20 gauge offers less recoil than the 12 gauge, but is still deadly effective.
Let's be honest, the 20 gauge does not get enough love. That is why I am glad to see Mossberg releasing a 20 gauge version of the Shockwave.
SPECIFICATIONS
From the Mossberg website:
Gauge: 20
Capacity: 6
Chamber: 3 inch
Barrel Type: Heavy-Walled
Barrel Length: 14″
Sight: Bead
Choke: Cylinder Bore
LOP: N/A
Barrel Finish: Matte Blued
Weight: 5.3
Length: 26.37
Now for the video.
I can see this as an excellent choice for around the farm, on boating trip, hiking trip, or for home defense.
Some people may be quick to discredit the 20 gauge. Chances are those people never used it. It seems over the decades the 20 gauge has lost a lot of its popularity. Why is that? I do not know. I suspect it is a macho thing with shooters having a mindset that whatever the 20 gauge can do, the 12 gauge can do better. For the most part that is true.
However, with as great as the 12 gauge is, the recoil can be a little harsh. If I am on the farm clearing an old fence line, the 20 would be my pick over a 12 gauge.
Ok readers, what do you think about the Mossberg 20 gauge Shockwave? Does it have a place in your collection?