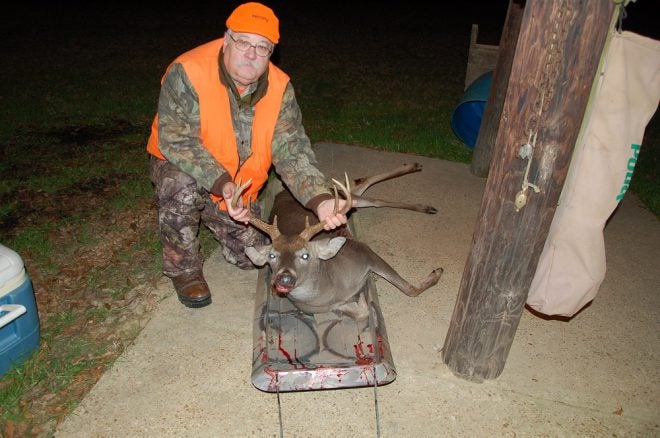 Alas, deer hunting seasons are winding down, but in some areas of the country there is still time to connect on a buck for the wall or a doe for the freezer. There are several last minute tactics for some quality deer hunting, but with this one major constraint: weather.
In areas where deer hunting seasons are still open, mainly in the south, the waves of strong winter storms are making hunts more difficult. So, what approaches should hunters take right now to seal the deal on a deer before the dates close?
First and foremost as I always advise, you simply have to get out of the house and into the woods to score now. Cold weather may cause deer to hunker down especially in climates that are typically moderate this time of year, but eventually deer have to get up, move around, and eat. Right now, concentrate on the wild native foods that are left and or the supplemental plots that might still be providing some nutrition. If you are feeding, hunt the protein and carbs.
What natural food sources are left now? Honestly, not much. There may be some woody browse still out there, but heavy frosts, cold winds, and frozen precipitation have taken their toll on Mother Nature's plate. I checked my hunting grounds the last week of December and though some acorns are still on the ground, they are getting few and far between.
Still, food sources where you hunt are the places to be right now. Deer have to eat, they have to have energy to stay warm and finish their business. Believe it or not there are still some areas where the rut, albeit secondary or tertiary ruts are still happening. This takes calories for bucks to burn to chase, and for does to escape the advances for a while. Hunt the food.
Narrow funnels between bedding areas and feeding areas should be watched. It is too late for rubs, but ironically, we are seeing late season scrapes, so watch those, too. Every season over the last decade or so, there seems to be new weird deer behaviors popping up. It is very difficult to nail down the reasons. As long as we study the white-tailed deer, the more we realize how little we really do know for certain.
Hunt more now, search out and hunt deer food. Hunt all hours of the day, play the wind, and watch the weather trends.
John J. Woods
Magnolia Outdoor Communications