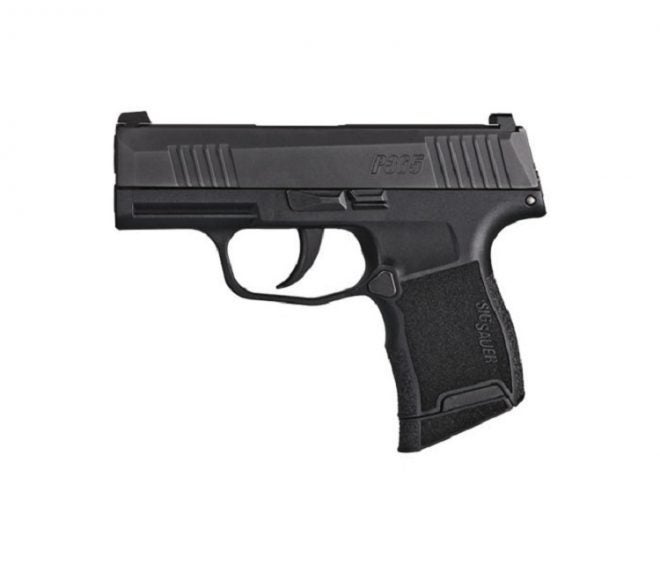 Doubtless just in time for the SHOT show later this month, famed weapons manufacturer SIG-Sauer has introduced its latest pistol, the Model P365. SIG is well known for its innovations in pistol designs, so well done that they secured the contract for the new pistol for the U. S. Military, the SIG 320 series. So, what is this new P365 pistol?
First off, the new P365 is one handsome gun. Shooters are going to be eager to get their hands on this one, to carry it and shoot it. SIG terms this new pistol a "micro-compact" carry size gun but designed to tote 10+1 in a full sized pistol capability. Chambered for the world standard 9mm Luger, this new weapon is going to find favor in a lot of shooter circles.
Though the new P365 looks in silhouette like the P320 it is of course smaller being a micro-compact. By comparison, the 320 has a 3.9 inch barrel with a total weight of 27 ounces. The 365 has a 3.1 inch barrel and a weight package of 17.8 ounces. They may look alike, but the 365 is truly a super compact pocket carry pistol.
Other specifications of the P365 include a polymer grip, stainless steel frame finish made of stainless steel. The slide finish is SIG's noted Nitron finish. The slide is also manufactured of stainless steel meaning of course resistance to corrosion and fouling. The P365 is a striker fired pistol which is becoming the new standard these days. The pistol's overall length is just 5.8 inches with the minimalist width of one inch.
The P365 is rated to handle +P ammunition which is a real plus for those gun carry handlers looking for some extra punch from a concealed weapon. Also a nice perk on this pistol are factory standard SIGLITE night sights. The pistol also comes with two magazines, one a flush fit mag and the other is an extended magazine. Both are 10-round mags though a factory optional 12-round extended magazine ups the total load out to 13 rounds.
The P365's grip panel is roughed out for a firmer non-slip grip, plus on the extended magazine there is a small section also roughed for an easier, firm grab on the magazine for insertion or extraction. SIG has thought out some fine details on this one. The slide also has positive grip grooves milled front and rear for a solid slide grab.
The P365 retails for a comfortable $599.99. For more details check out www.sigsauer.com.