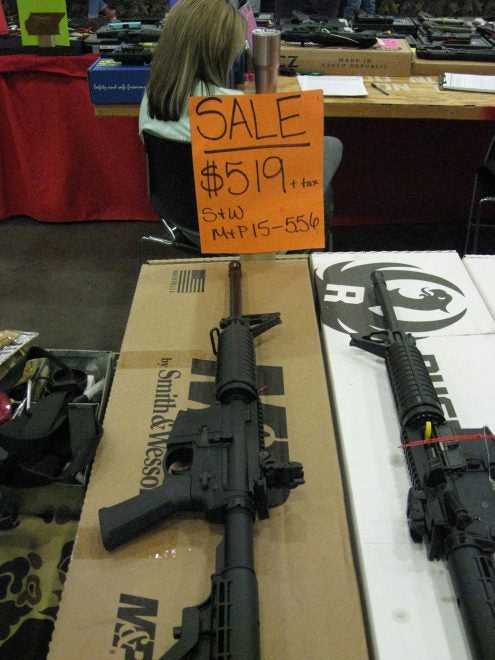 What firearm(s) do you carry to position yourself in an equal balance with the present day criminal element? What are they using these days? The point is if you are intent on protecting yourself and family and defending against common element threats being seen on the streets these days, then what weapons do you need to accomplish a reasonable balance?
Working gun shows on a regular basis, we see what the thugs are toting and buying. They come into these venues carrying what they use. Often they are trying to trade up, are looking for more maximum round magazines, or just adding to their stocks. Ironically, we rarely witness them buying large lots of ammunition, so we have no clue how they supply themselves with ammo, but they obviously do.
As crime reports hit the media airwaves after the weekend, one can gather a sense of what guns they use. Their favorites are AK-47s either in a rifle format or the pistol versions. They do not seem to like or use AR-15s as much. One can only assume the thugs just don't like the visual profile of an AR. They don't use shotguns unless the barrels and stocks have been cut down. Who knows? Perhaps they more closely identify with their ISIS brothers they see on TV waving AKs.
Handgun wise, the criminals no longer use the cheap throw away guns. Days past the robbers, assaulters, and just drive by shooters had plenty of cheap revolvers and semi-auto pistols, but no more. When criminal's guns are shown on TV after a shootout, robbery, break in or drug bust, we are seeing first class merchandise. They are using Glocks, Smith M&Ps, Taurus, and Rugers. Apparently they know good quality guns when they can obtain them by whatever means? So what does this tell us?
It advises us that we also need to equip ourselves with equally good firearms of high quality. We need firearms with amply power to deter or end threats as quickly and efficiently as possible. Along with this goes the appropriate ammunition supplies, and support gear. We also need first class training in firearms handling and shooting. Then we need to practice often.
Similarly at gun shows, we see the average every day customer looking for a first personal protection gun no longer shopping for cheap, inexpensive guns just to have one. Today's customers want quality and reliability in a self-defense firearm. Keep these suggestions in mind as you decide to equip yourself for everyday survival.
John J. Woods
Magnolia Outdoor Communications