Review: GSI Outdoors 1-Liter Infinity Dukjug Water Bottle
Russ Chastain 01.17.18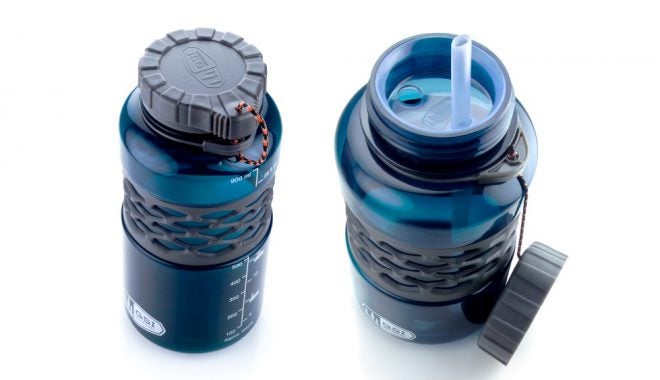 I've had the opportunity to try out a water bottle for a few months. And I know that doesn't exactly sound exciting, but hey, you gotta drink! And this setup works pretty well. All it's lacking is insulation.
The manufacturer is GSI Outdoors, and they call it an Infinity Dukjug. Capacity is one liter, and it's made of polypropylene and is BPA-free. Here's what they have to say about it:
Manufacturer Specs
Made of BPA-Free, fully recyclable, crush-resistant, transparent Polypropylene.
Cam-Profile lid makes opening frozen bottles easy — even with mittens or gloves.
Tether-Cord is incredibly strong, user-replaceable, and outlasts plastic tethers.
Industry standard wide mouth fits water filters and other bottle accessories.
Holds 1 liter.
Weight: 6.6 oz.
Dimensions: 3.50″ x 3.50″ x 8.10″
Includes: 1 L Bottle, Sip-It Lid, Silicone Grip, Lid
Available in green, blue, or orange
I didn't spend any time using it with the included "Sip-It Lid," because I also got a Quik Straw. And while I usually dislike sucking at a jug to get water (those pop-up tops never have done it for me) this works quite well. Unscrew the lid and the straw pops up. Give it a slurp and you are rewarded with a mouthful of whatever liquid your Dukjug is toting.
The Quik Straw, which is a silicone insert that slips into the jug's mouth and uses a separate Polyethylene straw to reach down to the bottom of the jug, seems a bit over-hyped; they call it "The fastest auto-deploying, silicone sipping accessory ever." But they ain't lying; it's quick and it works. It always deploys well and ready for drinking, and it never gets hung up or mangled when I screw the lid onto the Dukjug.
Speaking of the lid, I didn't keep many notes on this item, but I did say this: It never leaks even when I think the lid isn't on correctly.
Translation: The lid threads on easily and securely without a hassle.
The Quik Straw comes with three of the Polyethylene straws, all of which are too long for the Dukjug. Why? Because it's made to a standard wide mouth size, and can be used on other water jugs also — jugs which may be deeper than the Dukjug. I trimmed one of the straws to length and it's been working great.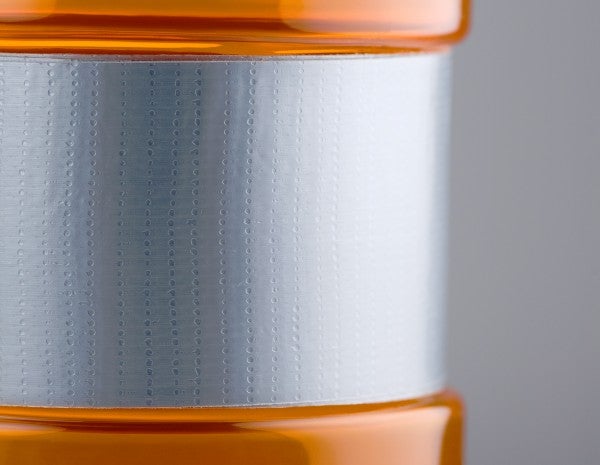 The Dukjug has a groove around its circumference, which has a rubber grippy thing in it. That groove is just the right width for duct tape, and one of their selling points is that you can wrap up to 2 meters of duct tape in that groove so you can tote your tape and your water in one hand.
Final Thoughts
All in all, I like the Dukjug and Quik Straw. They are simple products that always work when I need them to. The graduated markings on the jug are slightly worn off, but I have not been kind to it. And while I'd prefer it to be insulated, I readily acknowledge that would increase weight and cost.
Speaking of cost, the Dukjug and Quik Straw sell on GSI's website for $11.95 and $3.95 respectively. Not cheap, but again they are good products.
It's a good, simple, water bottle–something the world could use more of.