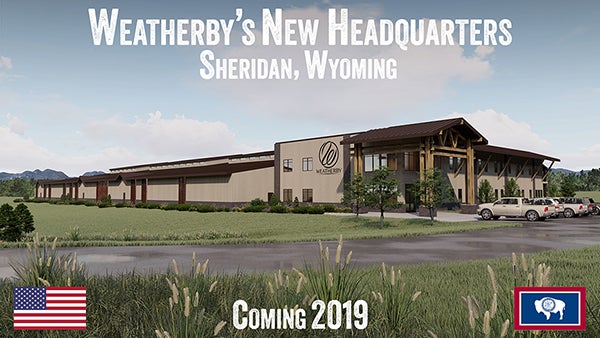 Many, many years ago worldwide hunter and adventurer Gary Starkey was a huge fan of Weatherby rifles. At the time it was the only rifle he would own and use. He collected several and took many game animals with these rifles on several continents. His were the most deluxe, high grade factory cataloged Mark V Weatherby's available at the time.
Starkey's favorite Weatherby calibers included the 7mm, .300, .340, and .416. He loved to brag that these rifles were manufactured in California. In those days, California was cutting edge, the "hip" state, the place to be from or going to. Weatherby icon, Roy Weatherby was a celebrity in the firearms industry.
Weatherby, Inc. still makes first class rifles for first class hunting trips. Only their California welcome has outlived the politics in a state that is not only broke, but one that wants to secede from the Union. Its sanctuary environment has ruined the business climate for a lot of companies. Weatherby joins many others in a move elsewhere. They are going to Wyoming.
That is no big shocker that Wyoming should be the place to go. Magpul did the same thing with an exodus from Colorado a few years back. Wyoming is not only a beautiful state, but it welcomes new industry with open arms including firearms manufacturers like Weatherby.
Weatherby's city of choice for the move will be Sheridan. Been there once catching a plane from an antelope hunt to get home just in time to greet my first daughter born in Mississippi. Both the landscape and the business climate alike are highly suitable features to locate a new business. Weatherby has made two good decisions. One to leave California and two to pitch a tent in Wyoming.
Weatherby intends to have its headquarters and full manufacturing capacity moved and operating in Sheridan by 2019. Their plan is create 70-90 jobs in a high tech factory that will eventually produce an annual payroll of $5 million. The State of Wyoming is of course contributing seed monies to create the project.
This is usual and normal economic development activity. Sheridan's economic development authority will build a 100,000 square foot building and lease it to Weatherby in the Sheridan High-Tech Business Park. Sheridan College will provide the workforce training to ramp up the manufacturing facility.
Founded in 1945 by Roy Weatherby. Today grandson Adam Weatherby will continue the family tradition to produce firearms with quality craftsmanship, a superior fit and finish with ballistic superiority in its proprietary cartridges. Only now, the rifles will be shipped from Wyoming.