SOG Releases California-Compliant Assisted Opening Knife
Kevin Felts 01.26.18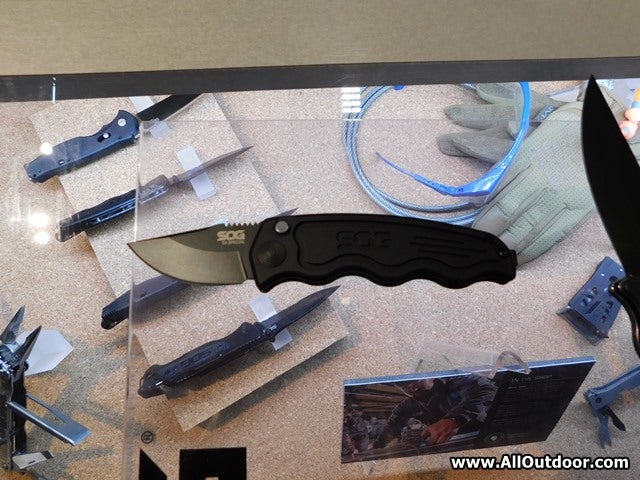 During the 2018 SHOT Show there were a number of products that made quite an impression. One that stood out is a knife from SOG called the "California Special."
This is a California-compliant assisted opening pocket knife. What does it mean to be a "California compliant" assisted-opening pocket knife? It means the blade can be no longer than two inches.
SOG took a two inch blade and put it into the handle of a SOG-Tac Mini knife. This provides the user with a full sized handle and a two inch blade that can be used to make very fine cuts.
Why would anyone be interested in a pocket knife with a two-inch blade? People who skin small game want a lightweight backpacking knife. Fishermen want a small knife for cutting cord. These people know exactly what they would use it for.
Specifications
From the SOG website:
Closed Length: 3.90″
Finish: Black TiNi
Blade Steel Type: AUS-8
Hardness: Rc. 57-58
Handle Color: Black
Belt Clip Type: Reversible
Edge Type: Straight
Blade Shape: Clip Point
Handle Material: Aluminum
Thoughts On The California Special
When it comes to knives, bigger is not always better. Try skinning a rabbit or squirrel with a six or eight inch blade. When dealing with small game animals, a small blade will beat a longer blade any day of the week and twice on Sunday.
As of when this article was published, the SOG California Special was not available for sale. The SOG website has a suggested retail price of $134.00. The manufacturers suggested retail is always a little high. So we will have to wait and see what price point the California Special hits the market at.
While at the 2018 SHOT Show I got the chance to handle the SOG California special, and it has to be one of my top five favorite knives from the show.
Special thank you to Harrison from SOG who provided an interview and excellent description of the California Special at the 2018 SHOT Show. Harrison, I will be looking forward to seeing you at the 2019 SHOT Show.
Here is a video about the California Special from the SOG YouTube channel.