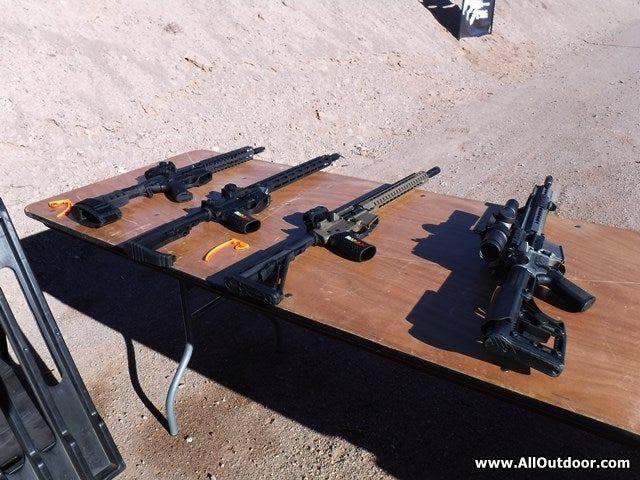 Awhile walking along the shooting ranges during Industry Day at the Range, I happened upon HIPERFIRE. I had heard of the company, but have never seen their products first hand. It just so happened HIPERFIRE had several rifles set up for people to try out their triggers.
If there is one thing the AR-15 is not known for, it is the high quality factory trigger. That is because the mil-spec factory trigger is pretty bad. It serves the purpose by being cheap and effective. It also serves another purpose – the factory trigger opens up a market for aftermarket parts.
The HIPERFIRE company representative asked if I would like to fire off a few rounds, and of course I said yes. The HIPERFIRE trigger brings the AR platform to a whole new level as it was very smooth and crisp.
One of the rifles at Industry Day at the Range had a new for 2018 ambidextrous charging handle. The handle has been "beefed up" as the HIPERFIRE company representative put it to avoid breakage.
HIPERFIRE is also releasing a safety selector that will work with the HIPERFIRE triggers. From what the HIPERFIRE company representative said during Industry Day at the Range, there was some confusion with customers as to which safety would work with their triggers. To resolve that issue, HIPERFIRE released their own safety selector.
HIPERFIRE also manufactures:
Grips
Compensators
Various odds and ends
Overall, I was very happy with how the HIPERFIRE trigger preformed during Industry Day at the Range.