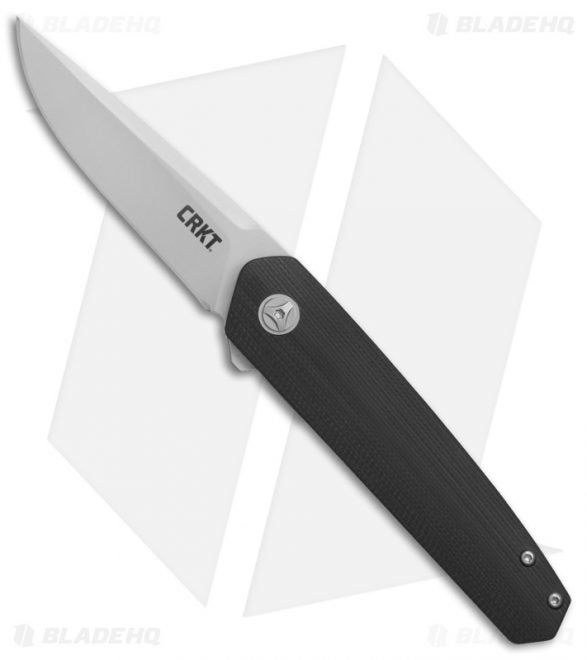 CRKT is an American company that designs and sells knives. They use overseas and domestic manufacturers (OEMs) to bring their designs to the market. Generally, CRKT works on a collaboration-only model. Through their contacts with custom makers, they produce production versions of custom knives, production knives that echo a custom maker's original designs, or, in the case of a few makers, designs produced exclusively for CRKT.
CRKT knives are available online and in many brick and mortar retailers. They typically have sold knives through Lowes, Home Depot, and large regional sporting goods stores like Dick's Sporting Goods. They also have knives for sale in most Wal-Marts.
CRKT is a mid tier brand. They have very few knives that retail for more than $100. They generally do not use more expensive materials like titanium or premium steel. Most knives use Chinese steels from the Cr series (8CR13MoV). They also use AUS8, 1.4116, and other less expensive, mid-tier steels.
Three CRKT innovations are worth a special note. First, because of their longstanding collaboration with the late, great Kit Carson CRKT has had its flippers dialed in for years. They were further improved by adding the bearing pivot system, IKBS, to their line up. Even on cheap knives, CRKTs flip quite well. Second, CRKT has introduced Field Strip technology, with allows for toolless disassembly of a knife. Third, and finally, CRKT's serration pattern, the Veff serrations (named for their collaborator Tom Veff), which are probably the best serration pattern in the knife world.
The brand's focus is bringing high-end, innovative custom designs to consumers for reasonable prices.
CRKT also produces knives for Ruger with a line of co-branded blades with shooting and hunting focused knives.
Recently
CKRT has embarked on a rebranding in the past five years. Along with the typical changes in wordmarks and logos, they have also produced higher end knives and signed one of the most successful knive designers—Ken Onion—to design knives exclusively for them. They also signed a deal with Flavio Ikoma to use his IKBS bearing pivot system. Finally, in 2014 they produced an award-winning high end knife, the titanium framelock flipper the Hi Jinx. All of this was part of a concerted effort to capture a higher spot in the market.
For many knife enthusiasts, this effort has been hampered to some degree by CKRT's unwillingness to use higher end steels and by some fit and finish issues. They have certainly collaborated with the right custom makers, and produced some great looking designs, but the transition to a higher position in the marketplace is not yet complete.
2018 Line Up
The CRKT/Ruger brand has a few new knives this year, some produced by MJ Lerch and others by Ken Onion. First, as is a theme through their offerings this year, there is a Field Strip equipped knife (Field Strip tech allows for a knife to be disassembled for cleaning without the use of tools), the RTD. This is a large knife—weighing more than 4.0 ounces with a 3.6 inch blade. The overall design is fairly traditional with a clip point blade and a flipper.
Ken Onion also designed the Windage, a flipper with the spring loaded, spine-riding clip from his excellent Swindle design from a few years ago. This clip allows the knife handle to have a much better grip than a knife with a traditional clip. The Windage carries Ken's trademark organic style, with curves and cuts in ergonomic places. The knife is a flipper and quite large, sporting a 3.8 inch blade.
CRKT line up introduces a new collaborator—Erich Ochs—to the mix. Ochs is a beloved custom maker with a very unique style, you'll never mistake a Ochs for anything else. He has two knives in the 2018 line up—the small Largo and the larger Terrestrial. The Largo is a knife/bottle opener with a tiny 2.5 inch blade. It runs 5Cr unfortunately. The Terrestrial, which sports a 3.35 inch blade, runs 8Cr and looks more promising.
It has a flipper and a choil, and of course, that unmistakable Ochs look. These are the first production collabs for Ochs and it will be interesting to see how well they do.
There are three new Field Strip knives—the HVAS, the Raikiri and the Goken. The HVAS is designed by Jespers Voxnaes and appears to be a Field Strip version of the Batum, a knife he designed for CRKT last year. It has classic looks and that Voxnaes visually solidity to it that makes his knives so popular. The Raikiri is a very angular knife and sports a point wharncliffe blade. The Goken is a Field Strip version of the James Williams fighting folders.
There is a small hatchet in the line up, part of the Forged by War series, called the Pack Axe. TJ Schwarz, one of series of new designers that really made their name on Instagram, has his first knife with CRKT the Caligo. Richard Rogers, a long time custom maker, also has his first collaboration with CRKT in a pair of minimalist designs—the Cuarto and the Maven.
Rounding out the offerings are a knife from Jim Hammond, the Williwaw, a Ken Steigerwalt knife, and a Pat Crawford knife—the Offbeat. The Offbeat uses the Crawford Lockback mechanism designed by Crawford and for years produced by AG Russell. This is the first non-custom, non-Russell to use this lock and it looks slim and functional.
Instabuys
The Richard Rogers Cuarto is a gimme here—smallish, clean, unique looking. I also like the Ken Onion Windage, even though it is probably too big for my tastes. The Offbeat looks promising, hopefully more people will learn how cool this lock design is. The Pack Axe is probably a no-brainer for a lot of people that want a good wooden handled hatchet, but don't want to drop a Benjamin or more on a GB version.
Finally, the Terrestrial, if the fit and finish is good, could be a real hit, this year's Pilar.
Grade: B-
The move to a higher position in the market seems to have stalled—good designs with below par steels. CRKT again picks the right collaborators and the right designs from those people, but the materials are still lacking. Nick Shabazz proposed a high end line up of CRKT's best knife designs with better materials and better steel. This year's bunch of blades makes me want just such a line up even more. The materials make the knives good for big box, but there is still potential here—CRKT is leaving money on the table by not using better ingredients to attract the wallets of knife knuts.