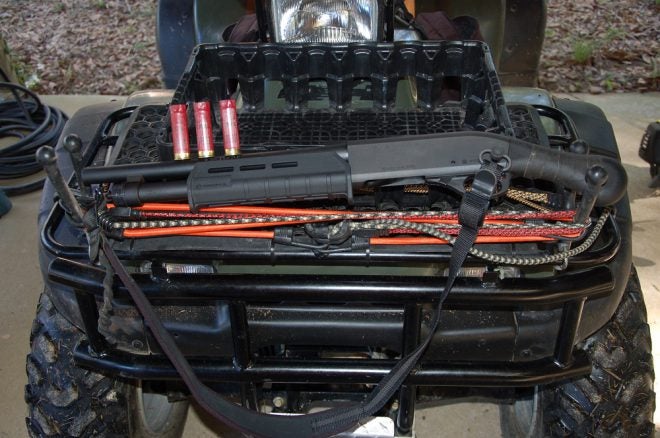 When could you use a shotgun for personal defense, home defense, guarding property, and even for adding some small game meat to the pot? Regardless whether for a prepper, a survivalist, or just a homeowner, a shotgun can be one of the best weapons for defensive action. So, what shotgun profile is best for such duty?
What one needs is a handy configuration that can be manipulated inside a dwelling or from inside a vehicle. For all practical purposes and effective use, this almost rules out shotguns with barrels of 26-inch length or longer. Those are much more difficult to manipulate around inside a house, building, doorways, and hallways. A shotgun barrel that long is nearly impossible to work well inside a vehicle. Even shotgun barrels longer than 20 inches are problematic for easy and concentrated use for self-defense.
Remington recently introduced their new Tac-14 shotgun built on the exceptional 870 pump action design. This gun has been fully and technically reviewed here at Alloutdoor.com before, but its applications have yet seen much practice.
The Tac-14 870 is a paradigm shift from traditional thinking about shotguns. Some look at it and immediately think it is a "sawed off" shotgun, implying illegal. Hardly. I mean do you really think a company like Remington could produce a firearm that would be illegal to sell?
The Tac-14 has a smooth, matte black/blued finished, open bore barrel that is only 14 inches long. The entire firearm though is 26 inches in length making the configuration completely legal. The forearm handle is black synthetic plastic made by Magpul, so it is tough as nails and easy to grab. The "stock" is a pistol grip of hard ABS-type material. This grip is pretty slick so I wrapped it in double-sided black sticky tape like on baseball bat grips.
In field trials so far I have been very impressed with the tight pattern shown with using Federal Game Loads in No. 6 shot for practice shooting. You could actually squirrel or rabbit hunt with this shotgun. As far as self-defense, I see no issue whatsoever in getting appropriate target coverage.
This is not just a "shoot from the waist" shotgun, but it could be. I held it at arm's length, leaned into it with a firm grip with a concerted "aim." It was a pleasure to shoot and completely controllable. Any shotgun user should consider the Remington Tac-14 as a highly viable weapon for home, bug out, business, or vehicle uses.