Double-Barrel Smoothbore Airgun, Frangible BBs, & More from Air Venturi
Jon Stokes 02.09.18


Airgun maker Air Venturi launched a slate of new products at SHOT, and while I didn't get a chance to go by the boot I did get the scoop on them. We recently reviewed their Lil Duke BB gun, and are in general big proponents of airguns for fun, training, and prepping.
I'm not seeing where any of these are actually available on PyramydAir.com, yet (which is why I don't have prices) but they will be, soon.
First up is the Seneca Double Shot .50cal smoothbore airgun. No, your eyes do not deceive you. This is a double-barreled airgun. It fires three different types of ammo: .50 caliber slugs, No. 8 shotshells, or Air Venturi Air Bolts. Here's the description from the product page:
Able to fire three different types of ammunition, the Double Shot uses a quick-select dial to switch effortlessly between barrels and is compatible with, No. 8 shotshells, .50 caliber ammo, or Air Venturi Air Bolts. The Double Shot uses a 244cc cylinder to send shots downrange at speeds up to 1,130 fps. Each Double Shot features an expertly crafted and finely grained hardwood stock with a rubberized buttpad for a comfortable hold and an optional 11mm Dovetail rail for mounting optics.

Shooters can load shotshells into the side-by-side double breach, while Air Bolts and .50 slugs can be shot by removing the choke at the end of each barrel. Each features a 2-stage adjustable trigger, integrated pressure gauge, and 5 consistent shots per fill. A patent-pending air distributor allows shooters to seamlessly perform a follow-up shot in less than 2 seconds.
Here's a video from the SHOT that highlights the workmanship of the gun. This thing looks amazing. I have no idea how much it'll go for, but my wild guess would be somewhere around $1200.00.
https://www.youtube.com/watch?v=-N2_N95HWUs
Dust Devil BBs are basically frangible BBs that shatter on impact, so you don't have to worry about ricochets. So if you're training with BBs and worry about ricochet hitting a bystander in the eye, check these out.

Next up are exploding golf balls. The idea is you shoot the golf balls with an airgun, and they explode in a shower of particles. I gotta tell you, I don't care for golf, but this I could get into.
The Diana Stormrider is a budget PCP gun that gives you 20 to 30 shots per fill, and can be filled with a hand pump. It comes in .177 and .22, and would make a solid backup prepper gun in case you run out of .22LR.
Or, you could go with the Dragonfly Multi-pump Airgun, which is like the Stormrider linked above except the pump is built into the gun. You pump three to eight times, depending on how much power you want behind the shot, and then pull the trigger.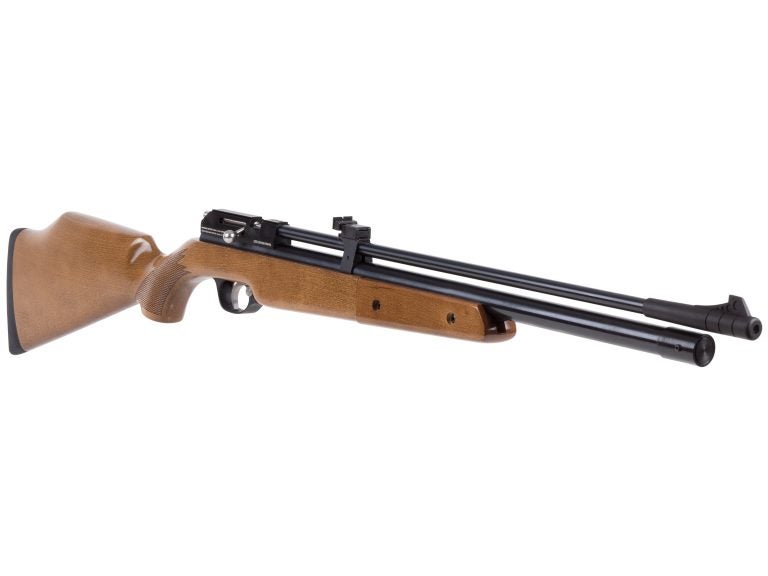 Finally, the Hellboy is an AR-15-style airgun that you can use for fun or to train your AR ironsights skills. There's a Picatinny rail under the rear sights, be sure to only mount an airgun optic on it.