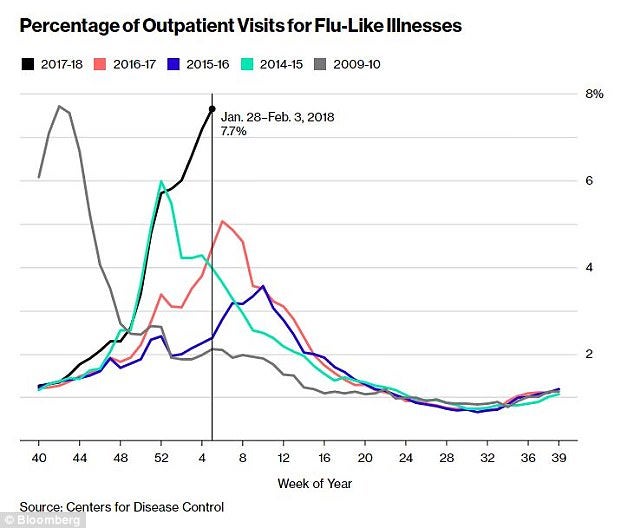 How bad is the flu epidemic of 2017-2018?  The Centers for Disease Control estimate 4,000 people a week are dying from the flu an flu related complications.
It should be no secret that parts of the Northern Hemisphere are engulfed in a flu epidemic. As reported earlier, flu has spread from Delaware, to California, to Hong Kong. Things have gotten so bad, hospitals started setting up tents in the parking lots.
The latest news paints a grim picture: One in ten deaths in the United States are now flu related.
From Fortune – The Flu is Killing Up to 4,000 Americans a Week.
Deaths from influenza and pneumonia, which are closely tied to each other in the winter months, were responsible for 1 of every 10 deaths last week, and that's likely to rise, Schuchat said in a conference call Friday.

There were 40,414 deaths in the U.S. during the third week of 2018, the most recent data available, and 4,064 were from pneumonia or influenza, according to the CDC data. The number for that week is expected to rise more reports are sent to the agency.
Daily Mail – Flu killed 4,000 in ONE week and is responsible for 1 in 10 deaths in the US.
Startling CDC statistics show 4,064 Americans died from the flu or pneumonia during the third week of the new year, while the illnesses were responsible for 1 in 10 fatalities in the first week of February.

The flu scare has also left pharmacies running low on the preventative influenza drug, Tamiflu. Several states have seen a drastic increase in prescription volume.
Observations
As we have talked about in previous articles, there is a lot to learn here. The CDC suspected the 2017 – 2018 flu season was going to be worse than normal, and nothing (or very little) was done.
When I went to the 2018 SHOT Show in Vegas, I did not see a single flu awareness poster in the three airports I went through.
Not a single flu awareness poster at SHOT Show. I called the health department in Vegas and was sent to voice mail. A question was left and nobody has called me back. The question was: "If the nation was engulfed in a flu epidemic, why wasn't there any public health information posted at SHOT Show?"
Now we have reached a point where medical providers are facing medicine shortages.
If the CDC could not prevent the 2017-2018 flu epidemic, how are they supposed to prevent a new disease? What would have happened if this had been small pox? Things would have been much worse.