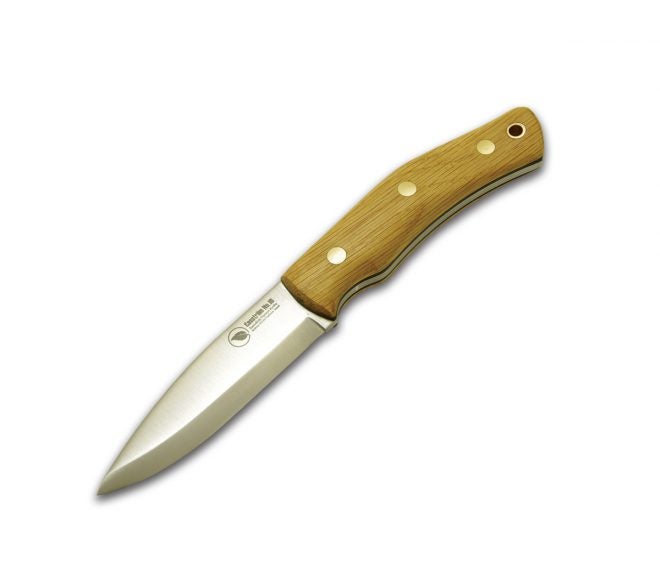 There are an abudance of so-called bushcrafting knives out there. Many are from a Swedish company called Mora. They are beloved by a portion of the knife community for their low cost and very sharp Scandi grind. In my experience, these knives work well initially but don't hold up to the wear and tear of hard use over time. Their edges chip and become difficult to sharpen and their rubbery handles get torn up and chewed to pieces relatively quickly.
At the other end the price spectrum are some truly spectacular puuko-style knives—immaculate laminated steel blades and deep, rich curly birch handles. The steel is better than that found on Moras, but the prices are outrageous. If you wanted something authentic and from Scandinavia, you had on a few choices typified by these two options.
Recently Casstrom connected with a few US knife retailers and made their in-house brnad blades available to Americans. Among those first offerings is the No. 10, sold here in America as the Swedish Forest Knife. Aside from the price and materials, one of the interesting thing about the Swedish Forest Knife is what it represents for an outdoor retailer—a true spec monster in-house branded knife.
Casstrom isn't the Swedish LL Bean, it is a much more focused retailer, originally selling edged tools from long-time Swedish brands. They offer all sorts of outdoor gear, stuff more traditional than the gear you'd find at REI—reindeer hides for tanning and fur use, Petromax parafin lanterns, and a host of leather items including coin pouchs and bullet holsters. But the focus, even now, is on really finely made knives. Some of their puukos and puuko-style knives sell for close to $450 (depending on the exchange rate).
The in-house brand of blades includes a small bird and trout sized knife and the No. 10. With a 3 7/8 inch handle, an overall length of just about 8 1/2 inches and a weight of 6 ounces, the No. 10 hits the perfect size for a jack of all trades type outdoor knife. It comes in two grinds, the classic Scandi grind and a full flat grind. It also is available in a wide variety of handles from the traditional curly birch to synthetic materials like micarta. The sheath is a fold over design from leather and it comes with a belt loop, but is also compatible with a dangler developed by Casstrom and sold separately. The steel is the excellent 14C28N, a very good performing Sandvik stainless that hangs with a number of powder steels, performance-wise.
On paper, everything looks very good here—the handle has strong coke bottling and good rounded edges with a palm swell and a very slight parrot's beak. The blade is a drop point and the steel is definitely field serviceable. This is a very strong offering for a first knife released in the US. It is also a cue to other outdoor gear brands, that it might be time to start making their own knives. LL Bean, REI, are you watching?
Important Info:
What: Casstrom No. 10 Swedish Forest Knife
Cost: $124.95
Where: AG Russell, Knife Center, and Casstrom's own Swedish Site
When: Available Now
Made in the USA: No
Highlight: First of a series of blades from a Swedish outdoor equipment retailer
SHOP NOW