Review: Chef's Choice Sportsman Xtreme 317 Electric Knife Sharpener
Russ Chastain 02.16.18

Knives. They are a valuable resource for all hunters and outdoorsmen–but only if they are sharp. My father used to say, "Nothing will hurt you faster than a dull knife," and he knew it for a fact, because one of his fingers was shorter than the other due to a slip while cutting sugarcane with a dull knife in his youth.
Keeping your knife sharp is important — and is sometimes a hassle. So when I got the chance to try out the Sportsman Xtreme 317 electric knife sharpener from Chef's Choice, I happily ordered one. I've been using this one for the past several months, and it's served me well, with a couple of caveats: 1) It will scratch the sides of your blade (unless you apply painter's tape), and 2) it can actually blunt the tip of your knife.
As a friend of mine said after he'd used this to put a razor-sharp edge on a little old Schrade Sharpfinger, it's great for a working knife, but maybe not for a $100+ knife, although I've used it on my expensive Sunrise River custom fixed blade, and probably will again.
How it Works
This is an electric motorized sharpener with two stages. In the first stage, spinning diamond-coated disks grind an edge onto your knife. This can be a fast process, or it can take a while if your blade's edge has previously been sharpened at a notably different angle. Once you're done with that step, which you will know when the freshly-ground bevel extends all the way to the edge and you can feel a slight burr, stop. If you're doing coarser work with your knife, you may not need stage two.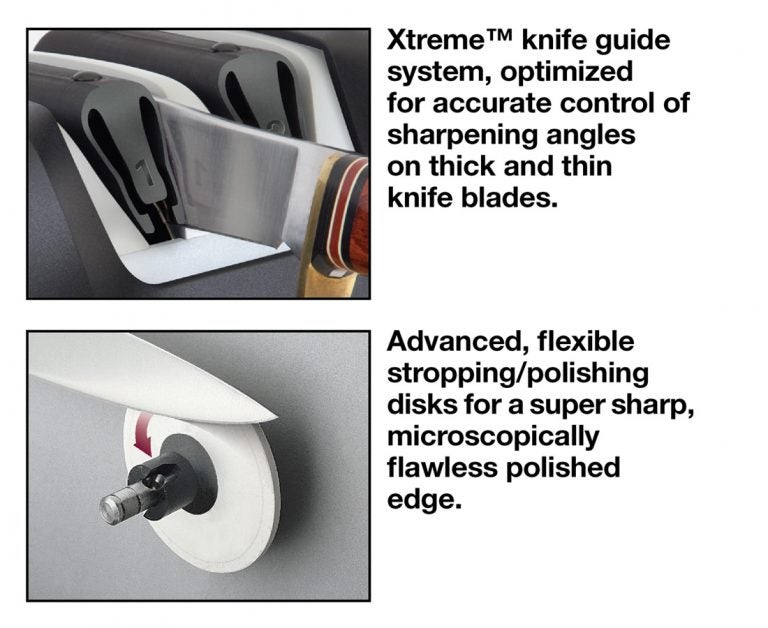 To fine-tune the edge, run it through the finer side on the right a few times. In this stage they say, "ultrafine abrasive disks polish and strop the facets immediately adjacent to the edge creating a microbevel and establish[ing] a microscopically thin straight and super polished edge."
Basically, the second stage knocks down the burr and sharpens the cutting edge, and if you're just touching up a blade that hasn't been used too hard, you can probably just use stage 2.
I've only used this sharpener on a few serrated blades. I rarely use serrated knives myself, but you can sharpen them with the Xtreme 317 by honing the side of the blade that lacks serrations.
It will of course work for all kinds of knives, including kitchen knives. It did great things to some of the dull old knives in my hunt camp kitchen.
Through Thick and Thin
This Sportsman model's claim to fame is that it will handle both thick and thin blades, and I can attest that it will. I used it on the heavy-bladed Sunrise River knife and the much thinner Schrade 498 seen here, with good results. It worked equally well on the Kizlyar Supreme Enzo on the same page.
Most of my use has been on liner-lock EDC folders which I keep handy in my pocket, and deploy countless times each day. I've recently moved also, using one particular knife heavily for everything from box-cutting to cutting open taped boxes, and everything in between. It's nice to touch up the edge quickly on the Sportsman Xtreme 317.
Where's the point?
After a number of moving trips, I suddenly found that my knife sucked for piercing clear packing tape to open a box. The edge was shaving-sharp, but the tip was somehow blunted. I'm not sure how this geometry works, but it's a real thing, and it's a bummer. Perhaps I was too aggressive with the blade tip against the sharpening wheel. I was able to correct it by working it on the finer side more carefully.
Moral: Don't roll the end of the blade (lift the handle) too much as you pull it through the sharpener.
After sharpening, I found longitudinal scratches on the blades, most likely caused by grit on the guides through which you pull the knife to sharpen it. As noted, this is no problem for working knives, but if you are anal about pristine blades, you can probably eliminate this by using painter's tape to protect the sides of your blades.
Manufacturer Specs
Advanced knife guide system for sharpening virtually all knives — even thicker hunting, pocket, and tactical knives.
Sharpens both straight edge and serrated blades
2 Stages; combines strength and durability of double-bevel edge with finer ultra-sharp edge
Ideal for sharpening double bevel AND single bevel style knives
100% diamond abrasives for sharpening and honing … guaranteed to never detemper
Advanced flexible stropping/polishing disks for super sharp, microscopically flawless polished edge
* Totally safe for quality knives *
Designed, engineered, and assembled in U.S.A.
(Asterisks added due to scratches on my knives; use frog tape or painter's tape to prevent it.)
Final Thoughts
This is a good machine for hunters, and once you get a knife's edge worked to the correct angle, it's a breeze to touch it up to keep it sharp. Keeping a sharpener like this near the skinning shed at deer camp would be a great idea to keep your blade good and sharp throughout the process.
I can honestly say I love the Chef's Choice Sportsman Xtreme 317 after using it for the past several months. That's not to say I couldn't live without it–but I wouldn't want to, now that I've had a taste of its easy sharpening. I just need to remember that it will potentially scratch any unprotected blade, and to be careful how I sharpen my blade's tips.
All in all, I like this machine a lot. I won't be throwing out my stones or Eze-Lap pocket sharpener, but I won't be using them nearly as often. The 317 is just too fast and easy to ignore. You can get one for a C-note ($99.99 shipped) on the Chef's Choice website.