Armscor Rock Island Armory VR60 Semi-Auto Shotgun
Rob Reed 02.17.18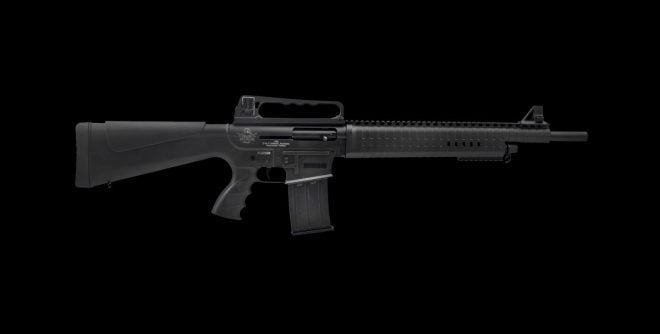 The Armscor Rock Island Armory VR60 Shotgun is a detachable box magazine fed 12 Gauge semi-auto shotgun that borrows design cues from the AR15 rifle.
The gas operated shotgun features AR style safety and mag release as well as a detachable AR style carry handle with iron sights. Remove the handle to reveal an integral picatinny rail for easy mounting of optics.
VR60 Specs
Upper Receiver: Aluminum alloy
Stock: Polymer
Gauge: 12 Gauge, 2 3/4″ or 3″ Magnum loads
Capacity: 5 + 1 (Removable box magazine)
Barrel Length: 20″
Overall Length: 39″
For more info on the Armscor VR60 watch the video from the 2018 SHOT Show.