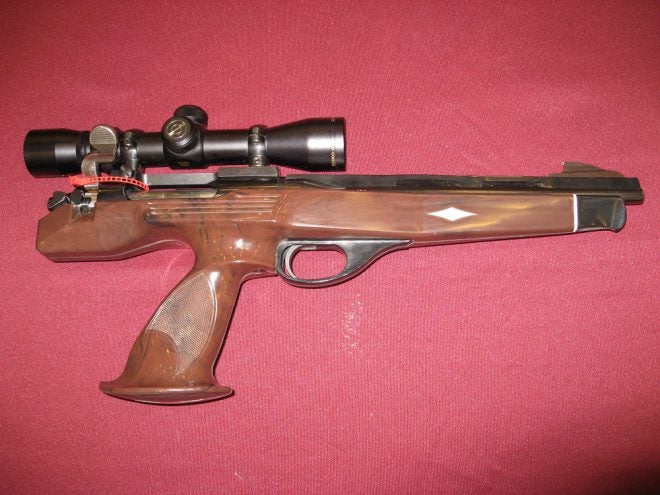 The real fun of working gun shows on a regular basis is that you are never quite sure what you might see on a dealer's display table. Over the past 40 or so years of attending these shows helping out various dealers, it gives me the opportunity to see firearms that one may well go a lifetime and never see. It is a great hobby for gun enthusiasts.
On one such occasion I was coursing the show aisles carefully checking each table until I had to make a double take on a pistol I had not seen for many, many years. It was a Remington XP-100 Fireball. This was a very unique bolt action, single shot pistol made by Remington from 1963 until 1988. It was chambered for the unique .221 Remington Fireball cartridge.
The XP-100 was the first Remington pistol to be produced since the early Derringer models of long ago. The concept behind creating the XP-100 Fireball was to produce a pistol for hunting small game and varmints with a cartridge capable of being extremely accurate at fairly long ranges.
The XP-100 Remington 600 type dog leg bolt action came settled into a brown nylon pistol grip stock similar to the type used on the Remington Nylon 66 .22 rimfire rifles. This stock was strong yet quite lightweight. The pistol came with open rear adjustable rear sights, drilled and tapped for a scope. The rakish front sight was like the Nylon 66 rifle, too. The barrel was 10.5 inches long with a vent rib on top. The package sans scope weighed only 3.75 pounds.
The XP-100 was chambered for a cartridge designed specifically just for this handgun. The .221 Remington Fireball was made from the .222 Remington case, a cartridge that started the varmint hunting cartridge race, among others. It used soft point bullets weighing either 50 or 55 grains.
The Fireball's muzzle velocity exited at 2400-2650 feet per second with a terminal energy foot pounds of 704-780. Reportedly this was greater energy than the .357 Magnum but those are paper ballistics given the lightweight bullets. Even so, the .221 Fireball enjoyed a successful following in terms of varmint hunting.
Like many unusual or out-of-the-box type firearms, the XP-100 was not a particularly strong seller, so it was eventually dropped from production. In many ways the XP-100 was somewhat ahead of its time, but it lasted for 25 years. It was a joy to see and handle one again.