AllOutdoor Review: Springfield SAINT AR-15 Pistol
Adam Scepaniak 02.26.18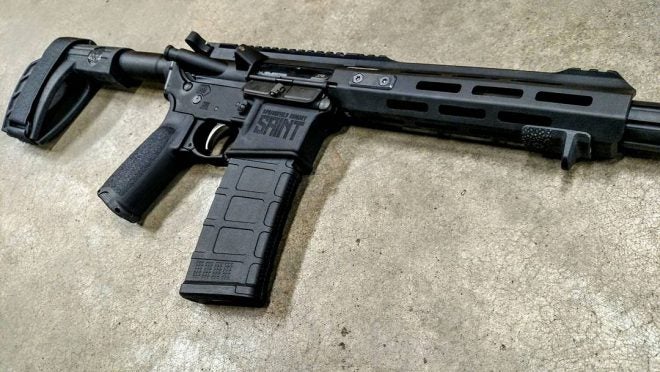 Modern sporting rifles configured into more and more compact versions continue to rise in popularity. The smaller and lighter your AR-15 can become is all the rage. Gone are the days of the 24" bull barrel and heavy, clunky quad-rails. To further drive this allure, we can use shoulder braces like those from SB Tactical in an assortment of fun ways. I will not be the one to tell you specifically what you can and cannot do, but AR-15 pistols are a blast to shoot; literally! Understanding this growing market demand, Springfield Armory has configured their SAINT rifle into an AR-15 Pistol.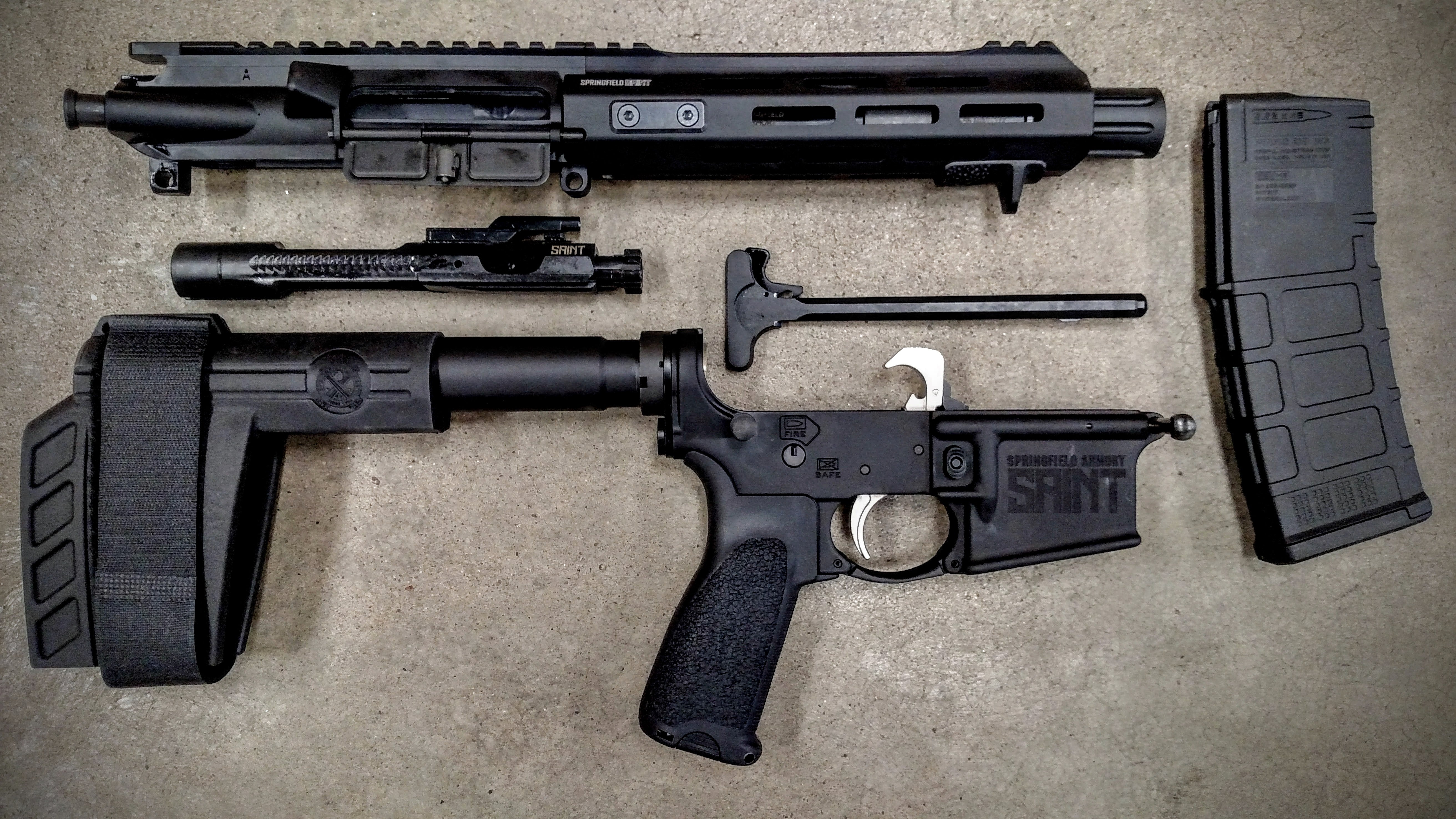 With Springfield Armory's ever-burgeoning line of SAINT rifles, it makes perfect sense to offer to consumers an AR-15 pistol configuration as well. Like their other SAINT rifles, Springfield Armory's AR-15 pistol has similar specifications. The quality through the middle of the firearm like the upper receiver, lower receiver, Bolt-Carrier Group (BCG), and other important internal components primarily remain the same.
Caliber: 5.56 NATO
Trigger: Springfield Armory® (SA) Proprietary, Nickel Boron Coated GI
Pistol Grip: Bravo Company Mod 3
Trigger Guard: Bravo Company
Buffer Assembly: Carbine "H" Heavy Tungsten Buffer
Charging Handle: GI Style
Upper & Lower Receiver: Forged Type III Hard Coat Anodized, 7075 T6 Aluminum w/ Accu-Tite™ Tension System
Bolt-Carrier Group: Enhanced M16 BCG w/ Carpenter 158 Steel Bolt, Shot Peened & Magnetic Particle Inspected, Melonite® Finish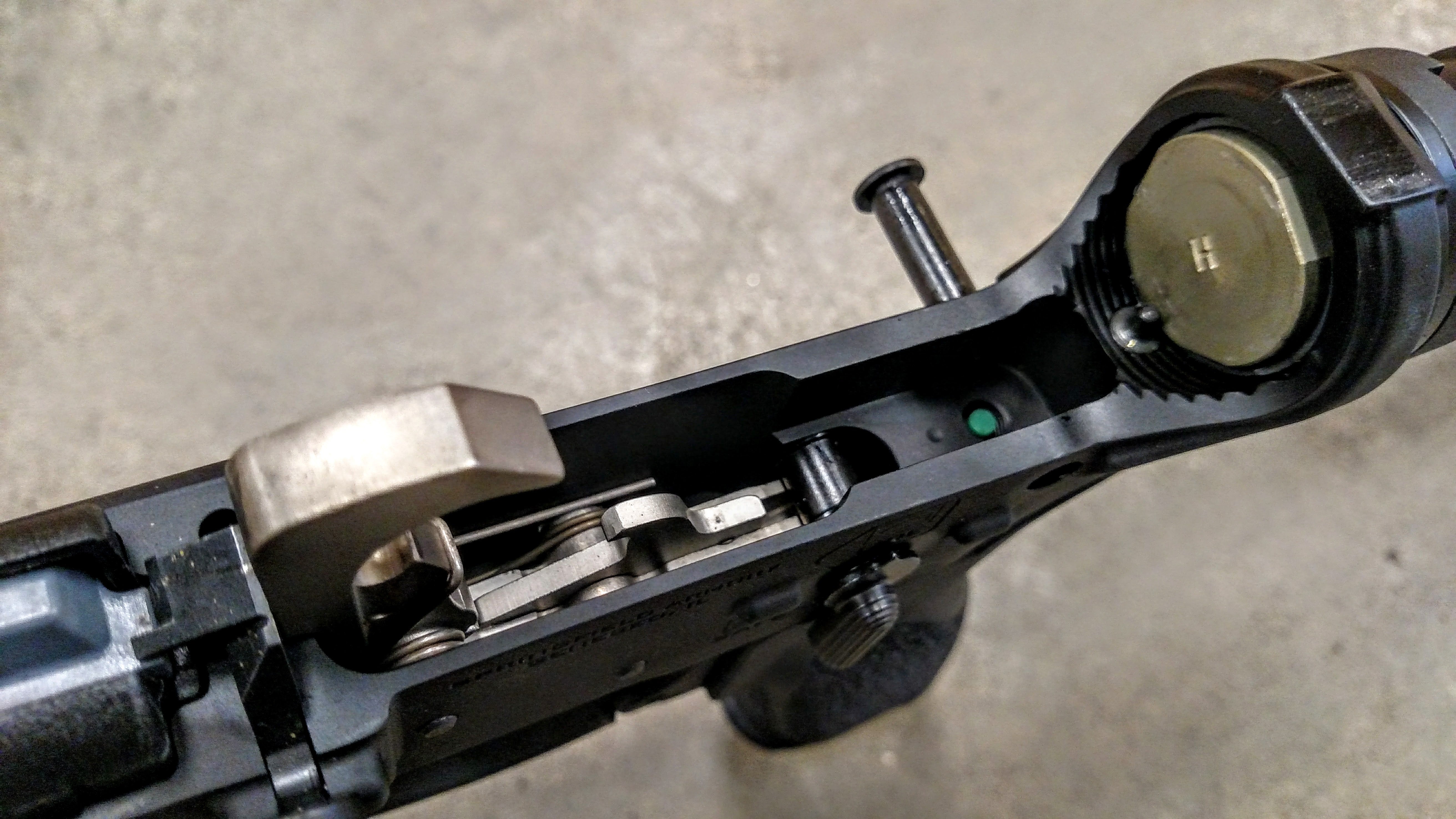 It is the front and rear end – the stock, barrel and handguard – where we begin to see changes.
Barrel: 7.5″ 416R Stainless Steel w/ a 1:7″ Twist & Melonite® Treatment
Muzzle Device: SA Forward Blast Diverter
Forearm Brace: SB Tactical SBX-K
I had the opportunity to shoot the SAINT AR-15 pistol at both an outdoor range and an indoor one. This provided very valuable feedback.
Before I departed for the range though, a quick overview of the firearm was done. The gas key on the Bolt-Carrier Group (BCG) was indeed staked properly. It was also identified as MP (magnetic particle tested) which is a hallmark sign of good quality control of components. The castle nut was also staked correctly. When the upper and lower was cracked open Springfield Armory's exclusive Accu-Tite™ tension system was visible. That was a nice feature to see because it helps eliminate slop and play between the upper and lower receiver. The two main receiver pins and the smaller ones through the lower were all snug in place as well.
All of these elements discussed are essential, basic checks for a good AR-15 build. Whether it is a rifle or a pistol, you would want to see the firearm pass all these requirements before you start making brass tumble to the ground.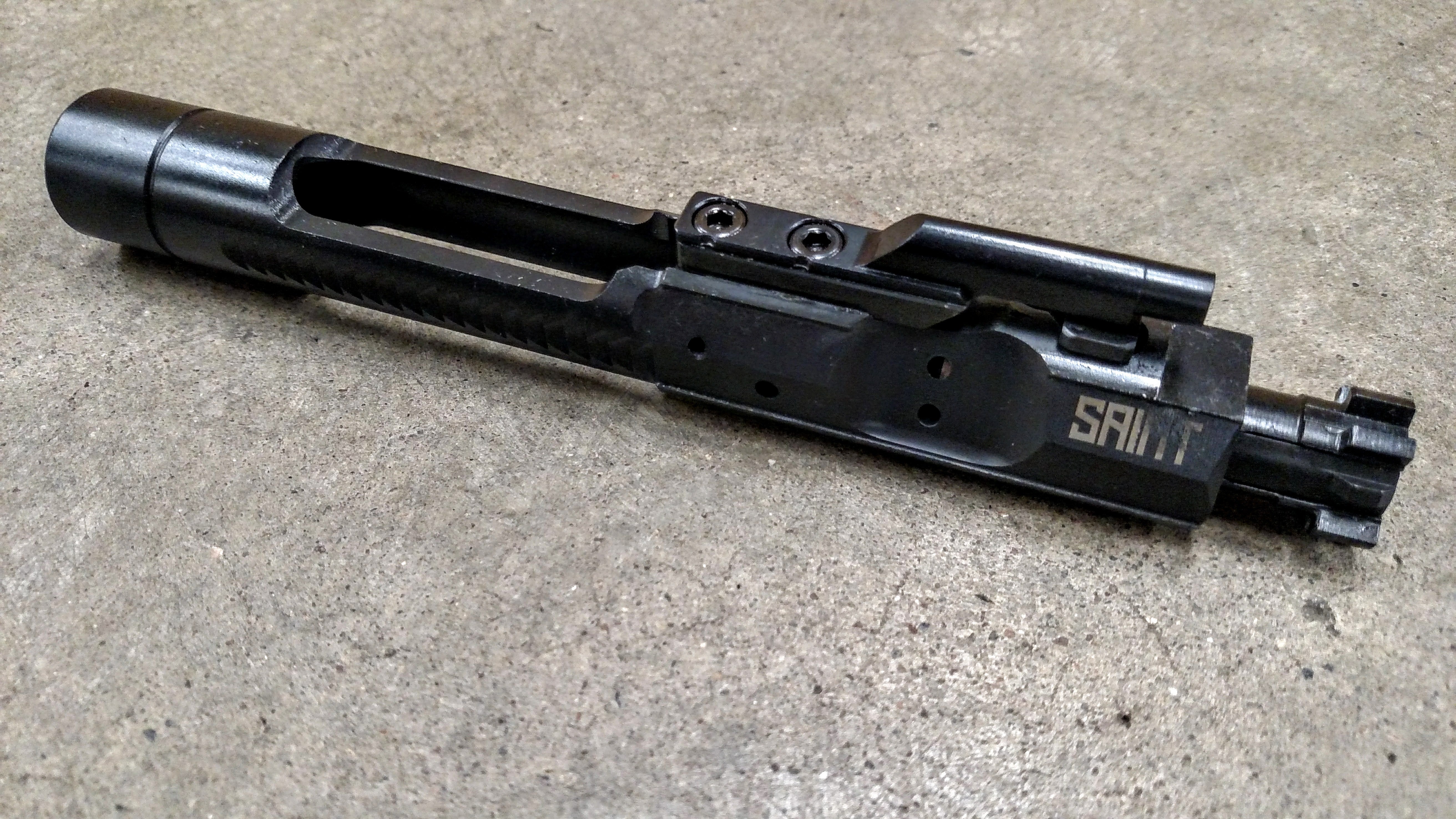 Now, onto shooting and assessing the SAINT AR-15 Pistol.
The Springfield Armory proprietary blast diverter does a terrific job of expelling debris and noise straight forward from the shooter in both indoor and outdoor settings. The important thing to note for prospective buyers is which setting you may be shooting this firearm the most.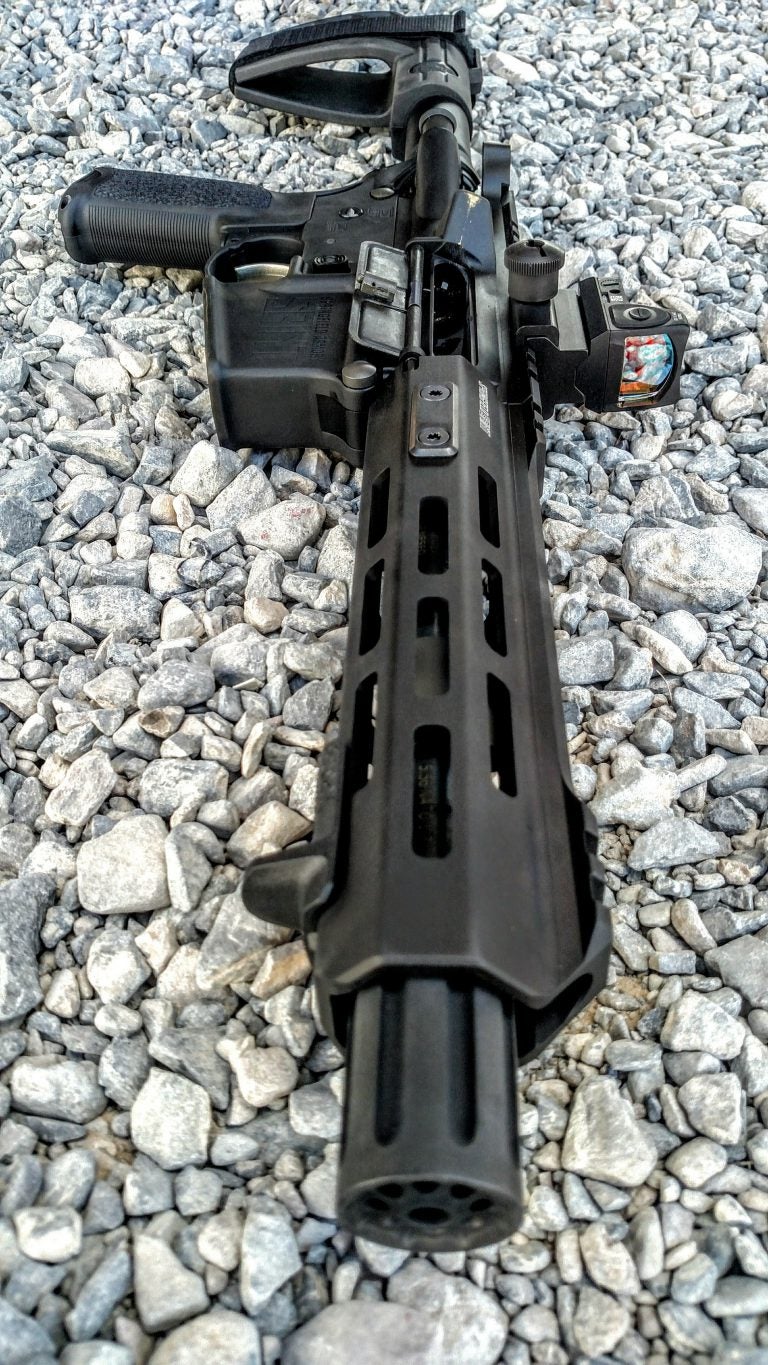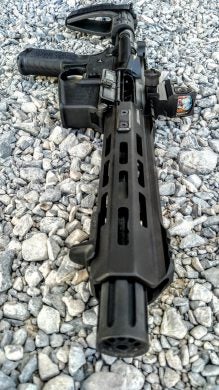 At an outdoor range, the SA proprietary blast diverter marginally increased the noise. I state marginally because you would expect a blast diverter to increase the noise, but it was not any louder than I would have guessed; likely less, in fact.
At an indoor range though, the SA proprietary blast diverter was thunderous. The contained environment coupled with partitioned lanes common to indoor ranges made the diminutive SAINT AR-15 pistol sound like you were touching off a cannon. Cool? You bet! But everyone else at an indoor range will likely stop shooting entirely and gaze at the enigma of noise you are holding.
Blast diverters, like any component, have their own positives and negatives so if you wish to opt out for a simple flash hider or different muzzle device you absolutely can, but bear in mind that blast diverters are typically placed on AR-15 Pistols for a specific reason. By diverting the concussion, hot gases and debris forward it protects the shooters outreached hand that is holding the forearm. More specifically, the left-hand thumb of a right-handed shooter.
You can remove it as previously discussed, but once again, that is only if you so desire. The blast diverter itself provides a lot of value and utility to the pistol.
Another tremendous positive is it significantly mitigates recoil. Not that 5.56mm has a lot to begin with, but it allows you to quickly make repeat shots on target with ease.
Also while shooting and transitioning more quickly with the pistol, it was very apparent just how lightweight and maneuverable this AR-15 pistol truly was. The compact size, Magpul hand stop, blast diverter mitigating recoil and light overall weight of 5 Lbs 8 Oz makes for fast handling.
The SB Tactical SBX-K forearm brace was a softer rubber material than previous forearm braces I have handled which was a nice surprise. Getting a cheek weld against it while extending both arms from a single-point sling proved to be fairly comfortable. A downside, which I believe speaks to all forearm braces not just SB Tactical's, is once your cheek is pressed firmly against it you will need a very low optic or iron sights. The Trijicon RMR I used worked perfectly, but anything taller than that would have made for a cumbersome sighting plane.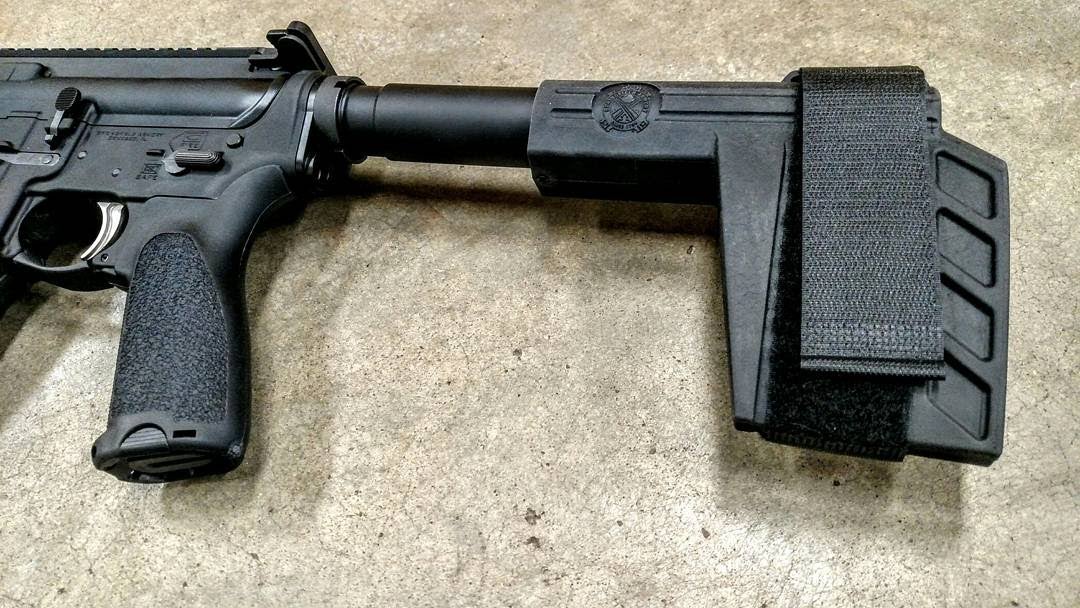 Another consideration which again is more of a knock against all forearm braces, not specifically SB Tactical's, is when you strap your forearm into the brace as intended it is very difficult to sight down the AR-15 Pistol. Just plain and simple.
To try and alleviate that, a seasoned employee of Springfield Armory told me to twist the forearm brace to the 4 or 5 o'clock position as opposed to its standard vertical resting place. This helped considerably! Not to sound funny, but your arm has a joint which can bend, move and rarely is fully extended, straight-out. Just by twisting the forearm brace that little bit your arm can bend (not be stiff and tense) and it feels much more natural trying to shoot.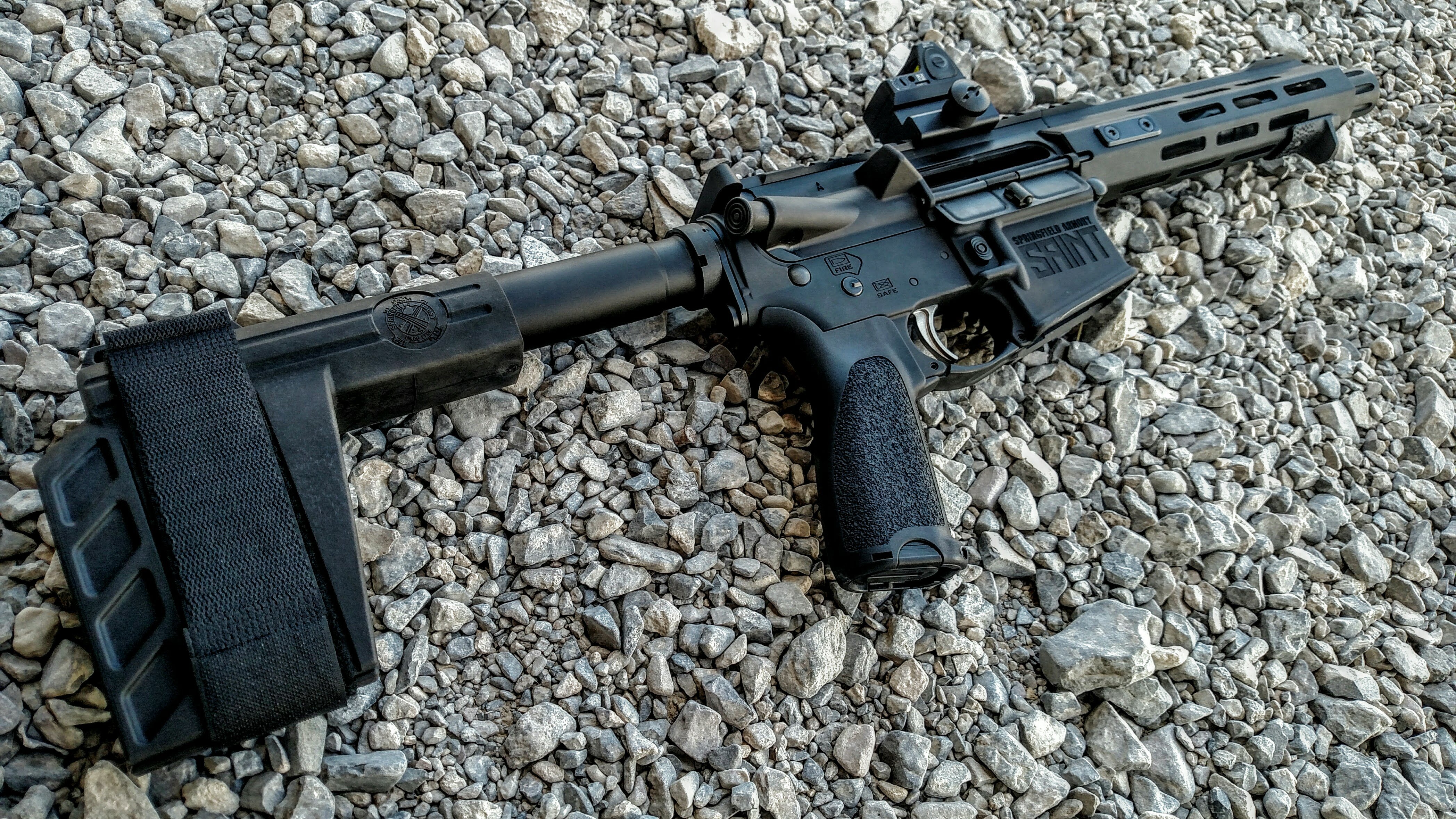 The SAINT AR-15 Pistol's accuracy was spot on throughout shooting it indoors and outdoors. Most of the targets I was shooting for my own enjoyment were 4″ – 5″ steel plates from varying distances of 10 yards to 100 yards. With a Trijicon RMR featuring a 6.25 MOA red dot it was very easy to make those targets sing all day long. Understanding that this is an AR-15 Pistol used to engage short range targets, a raw accuracy test was not performed; the calipers was left at home. For the purpose of playing with steel targets, using this for home defense or treating it as your "truck gun," it will do the job great.
---
Overall, I believe the Springfield Armory SAINT AR-15 Pistol chambered in 5.56mm is a well-thought out, enjoyable and economical package. You have a compact firearm, M-LOK accessory compatibility, premium internal components and the slick attractive appearance that Springfield Armory is bringing to the table.
Most all of my complaints or constructive criticism surround the "idea" of an AR-15 Pistol and elements you must overcome while using one; not so much specific, negative reasons as to why the SAINT AR-15 Pistol is lacking in any way.
The MSRP of this AR-15 Pistol is set at $989 putting it at a very achievable threshold for most people's spending. If you are sold on this firearm, most dealers should have access to them at this time if not already available in their inventory for you to purchase, fondle and get acquainted with.