Low Cost Survival Gear: $11 Sling Pack Review
Kevin Felts 02.27.18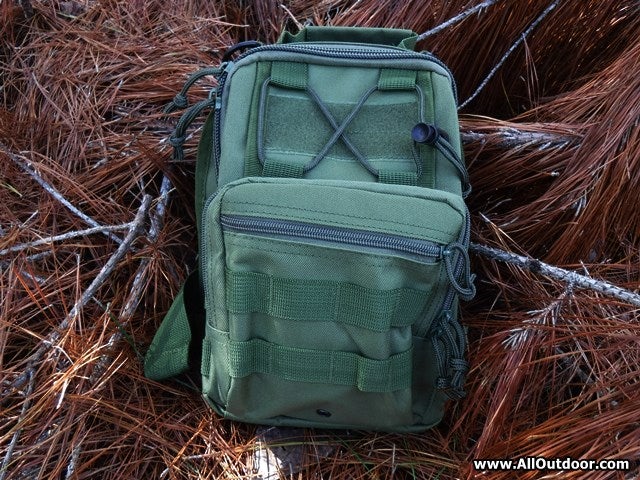 Continuing our series on low cost survival gear with an $11 sling pack, which was ordered off Ebay and shipped straight from China.
What purpose would an $11 sling pack serve? As an easy grab and go daypack which is just large enough to hold the essentials. Or, as a hand out pack for young people. When my sons were younger, sometimes we would grab a pack, head into the woods, and spend the day walking through nature. A couple of times my youngest son, my nephew and I went on a 10 mile hiking trip.
Packs like this are large enough to hold the basic gear for a day hike:
Toilet paper
TOPO map
Compass
GPS
Mosquito repellent
Water filter
Canteens
Snacks
Lightweight ran poncho
Specifications
From my pack:
Length: 11 inches
Width: 8 1/2 inches
Depth: 6 inches
MOLLE webbing on the side
Drain holes on the bottom
Compartments: 3
Paracord zipper pulls.  Not sure is the cord is genuine paracord.
Sewing is single stitch
Now for the video.
It is pretty much what someone may expect from an $11.00 sling pack. The actual cost was $10.89, so the price was rounded up to $11.  Price included shipping.
If I were to walk into a big box mart and see this pack, I would expect it to have a price of around $19,99 on it. The big box mart companies get their stuff from China, they just order in bulk. By using Ebay we cut out the middle man and go straight to the source.
When opening the pack for the first time, one of the paracord pulls pulled loose from the zipper. There was a small gap in the zipper and allowed the cord to slip through. To fix this, a Leatherman multi-tool was used to close the gap.
The shoulder strap does not have any padding on it. So when carrying the sling pack for an extended time, the strap may start to dig into the skin. To resolve this issue, simply swap the strap to the other shoulder. The pack can be worn over the right or left shoulder, or carried by the grab handle.
The pack had a slight odor to it, maybe from the dyeing process? The odor has gotten much better after the pack was removed from the packaging.
A military surplus MOLLE canteen pouch will fit on the pack. I had two canteen pouches on the pack, but took them off for the review.
Overall, I ordered a pack that cost $10.82 cents, and I feel I got my money's worth.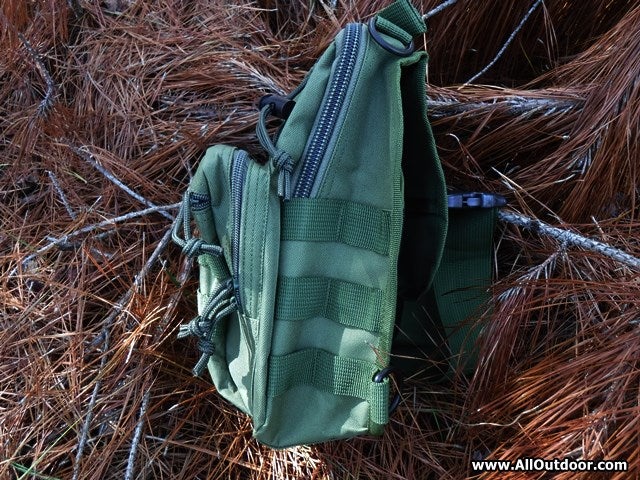 What's next?
We are going to move up the price range a little bit. The goal is to see where price and quality merge.  So stay tuned for more reviews.