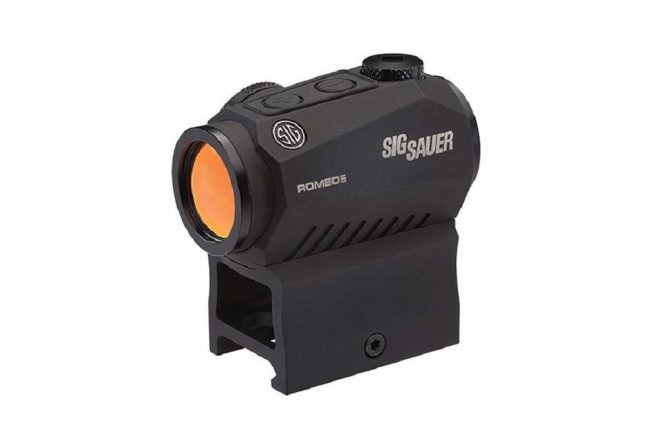 The German and Swiss arms maker SIG-Sauer is well known worldwide for its comprehensive line of state-of-the-art firearms, rifles, and pistols. In order to establish itself in America, SIG planted itself firmly in Newington, New Hampshire. They have continued to expand their product lines including a new line of ammunition and electro-optics.
The optics line has been trade named the Romeo series and just in a few years has gained significant momentum in sales. Rifle shooters especially models using rail systems for mounting optics have found the SIG Romeo line of optics perfect for defensive work, range shooting, and property protection.
Recently SIG has announced the expansion of their Romeo 5 red dot sight to include the new Romeo5X and the Romeo5XDR. The Romeo line has been designed to be a compact, lightweight, closed red dot sight. Its primary application is for modern sporting rifles, short barreled carbine platforms, and shotguns. Even, AR-type pistol models can utilize these optics.
The Romeo sights feature a very bright and crisp 2 MOA dot. The new Romeo5X adds a AAA battery for even more extended function time frame. The Romeo5XDR also utilizes the standard AAA battery but also has added a dual reticle hence the DR model. In this version the user can opt for a 2 MOA Dot or a 65 MOA Circle Dot. This dot option permits the rapid target fixation under any situation. The finish on these optics is a dark black matte with silver SIG lettering which adds a nice custom touch.
The really special part of these feature laden optics is actually that they are quite reasonably priced as well. The Romeo5X retails for $239.99 and the Romeo5XDR goes for $299.99. That is an amazing price point for a truly superior red dot optic.
These two Romeo model optics are 1x in magnification. The clear aperture is 20mm. The weights of these sights are just 5.1 ounces including the riser mount and the AAA battery installed. The waterproofing is an IPX-7 rating. What more could you ask for in an electro-optic in today's market especially with the quality reputation of a SIG-Sauer product.
Check out all SIG Sauer products, firearms, ammo, and optics at www.sigsauer.com and www.sigoptics.com.