Chasing the Waterfowl Grand Slam in the Swamps of Florida
Ben Cole 03.06.18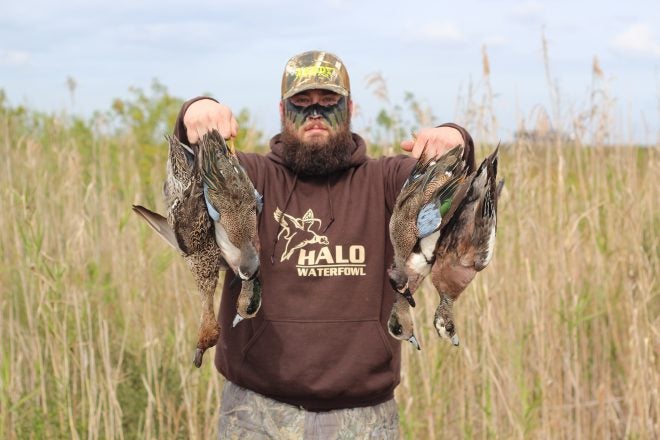 Around 12:00 a.m. I find myself, with no sleep, driving to hunt the alligator infested waters of South Florida in search of a Mottle Duck, Black Belly Tree Duck and a Fulvous.
This area is known for large populations of these birds among other species due to its abundance of aquatic food. After completing the checkpoint requirements it was time to gear up and make the grueling paddle through the shallow, hydrilla filled, dangerous waterway to our desired hunting area. My mind had been playing over and over worse scenarios thus heightening my senses to another level. However it didn't take long for me to realize that all of these thoughts were simply silly, in fact it was a rather pleasant hunting experience.
Once we arrived, it was all hands on deck placing decoys into patterns resembling ducks feeding on the water. There wasn't a blind or anything man made to hide in, so we nestled into the saw grass, far enough to evade detection and concealed our shiny faces with Hardy Face Paint.
As shooting light approached the sound of whistling wings filled the air, propitiating me into a state of excitement unmatched by anything. Finally the sun had risen enough to see tremendous amounts of birds working our spread.
Blue wing teal pouring in from every direction is a sight that never gets old. The blue wing teal is a beautiful bird, having a large white created vibrant blue head and baby blue wing patches. I was able to harvest several of these birds along with wigeon, pintail, and ring neck; however I left two spots open in my limit for the fulvous and black belly.
Even with birds all over, the species I had been chasing remained elusive; we only spotted one group of fulvous that had their minds set on landing elsewhere. With the morning drawing to a close the reality of not checking off a species began sinking in. Not having success with species on the first day increased the pressure of the following days hunt.
I met Mark O'Brien at a small boat ramp, located on a canal leading to Lake Okeechobee, in hopes of harvesting a mottled duck. It wasn't long before I caught the first glimpse of one of these birds.
Out of nowhere Mark said, "Their coming right for us, Ben can you see them?" well I didn't see them until they were right in our faces and missed. Even though I missed Mark was able to make a great shot on a beautiful hen. I was a little disappointed in myself for missing but I couldn't let that bring down my mood because there were plenty of birds flying through the area.
Not long after that Mark spotted one coming in from our left, as it approached my heart began to race and my hands became shaky, with the bird in shooting range I pulled up and shot. As the bird fell from the sky excitement rang out from everyone! When I walked out to retrieve the bird I couldn't help but to break out the species dance for all to see.
Species number 29 in the books!
All hunts can be successful or unsuccessful, but when you're around a great group of people it doesn't matter what happens. Whether you're hunting the alligator infested swamps of south Florida or the rice fields in Arkansas, it's the fellowship of the hunt with likeminded brothers that's most important. I am forever grateful for the effort as well as kindness displayed by the guys at Hardy Face Paint. With all the different places we hunted Hardy Face Paint completely concealed our faces and provided unmatched comfort during full days afield.