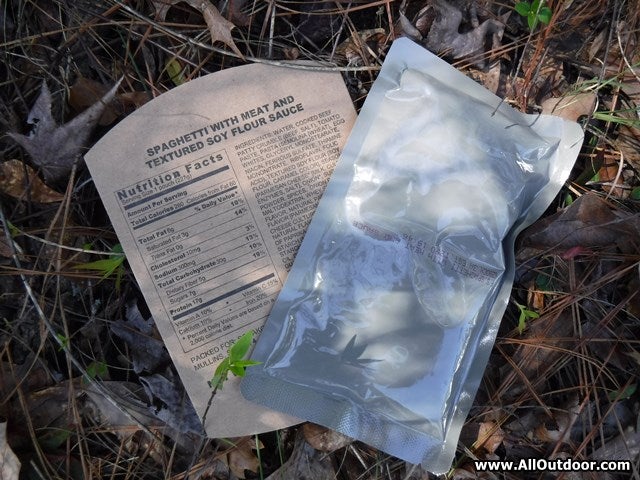 With so many MRE flavors on the market, which ones taste the best? That is the question we set out to answer with the Sopakco Spaghetti MRE.
One of the wonderful things about the MRE  is how they are a complete meal in a convenient grab-n-go package. Another good thing about the MRE is that individual meals are available for purchase.
When you're out on a trail having an enjoyable meal, it complements the hike. Everything just seems to fall into place with a nice hot meal. However, if the hiker can barely stomach the meal, the trip can become unpleasant.
Spoakco is not a complete military grade MRE, which can be a good thing. MREs handed out to the troops are heavy and bulky. Sopakco has streamlined the meal to a:
Main entree
MRE heater
Toaster pastry
Jelly
Crackers
Something sweet, such as a large tootsie roll.
The meals in my test sample were double sealed. There was a heavy clear plastic outer wrapping, then lighter inner clear plastic inner wrapping.
Main entree was opened, warmed, and eaten. Overall, the spaghetti was dry, but flavorful. The meal could have used around  twice the amount of spaghetti sauce that was in the package. Pieces of spaghetti were short, but not too short. I would estimate them to be around one inch long.
The best part of the whole meal was the jelly. The flavor was absolutely wonderful.
Toaster pastry was typical pop-tart style. In all honestly, I do not care for toaster pastries. I guess it was good if someone is into those types of things,
Final Thoughts
Although the main entree was rather dry and could have used additional sauce, I felt there was plenty of flavor. After eating the entire main entree, I was still hungry. Considering there are only 280 calories in the main meal, there was no wonderful I still felt hungry.  Expect to eat the entire main meal, crackers, jelly and toaster pastry to fill up.