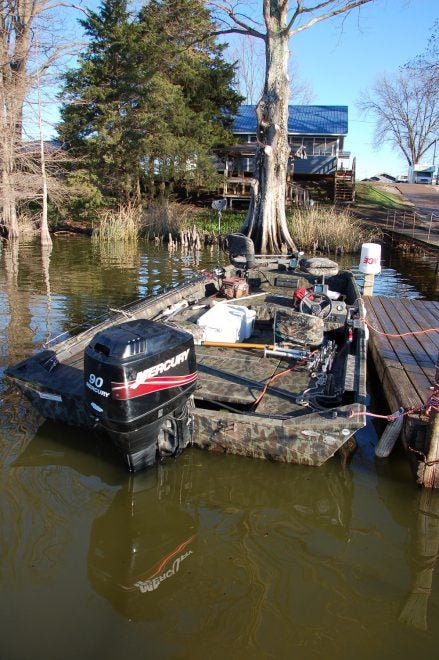 If you had a wish list for the perfect fishing boat for crappie and other fish species, this description just might be it. Of course, you can fish from a 12-foot johnboat if you have a mind to and plenty of anglers do it. However, once you get out onto open lakes with wide expanses, you are going to want a little more machine and gear.
Ideal is in the eyes of the beholder, but a well-heeled crappie boat would be 16-20 feet in length and plenty wide enough for 2-3 anglers to move around in comfort and safety. Engine power would be a minimum of 75 horsepower, but some of the bigger rigs will go on up to 250 horses. The engine does not have to run races like bass tournament fishermen do, but it needs to be large enough to power through high waves kicked up by high winds.
Seats would include 2-3 low level seats, one at the control steering console and instrument panel. Then portable switch out elevated fishing seats can be configured with two up front for spider rig fishing, and one in the back for a follow through angler. The front seat mounting holes can be three in a row to permit different set ups.
Naturally there needs to be a powerful trolling motor up front that is foot controlled for speed and direction or controlled by a wireless handheld motor unit. Electronics will include a high quality fish finder sonar with all the bells and whistles with mounts by the console and up front for use during cast fishing or spider rigging.
The boat will need several gear boxes for all necessary fishing tackle, boating supplies and gear. Two or three wet holding boxes are needed to keep catches alive until back at the dock for cleaning. A storage box is needed for PFD's for every person on board. A dry document sleeve or pouch is needed for boat registration and other required papers.
On the sides inside the rail can be rod and reel holders as needed. Spider rigging means 6-8 long poles to be securely held in place during motoring or trailer traveling. Other gear or equipment will include 2-3 minnow buckets with aerators, extension pole landing nets, anchors, power poles, drag chutes, and such. Have a fire extinguisher on board and a first aid kit. Coolers can be added for drinks and food. Tie off ropes and a push-grab pole are needed.
If you have all these amenities on a fishing boat, then you're ready to go. As things happen, you can change up arrangements and gear as time goes on.