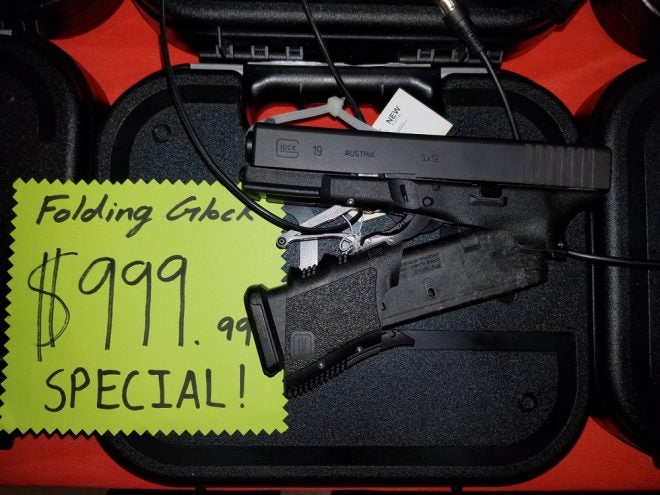 Glock pistols are among some of the most popular handguns ever. They are used in service by military, law enforcement, and civilians all over the world. Originally manufactured in their home country of Austria, they are now made at least for US markets in Georgia.
There are so many models of Glock guns chambered in a variety of cartridges that it gets confusing trying to keep the model numbers straight. Glock pistol profiles are basically all the same, so the appearance does not vary greatly. There is little to change out of a factory gun except maybe the trigger spring and the sights.
Now comes an interesting version of the Glock 19 along with some confusing information about its original and current status. The Full Conceal M3 Folding Glock 19 Gen 3 or M3G19F designation is a folding modification of the Model 19. A 21-round mag is stowed in the grip/mag housing under the frame.
This folding configuration was engineered by the Las Vegas based company Full Conceal. I was able to see and handle one at a local gun shop that claims to have the only two such pistols in the State of Mississippi. I'll have to take their word for that.
The M3G19F basically modifies the frame of the original Glock 19 to allow for the Full Conceal folding design. The folding unit changes the standard grip configuration and replaces it with a hinged grip that folds up underneath the slide. When deployed, it locks in place to secure the grip and the folding trigger unit. It makes for a very odd looking handgun.
As the dealer told the story, Glock has bought out Full Conceals modification and now builds the folding guns themselves. I was unable to substantiate that information anywhere. It is still listed at the Full Conceal website. There is nothing about this handgun at the Glock site.
In truth it would be hard to argue that the pistol in its folded mode is any more concealable than a standard Glock 19. They argue the footprint of the folded gun is no bigger than a cell phone, but that hides the thickness and width of the gun when folded. Either a folder or standard frame would print, but either could be hidden in a bag, or purse. I contest the time element in placing the folder into service under the stress of an assault.
I certainly applaud the M3G19F's engineering. However, to my thinking a folding Glock falls into the category of a solution to a non-existent problem. With a retail of $999, I can buy a G19 and a lot of ammo.