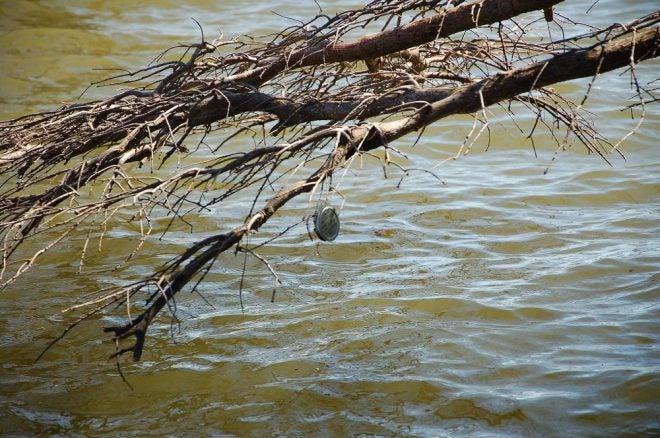 There is a storm brewing on a Mississippi Delta lake. Lake Washington is located just north of Glen Allan, MS. The old time oxbow lake has been identified as one of the top crappie fisheries in the country. But is that status about to end?
Recently a crappie fishing tournament was held on the lake. Anglers came in from all over the country. The weather was miserable, wet and windy, but the crappie creel catch was terrible. It was much worse than it had been in years. After the tournament, on Monday morning the Facebook posts lit up the network.
First the tournament anglers were disgusted with the fishing action. Then locals and others chimed in with their complaints. The blame was twofold but one a product of the other. First fishermen were complaining about all the yo-yo automatic spring operated fishing reels hanging from tree branches all over the lake with no fishermen in sight tending to them.
Next, came the pointing of fingers at the fishermen with deep freezers in the beds of their pickup trucks. Presumably these deep freezers were to keep large catches of fish on ice until they returned home. The complainers called these "fishermen" the meat fisherman, only on the lake to fill those freezers.
Now, a few other points. The daily catch limit on crappie is 30 per angler. There are size limits on the catch, too. Crappie must be over 11 inches to keep with 5 under 11 inches allowed. Yo-yo rigs are supposed to be owner labeled and when set the fisherman is supposed to be within eyesight of the rig while fishing.
These rules are being broken and not monitored according to local anglers. I witnessed several buckets of fish well under the size limit and over the creel limit. I have never seen a fisheries official on site checking the catch or licenses.
If you fish the lake, the flooded cypress woods in particular, you will see hordes of cords, string, and lines hanging from trees everywhere. These are abandoned yo-yo lines not removed. When the yo-yos are out in force, it is not uncommon to see over a hundred tied to tree limbs. Whoever owns them are rarely in sight and most of these rigs are left out overnight. Many times by the next day, the fish caught on yo-yos are dead, thus a wasted resource.
It appears Lake Washington is being overfished. Meat fishermen are taking too many, too small. Eventually, the tide will turn on this lake if it has not already. Economic development and tourism is one thing, but not if the resources are being abused.