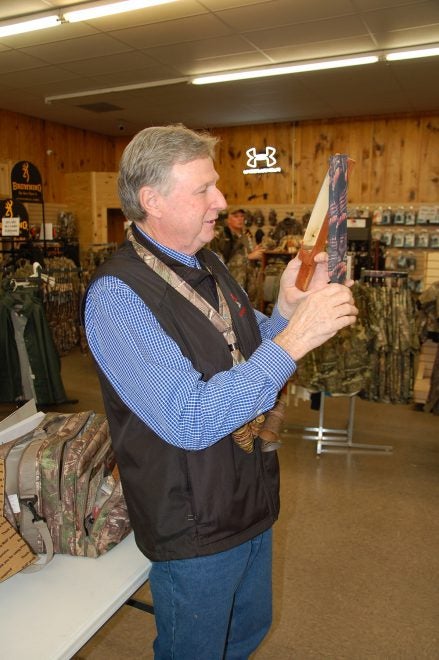 Eddie Salter is from Evergreen, Alabama. He is still from Evergreen, Alabama. Still home, and still calling wild turkeys with the best of them all. At 63 years young now, Eddie can still crank a box call, yelp a hen, and gobble like a love sick tom way down in the holler. Eddie is still plugging away at making a living off fooling tom turkeys.
Salter was in town recently doing a meet and greet at Van's Sporting Goods in Brandon, Mississippi touting his own custom calls and hawking products made by Flextone. Turkey hunters of all ages, including one admitting he was 79 years old still trying to find that turkey calling magic to trick one more long beard to the gun barrel.
Eddie and I met at an organized turkey hunt in Alabama many years ago and at numerous outdoor trade shows off and on over the years. From what I recalled and was reminded on our latest visit is that Salter is a top notch storyteller. One assumes every tale he tells is the gospel truth, but I am sure the lines have blurred from time to time.
One thing that has not blurred at all is Salter's never ending talent at making hen and gobbler sounds from pieces of wood, plastic, slate, aluminum and other synthetic materials. He can make a hen whine and purr so sweet, it raises goosebumps on the arms for those that know the difference and can appreciate them. And he is forever full of turkey hunting tips that hunters ought to be writing down, which I did. Here are just a few noted in an hour of tale telling to the crowd that gathered to hear him talk, cluck, and gobble.
"If a gobbler will not answer to any other call in your bag or pocket, then trust me, pull out the one made of aluminum. The sharp edged yelps and cuts yielded from aluminum on wood makes a gobbler wake up from a deep woods stupor better than anything," says Salter.
"And when you crank on that box, break up the sequence or regular stroking of the paddle with what I call the 'double clutch." This is two quick paddle strokes on the box edges one right behind the other, like double clutching an old farm truck hauling a load of grain to the mill." That was just the start of Salter's quips.