Four of the Best Military Surplus Backpacks
Kevin Felts 04.02.18

If someone were to look for a rugged backpack that is not going to cost a fortune, where would that person turn? Chances are a military surplus backpack would be the way to go.
My first exposure to military surplus backpacks was around 1992 or 1993 when I bought a surplus medium ALICE pack. For the past 25 years my go-to backpacks have been military surplus purchased off Ebay. The packs have been used for everything from hiking, to three day camping trips on the Angelina River here in Southeast Texas.
Without any further ado, let's get to the list.
Medium ALICE Pack
This has been my go-to pack for around 25 years. Whether it was a boating camping trip in a marsh, or a hiking trip in the piney woods of Southeast Texas, the medium ALICE was it.
My one person tent would be strapped to the top of the frame, sleeping pad on the bottom of the pack, and poncho liner stuffed inside the pack.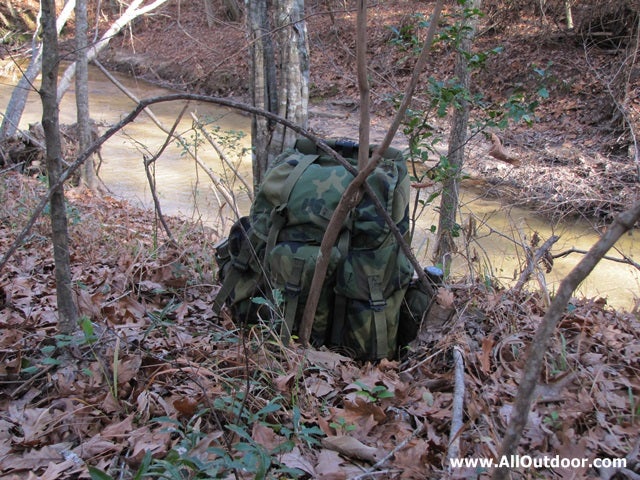 A few things to love about the medium ALICE:
Aluminum frame.
Three large external pouches.
A one pound propane tank will fit in the external pouch perfectly.
Nice sized internal radio pouch.
ALICE webbing all over the pack.
Does not require a frame.
The internal radio pouch is excellent for storing a water filter, TOPO maps, and GPS. A one pound bottle of propane fits inside the large external pouches perfectly.
Eventually though there came a point where more gear was needed.
Large ALICE Pack
Just as the name implies, the large ALICE is larger than the medium ALICE. With the added capacity comes the ability to carry more gear. However, with more gear comes more weight.
I bought my large ALICE pack around 1995 or so. In the past 23 years it has been used on a wide variety of camping trips.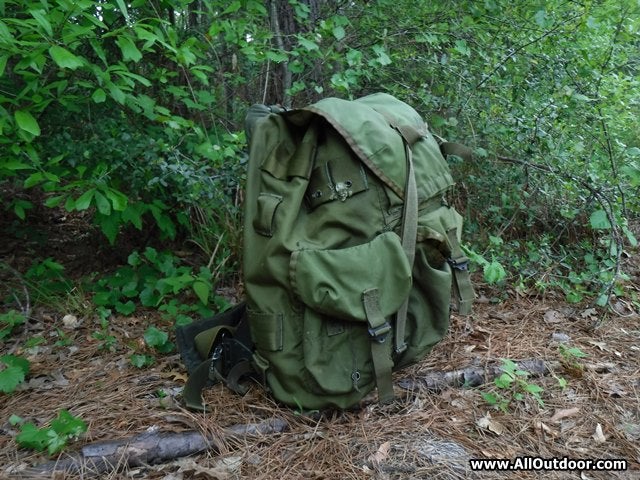 Some things to love about the medium ALICE:
Aluminum frame.
Three large external pouches with drawstring closure.
The small pouches with snap closure.
Internal radio pouch.
ALICE webbing.
Unlike with the medium ALICE, the large requires a frame for shoulder straps to be attached. The good news, the large and the medium use the same frame.
Thee Day Assault Pack
As wonderful as the ALICE packs are, they have their disadvantages. For one,they were not designed with comfort in mind. Another disadvantage, the frame adds weight to the pack. The three day assault pack does not have a frame, but it does have a stiffener pad. The pad helps protect the wearer from being jabbed by items in the pack.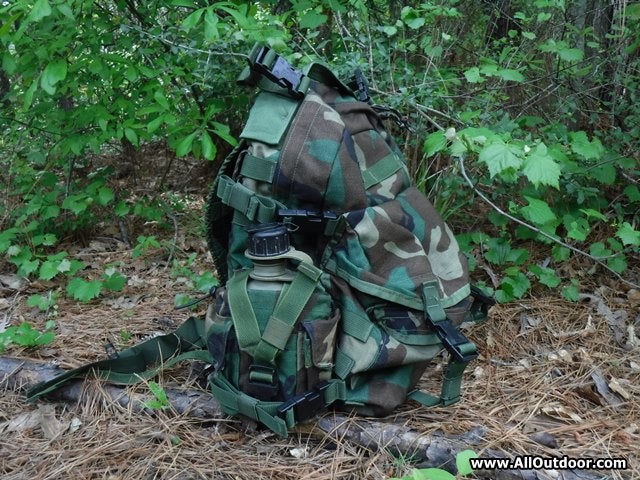 Where does this pack fit in the grand scheme of things? This is a light weight warm weather overnight pack. If someone is unsure if the hiking trip will turn into a camping trip, this is the pack I would bring.
Whats to love about the three day assault pack:
Nice sized main compartment.
MOLLE webbing.
Large external pouch with zipper closure.
Small external pouch with velcro closure.
YKK zippers
The three day assault pack is turning into one of my favorite backpacks.
Patrol Pack
There is one last pack that I want to touch on, and that is the patrol pack. Imagine a backpack small enough to carry the gear needed for a day hike, but still has a little bit of extra room.
For spending a day in the woods with my dogs, the patrol pack is my go-to backpack. It is large enough for TOPO maps, water filter, and cook stove with some room to spare.
Couple of drawbacks to the patrol pack, it does not have a waist belt, and the shoulder straps do not have webbing on them. Besides that, this is an ideal military surplus backpack.
Nice size internal compartment.
YKK zippers.
One external pouch with drawstring closure.
MOLLE webbing on sides.
As of the writing of this article, the patrol pack is my favorite daypack.
Final Thoughts
The ALICE packs were designed in a bygone era when little thought was given to ergonomics and comfort. MOLLE gear on the other hand takes ergonomics into account, even if just slightly.
This is how I break the packs down:
Day hike – Patrol pack.
Overnight warm weather camping trip – Three day assault pack, or medium ALICE pack.
More than two days – Large ALICE pack.
The military surplus pack listed above should cover a range of needs.
SHOP NOW